Beautiful.ai Review – Full Walkthrough
Beautiful.ai is one of those tools that I tested but didn't expect much.
Creating presentations based on AI sounds great, but was it really going to give me what I need for my sales exec job? Could I take my AI-Generated notes and turn them into a presentation with literally no design skills?
I didn't think so. But boy, how wrong was I!
In this Beautiful.ai review, I will cover:
What it is and who it's for
Top Features
How to use it (full walkthrough of all the functions)
What could be better
Pricing
Ok, let's get to it.
Beautiful.ai Review
My Personal Review
Now that I use Beautiful.ai nearly daily, it's one of those sales tools that now I won't be able to do without. MS Powerpoint? MS Powerpoint who?
This AI Presentation Software does an awesome job with its role-based templates. Right out of the gate, I had a slide deck that was good to go once I pumped the content in. No design skills needed – like zero and it was the best presentation that 'I' have ever created!
What I also love about the beautiful presentation maker is that it's super easy to edit anything you see. Its AI-powered brain lines everything up and makes it super easy to switch icons in a grid or find the most relevant images – all the things that are a real pain with creating 'standard' presentations.
I have now managed to use my AI prospecting software output as a feed into Beautiful.ai. This further increases the speed at which I can go from finding leads, speaking to them, and presenting my solutions, all aligned to the client's pain points and expectations. Hours saved!
If you create slide decks regularly. for $144 every year, this is worth every cent.
What is Beautiful.ai?
Beautiful.ai is a next-generation presentation maker that uses AI to speed up the presentation design and editing process.
It goes beyond ordinary templates, images, and shapes that you find in Google Slides and MS Powerpoint.
It has a slide generator where you can pull from existing templates and designs that are dynamic. That means that formatting presentations become a thing of the past. Nudging that PowerPoint shape a little to the right but realizing you didn't highlight the text inside it, is definitely a thing of the past!
Instead, you can now focus on your content as the AI automatically positions icons, adjusts color schemes, and even generates entire presentations for you with the help of its intelligent bot.
Who is Beautiful.ai for?
This presentation software is for anyone that regularly creates presentations. It is subscription based so one-off users could use the free trial but if you only make a couple of decks per year, you may not want to invest.
I work in sales and the smart templates have literally saved me days creating presentations. Beautiful.ai also provides templates specific to certain roles such as startups, marketing, HR, and many more.
This gives those job functions a great head start with ready-to-go templates for specific presentation types such as quarterly business reviews, business plans, and budget reviews.
True Story
I have been using Beautiful.ai presentations for months. It's these slides that always receive praise and positive feedback from clients.
How Does Beautiful.ai Work?
Beautiful.ai works by using Artificial Intelligence along with design principles to deliver slides that are 100% dynamic in nature. This element of Beautiful.ai is what makes it one of the leaders in the field.
The user interface is intuitive and enables you to easily draw upon the dynamic nature of the slides and update elements in one click. What takes you a second in Beautiful.ai could take you hours in PowerPoint – no joke!
Top Features
Here's a quick rundown of Beautiful.ai's standout features before we delve into the details.
AI BotDesigner: Generate an entire presentation with a simple description and theme selection
Smart Templates: Access a wide range of stunning presentation templates categorized by industry or purpose
Create from Scratch: Design presentations from a blank canvas, customize themes, add images and text, and utilize AI-powered search for royalty-free images
Flexible Slide Creation: Add new slides in various ways, including blank slides, templates, inspiration, or AI mode
Slide Templates, Charts, and Graphs: Explore a ton of slide layouts and options for data visualization, including charts, graphs, diagrams, timelines, comparisons, and much more
Team Collaboration: Collaborate in real-time, invite team members with one click, and create Shared Slides and Shared Themes
How to use Beautiful.ai
Here's a full walkthrough on how to use Beautiful.ai.
Getting started
Firstly you need to go to Beautiful.ai and sign up.

On the next screen, you can choose your plan. They offer a 2-week free trial which is awesome. But you need to know that it does take a credit card and if you forget, you get billed a full year and could be hit hard if you don't want to continue.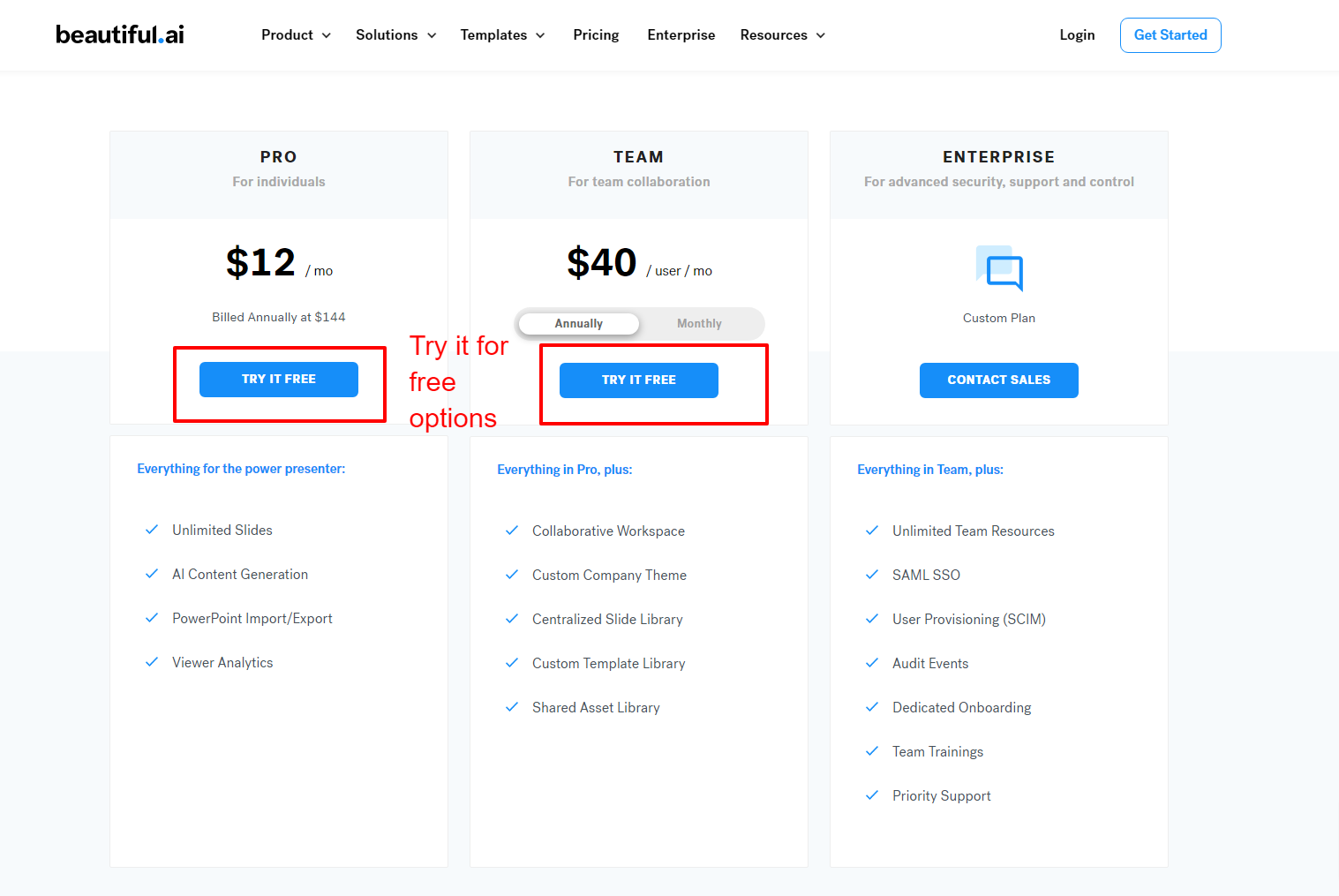 You can then create your account either via email and password or sign up with Google.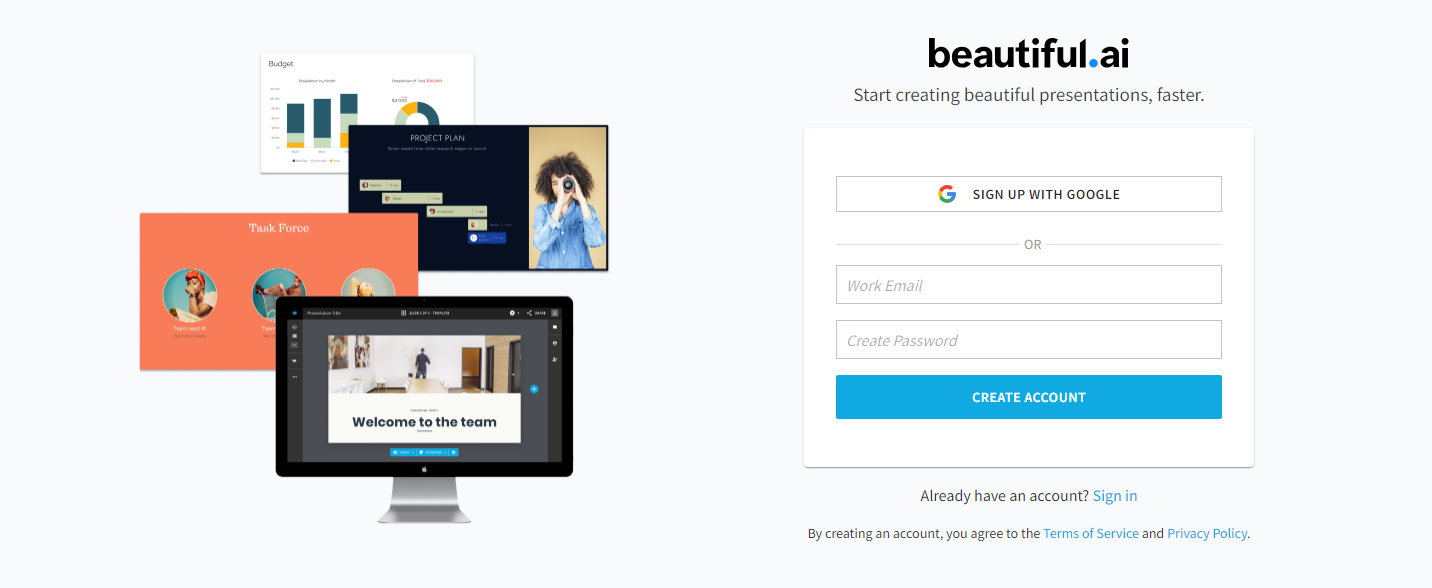 Once you have done that, we are into the meat of it.
You are then asked to set up your account preferences. The first thing it asks is how I would be using it. I loved this touch, most other AI Presentation Software doesn't ask this. But this helped tailor my experience.
Here are the options.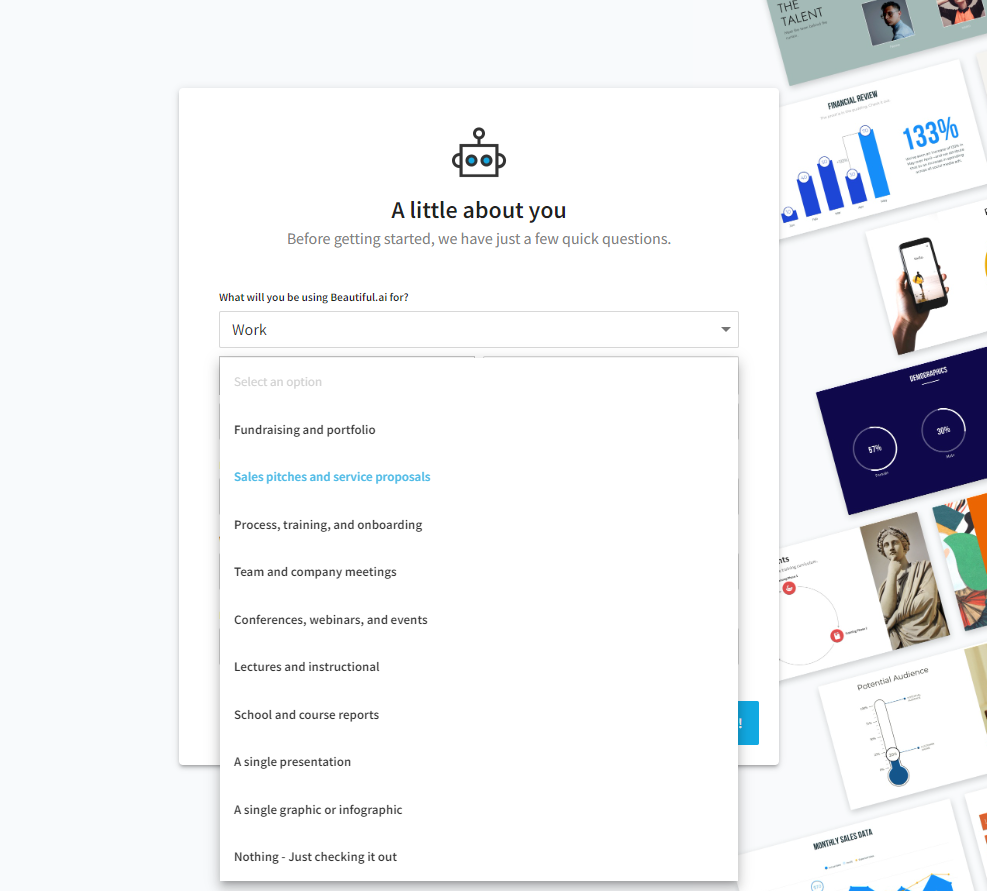 Once you make your selection you get logged in. You can then either choose to create a presentation from their templates or use the AI BotDesigner.
Let's start with the AI bot designer.
How to use the AI DesignBot
You select 'Designer Bot AI' from the left-hand panel. You then enter a description of what the presentation is about and then hit 'generate presentation'. Yep, it's that simple!
Here I went with 'A pitch deck on selling AI presentation software to large companies'. Unique I know!

On the next screen, you can choose a theme. There are a ton to choose from. I chose the Bold theme. You then hit the big blue 'Create Presentation' button and see Beautiful.ai create your entire presentation.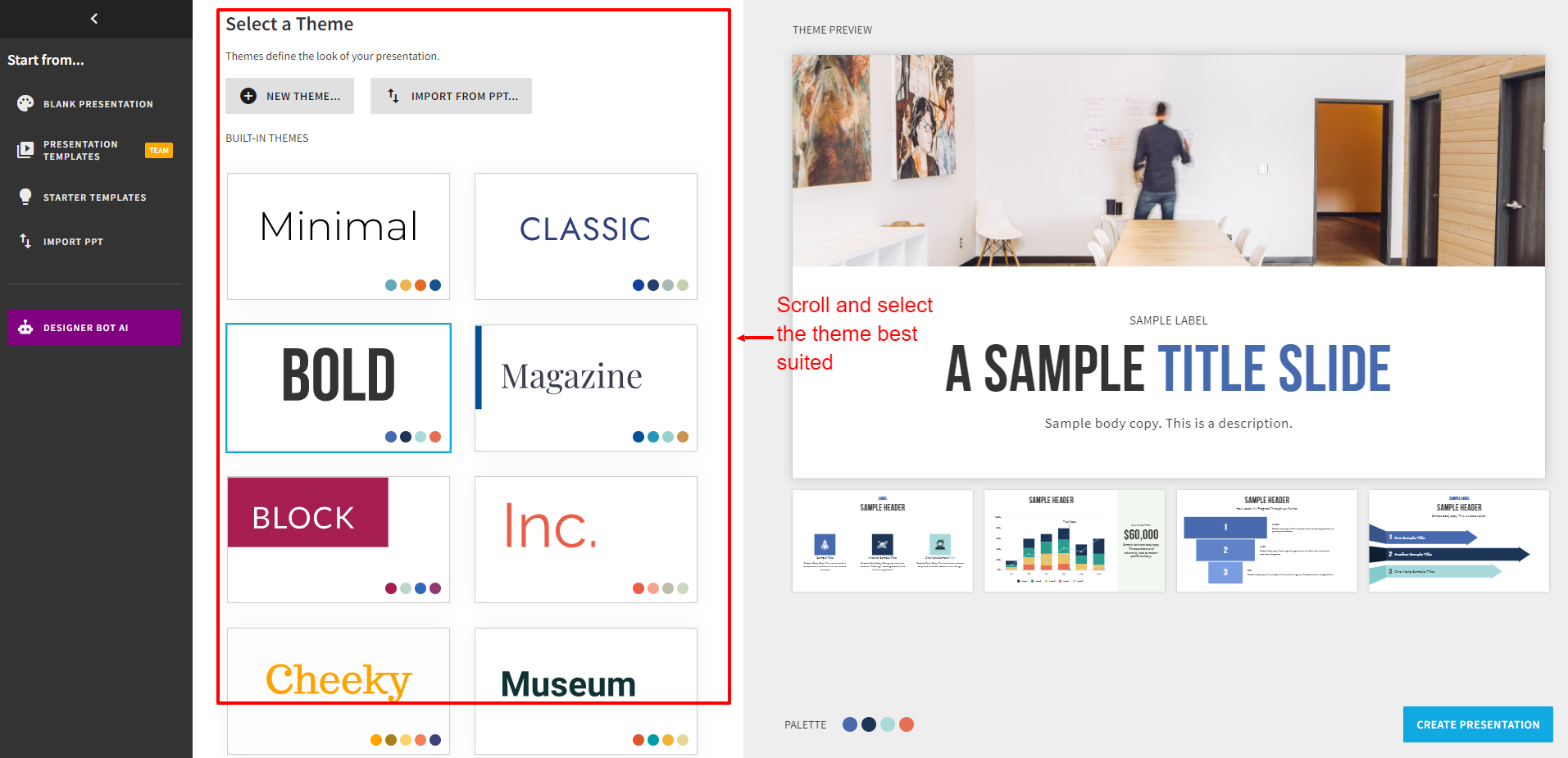 Once it's generated, you are presented with an overview and editing screen. You can remove slides, edit the layout and update the text and images.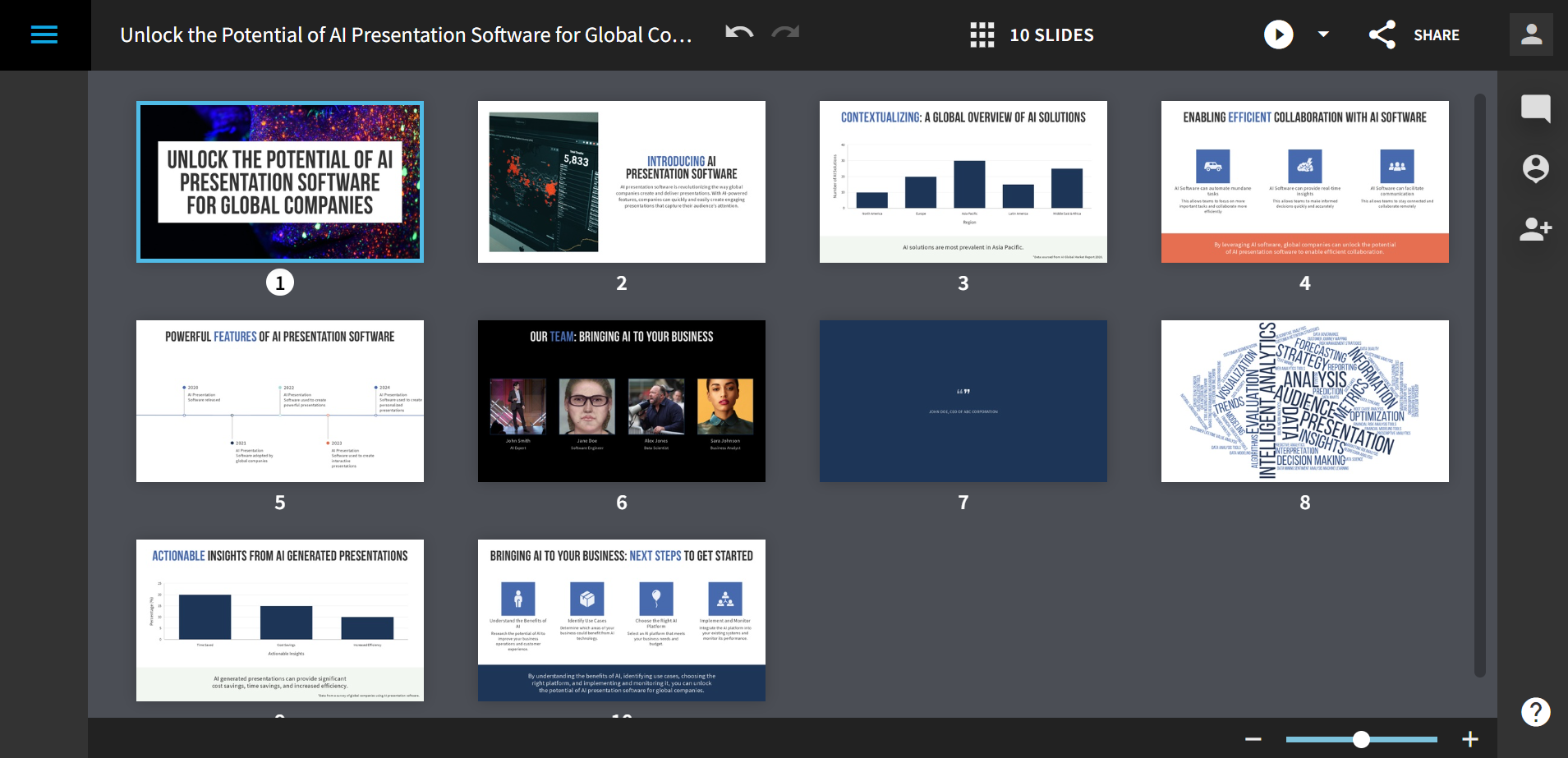 Here are some neat example slides it gave me.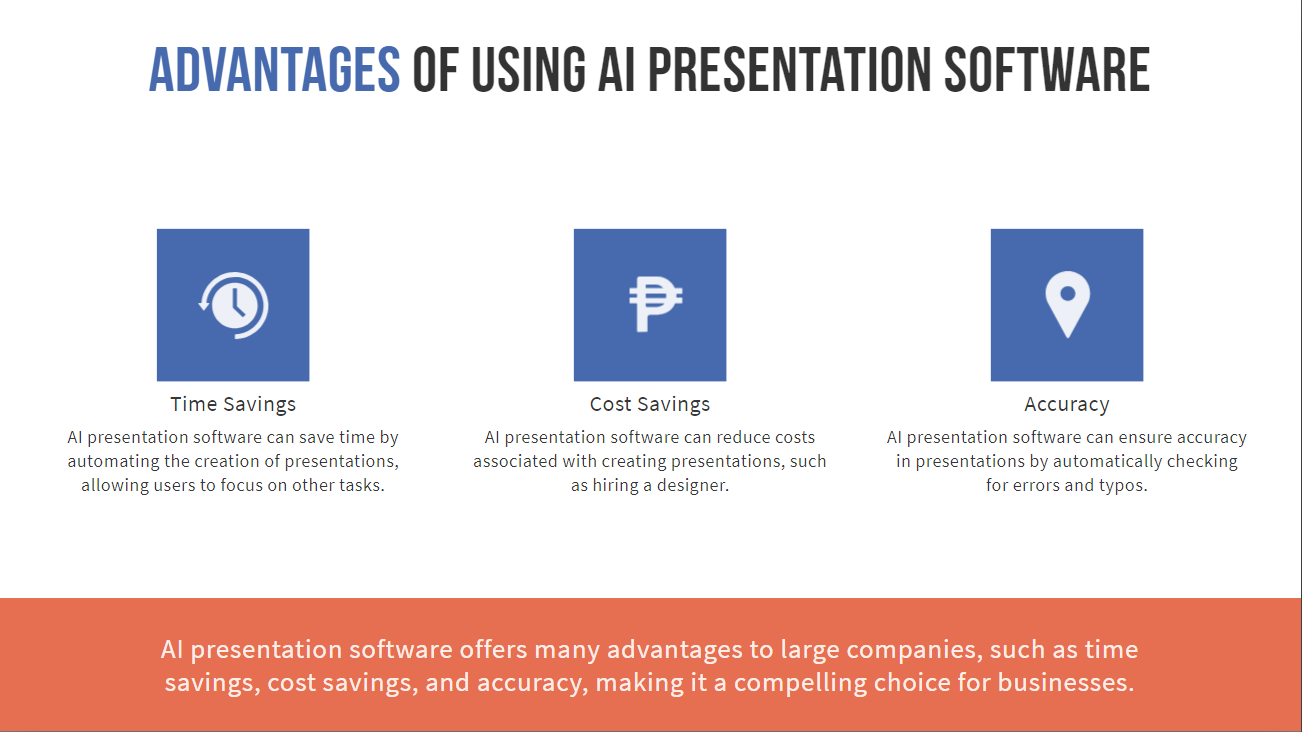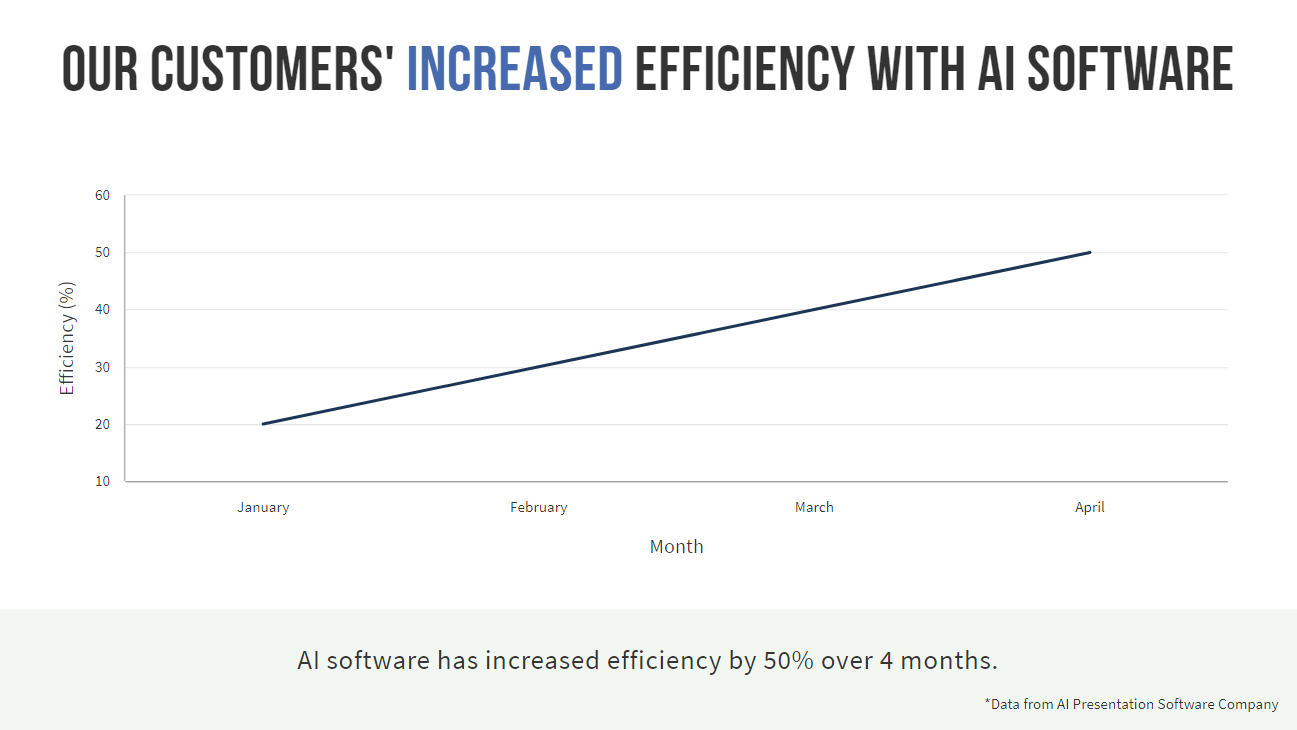 As you can see, these need some updating.
Graphs and charts need data plugged in
Team slides need images of your actual people put in
Stats need checking and updating
Your company details need replacing
The story you want to tell needs adding
But that's to be expected based on only giving a short sentence and getting 11 slides in return, right?
What the AI BotDesigner does really well is give you a great first draft that needs some tweaking. The slide design and variety of slide layouts are truly awesome. It gives me a headstart in hours, not minutes when creating sales decks!
But if you don't want the AI bot to generate all your content then you can use Beautiful's awesome templates and build your deck as you go.
Here's how it looks.
Smart Templates
Smart Templates in Beautiful.ai are the best (in my opinion!) of all the AI presentation software. Once selected from the left-hand menu, you can then use the filters at the top to narrow down the templates based on what kind of presentation you want to create. Here are the options:
Startups
Presentation Makeovers
Marketing
Business
Sales
Creative
HR/Training
Each option actually filters well and the results are the kind of templates you would expect.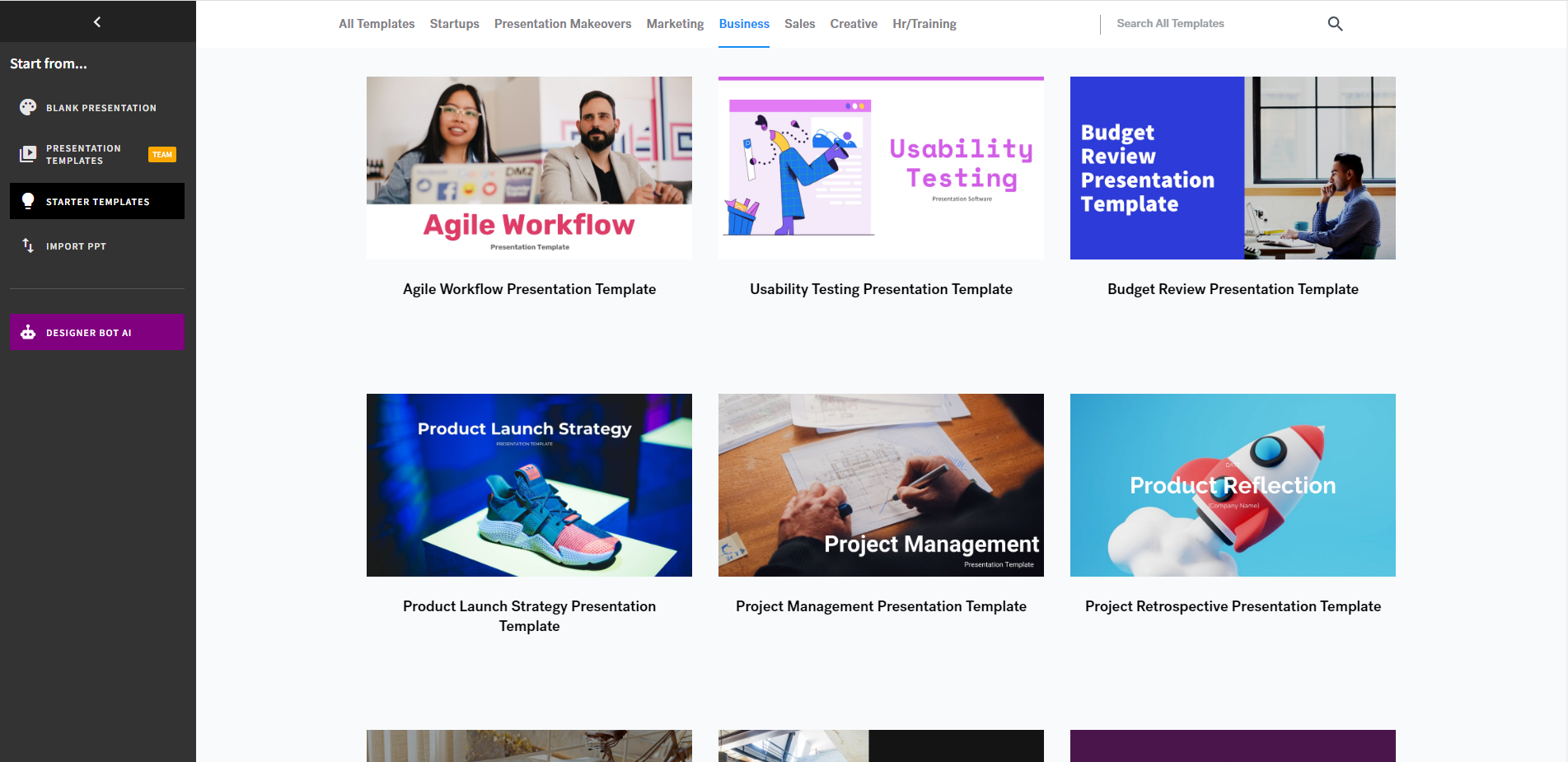 They have a stack of truly stunning presentation templates. Here is what you get if you filter by 'business'. I am going to choose the 'Product launch' template to show you what it looks like. Once you select it, you get straight into the main view where you can see all slides together and then add, edit, and delete as you need.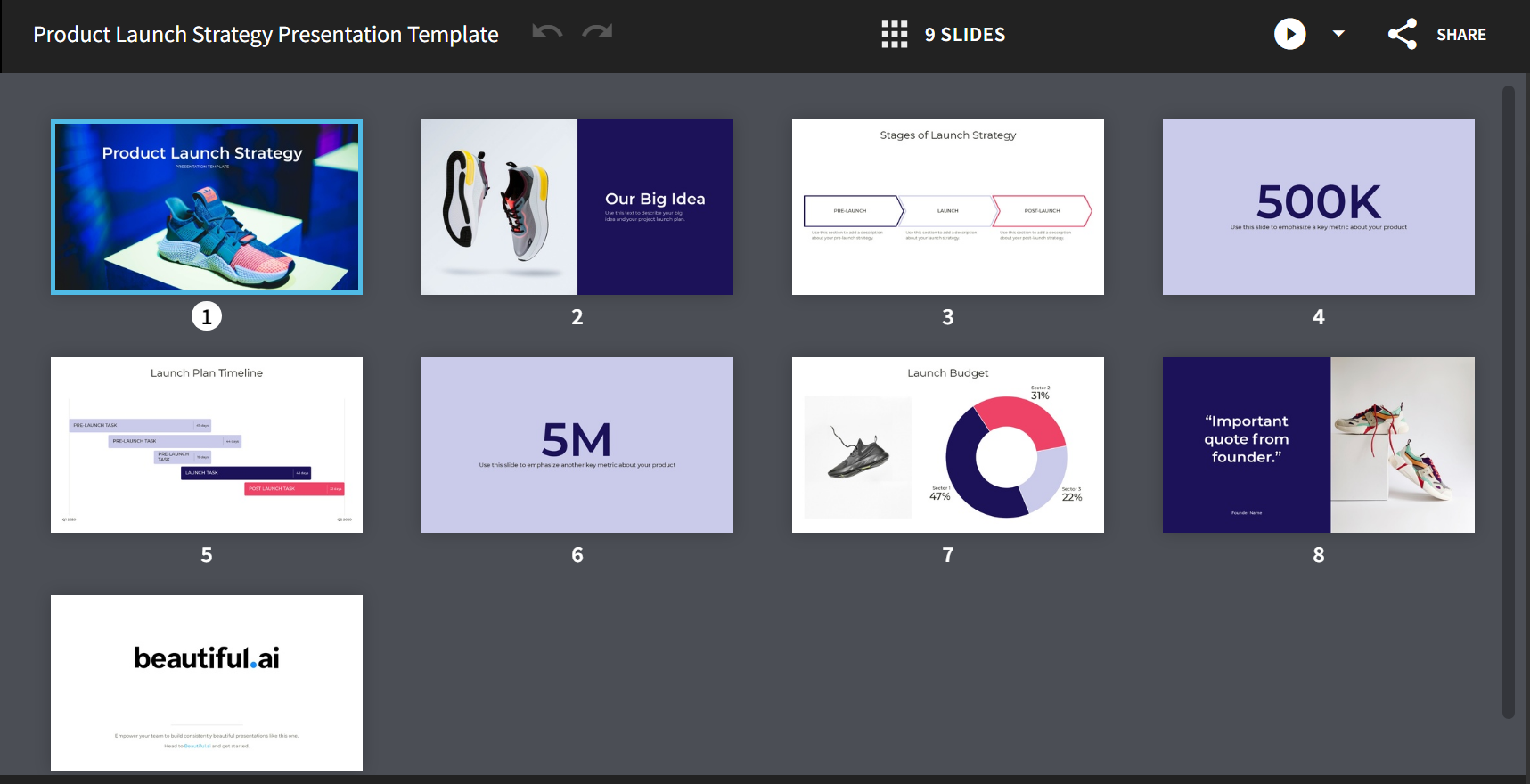 Create presentations from scratch
If you just want to create from scratch though, then you can.
You first choose a theme, just like we did before with the AI BotDesigner.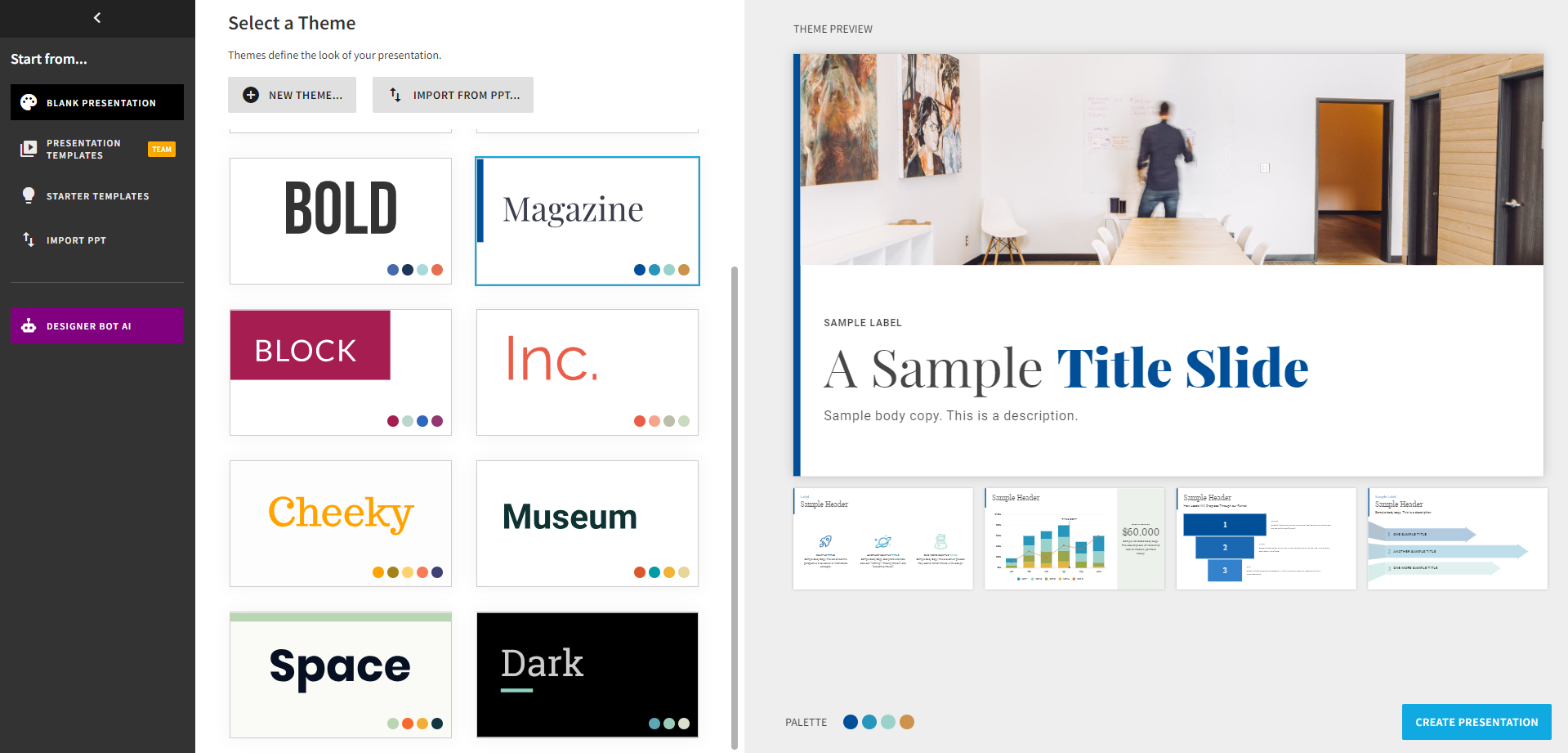 You then get presented with a blank slide – very MS Powerpoint-like!
Here I added an image, and some text and changed the background color. It took me 10 seconds and looks good to go.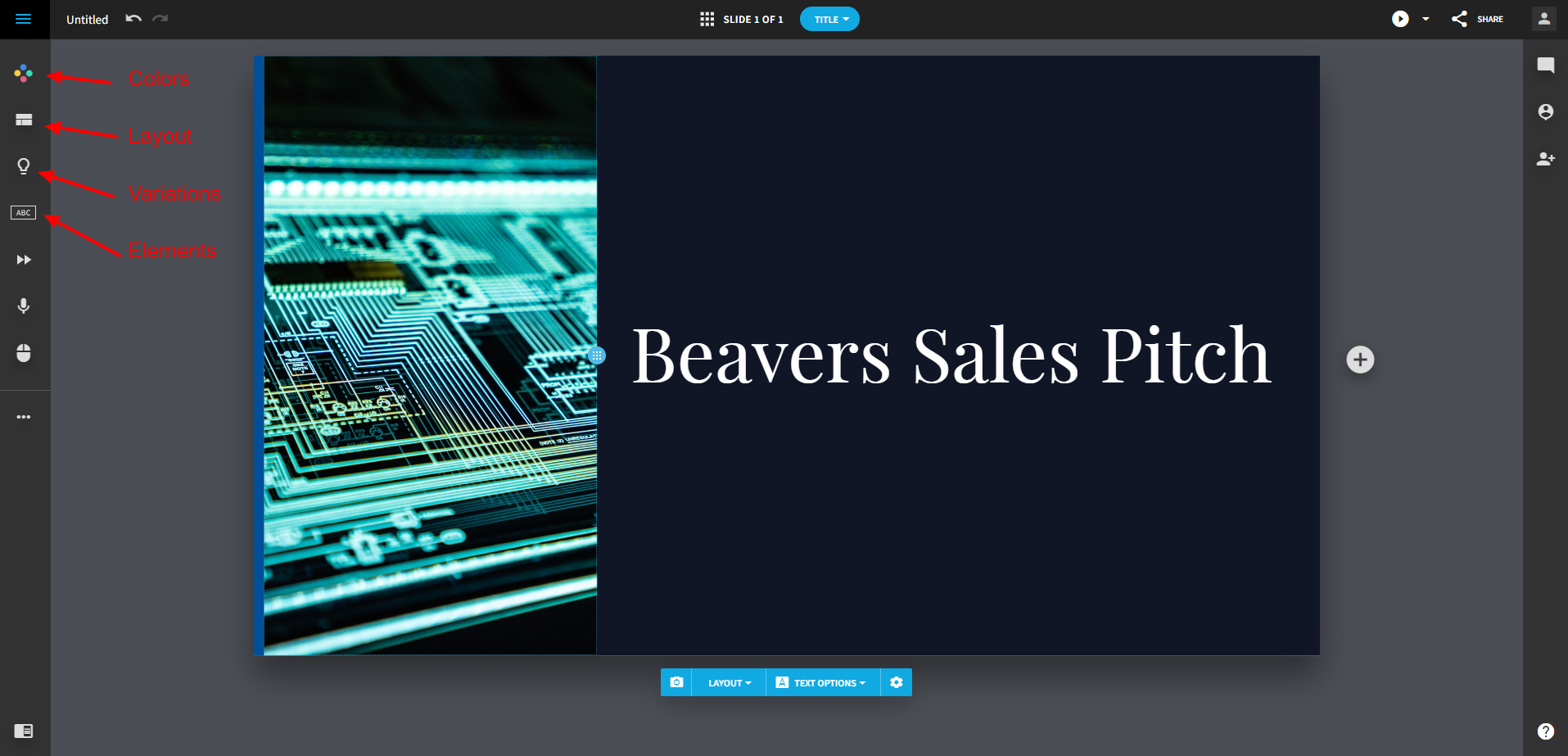 If I want to change the image on this slide then I just click the image, select 'replace image', and then I get the image selection screen. Here I can use the AI-powered search feature and find nearly anything I want, all royalty-free!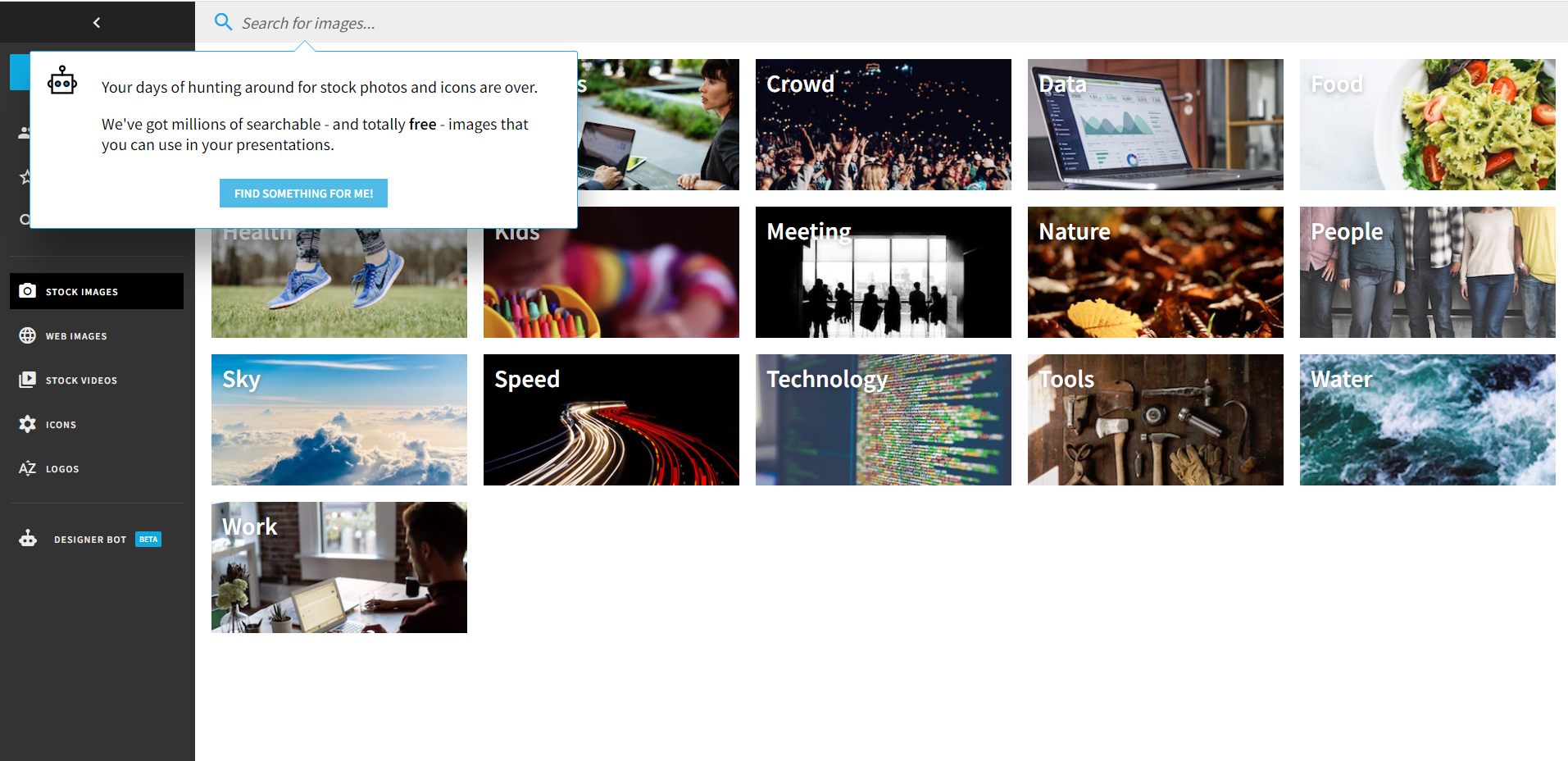 Once you have found an image, just select it and it will insert it for you.
Adding new slides
No matter what slide creation route you have used, you can always add new slides in. When you do, you get a ton of options. You can add a blank slide, use a slide template, get inspiration, or go full AI mode.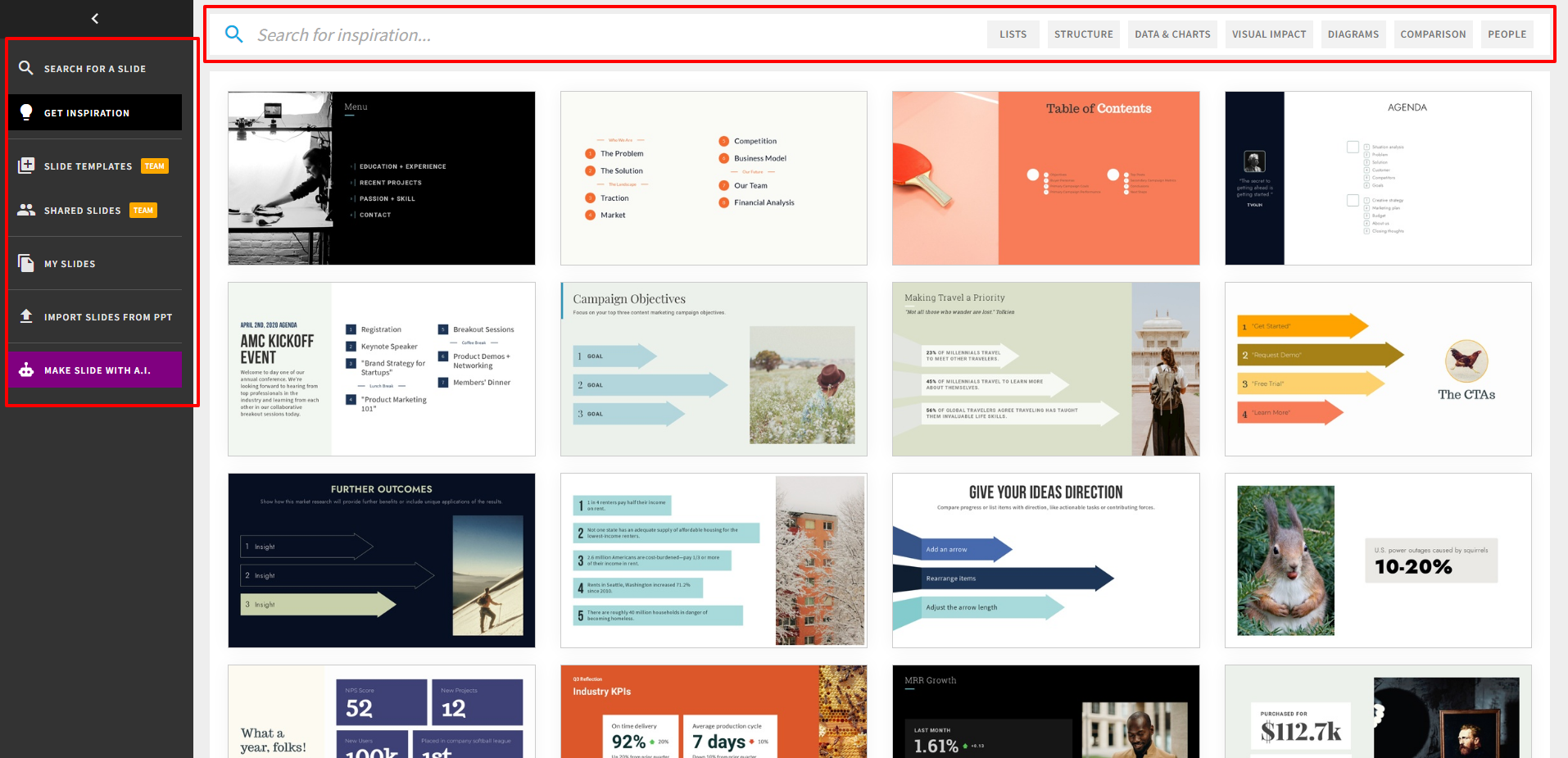 I love this about Beautiful.ai. You never get pigeoned holed into one way or one design. You can always adjust and use their full suite of features interchangeably.
As an example, I wanted to create a presentation from scratch as I was mirroring a presentation I had previously created. Once I had done that, I was able to add a slide template of a chart as well as add an awesome icon list template. This is how versatile and easy to use this tool is.
Slide Templates, Charts, and Graphs
Now for the good stuff! What really gets people's attention. Making the complicated look easy.
When you add a new slide (like above), two of the options you have are:
Search for a Slide
Get Inspiration
When you search for a slide you get menus upon menus of options with numerous different layouts.
There is:
Data & charts
Impact
Grids
Diagrams & timelines
Comparisons
People
Product and Customers
Here's a quick look at the popular and structural slides.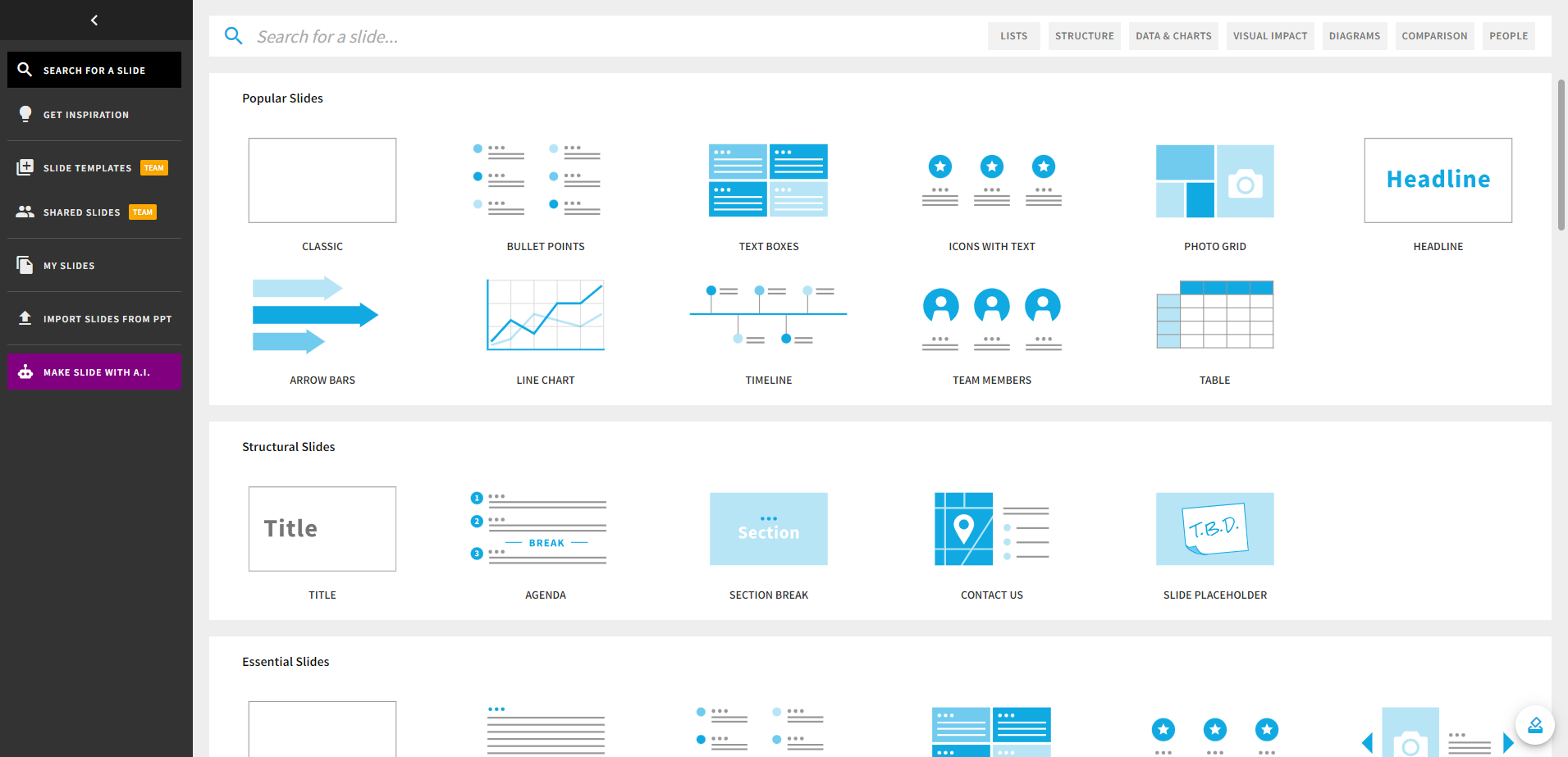 Once you select a template, you then have 2 options. You can pick a basic structure of a slide and then it will present a screen for you to add your text/graphics/design theme. Or you can use their 'inspiration' gallery and choose a 'done for you' slide with the design and theme all done and ready to go.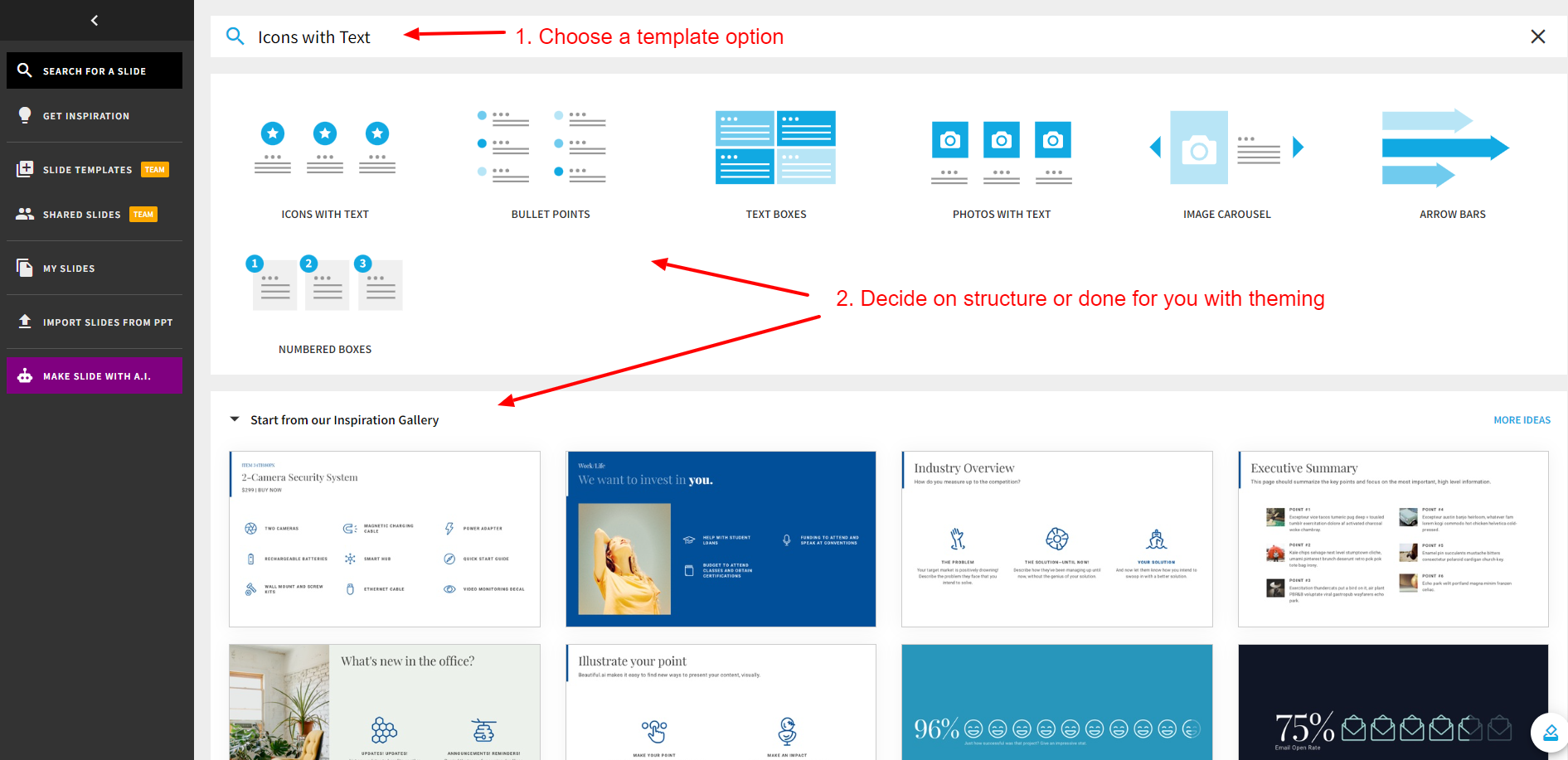 This is a great way to get slides in your deck fast. If you have an idea of the outline you want and any data you want to present, this will 10x your speed in creating presentations.
I haven't yet needed something that Beautiful doesn't have!
Editing Tools
The editing tools are really simple to use. There could be a few more options if I am being really picky but what they have, are super simple to use.
On the left-hand side, you have the editing menus. You can add and edit:
Colors
Layout
Text and Images
Shapes, Icons, Lists
Animations
Color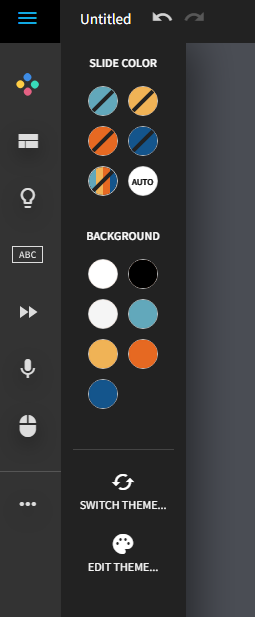 Layout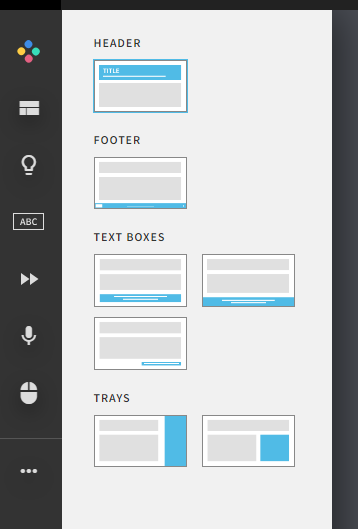 Text, Shapes & Icons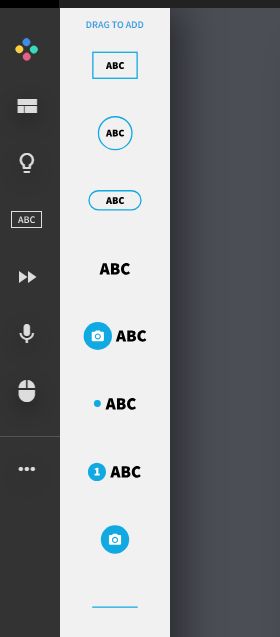 What's really neat about these tools is that all the formatting happens for you. You just drag and drop and everything ties up without you having to worry.
Team features
The Team features in Beautiful.ai really are collaborative. They will help all sizes of teams create stunning presentations with far less back and forth, slack and email no more!
You can easily collaborate in real time and invite team members with one click which completely eliminates versioning issues. Leading a large sale pursuit team, I can tell you that this is a game changer for me!
You can also create Shared Slides and Shared Themes so you can ensure visual consistency from pitch to pitch. This is a must for the larger organization as I know it is a big concern when taking these kinds of applications into the enterprise tech stack.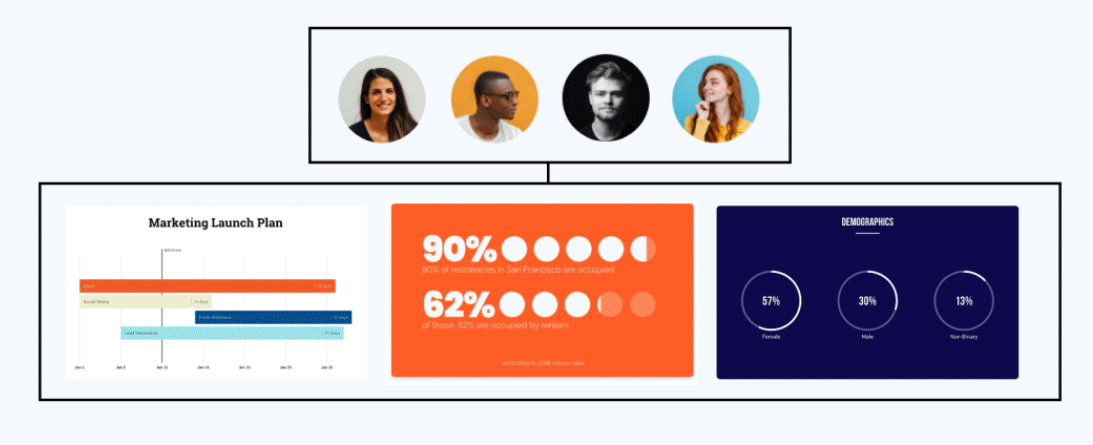 Other Useful Features
Here are some other features worth mentioning:
Audio/Visual: You can record audio and embed video into your presentation
Analytics: You can share links to your decks and then view the analytics like unique viewers, total watch time, and percent completion rates
PPT Import: You can import a Powerpoint presentation and then work the Beautiful.ai magic!
Folders: You can create and manage a folder structure inside Beautiful.ai to organize all your various decks
Create your own Templates: You can create your own templates and add your branded colors and logos so you can start fast when you next need a deck
What Could be Better?
When I want to create professional-looking presentations for my sales role, Beautiful.ai is always my weapon of choice. But that doesn't mean it's perfect. Here's what I would change.
Images: A wider selection of graphics would be useful. At first glance, there looks to be loads but when you get into it, they can get a bit stale
AI DesignerBot: Other tools like Decktopus let you view what the AI will create before it does so you can add, edit or delete slides. This is handy when you have an idea of what you want but still want the AI to do most of the legwork.
Templates: It would be awesome if you could add slides from other template packs. There are some stunning visuals that work across many decks but it can be cumbersome getting them all together.
Pricing
There are 3 packages available. You can pay annually or by monthly subscription.
Pro (individual): $12 per month paid annually (or $45 per month!)
Team: $40 per user /month
Enterprise: POA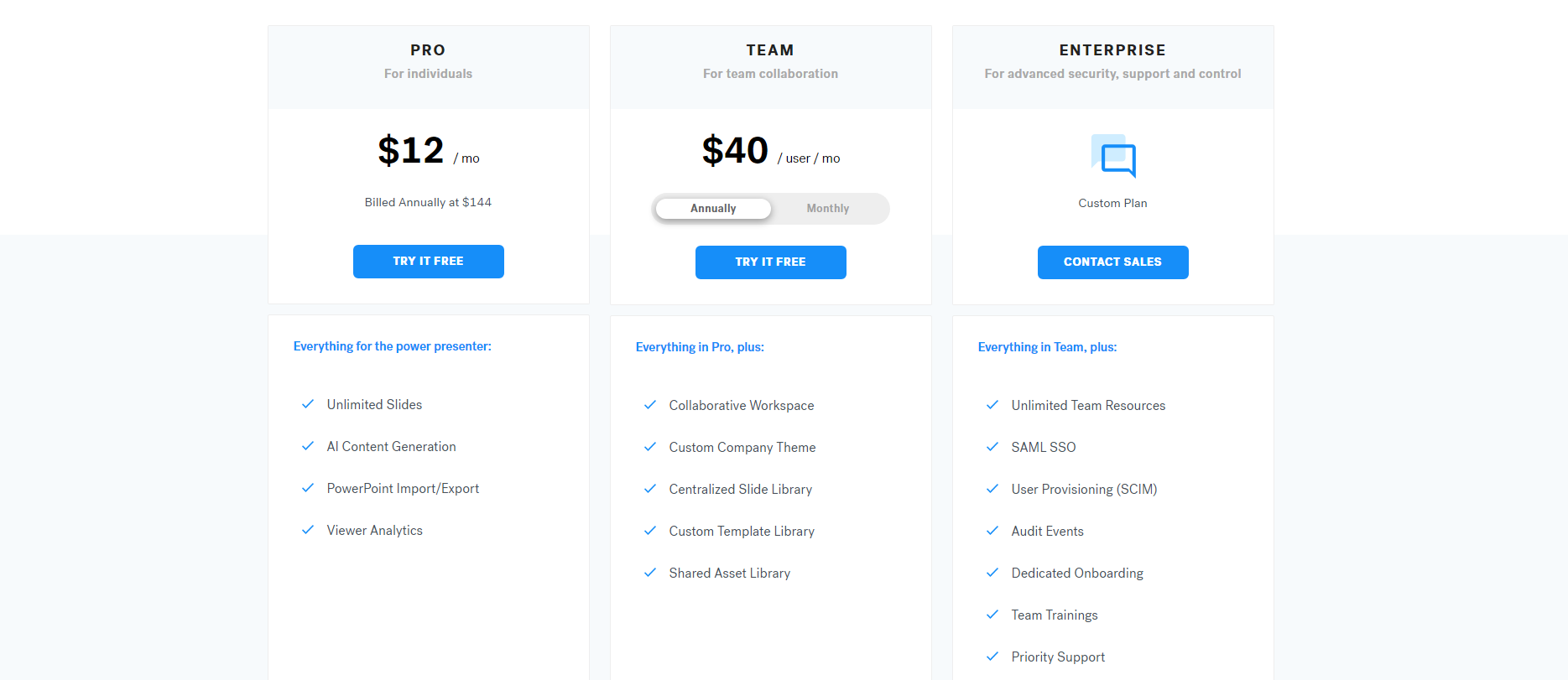 The pricing truly is good for what you get with Beautiful.ai. If you create presentations but want to ditch messing around with traditional presentation tools, it's the best $12 a month you will spend!
Last Thoughts
I have tested all of the top AI Presentation Software and Beautiful.ai comes out on top. The fact that you can create entire presentations that are visually stunning yet still easy to change to how you want is hands down the best.
The advanced features for editing and the smart templates provide a unique experience when it comes to sitting down to get a slide deck together.
Powerpoint presentations are no more. I certainly won't be back on that wagon anytime soon!