15 Best AI Email Generators, Writers & Assistants – 2023
Crafting effective emails takes a lot of time and even then, the open and response rates are probably not as good as you want.
But the best AI email generators can provide a helping hand, delivering personalized, professional-quality messages that will boost your engagement, with just a few clicks.
In this guide, we'll explore the capabilities of the leading AI email writing tools so you will know which one will work best for you.
What are AI Email Generators
AI email generators use artificial intelligence to improve your open and response rates. Beyond basic spelling and grammar checks, they analyze context to provide suggestions on tone and structure.
They can create drafts from input keywords, optimize subject lines for engagement, and even predict recipient responses, enabling more effective and personalized communication.
Let's dive in.
What are the Best AI Email Generators, Writers & Assistants?
AI email writing tools are coming at us thick and fast. You get addons to Gmail, email assistance embedded into CRMs, and pure email assistants that do nothing else.
No matter your current situation and need, we cover the best ones right here.
If you purchase through links on our site, we may earn a referral from our partners, at no additional cost to you. For more information, visit my disclosure page.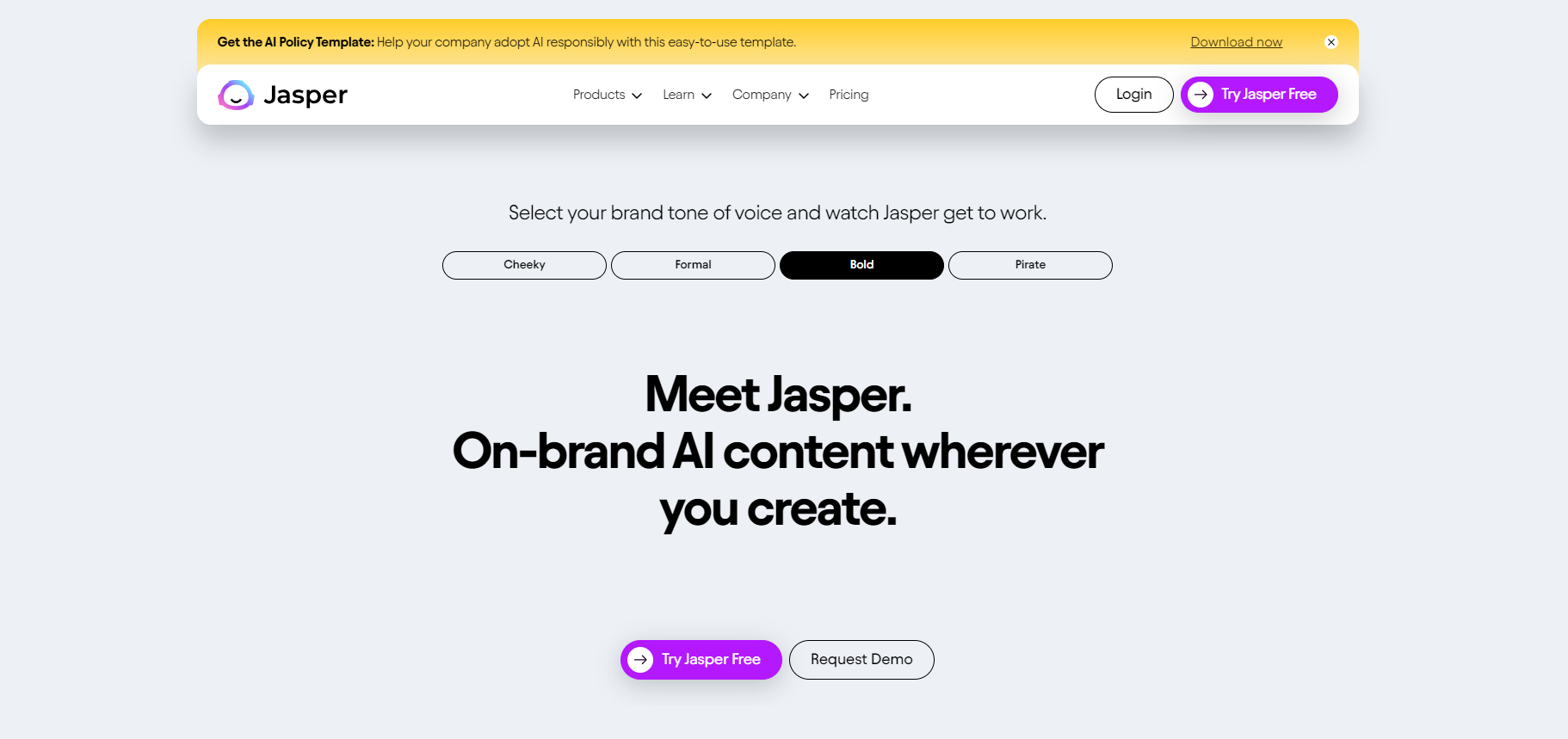 Jasper AI stands out as one of the most advanced and versatile AI email assistants. It leverages cutting-edge natural language generation powered by GPT-3 to deliver human-like emails, social media posts, and other marketing copy with ease.
Jasper learns your unique brand voice by analyzing past content, ensuring the copy it generates consistently aligns with your established messaging and style.
Whether you provide descriptive prompts or quick voice inputs, Jasper can craft complete, polished emails tailored to your needs in seconds.
Key Features
Leverages GPT-3 to generate coherent, human-like ai generated email copy that connects with recipients so your emails achieve higher engagement.
Learns your brand's distinct voice and tone from previous content to maintain messaging consistency so your brand identity is reinforced.
Supports voice inputs for quick drafting without typing so you can create emails faster.
Built-in plagiarism checker ensures originality so your brand reputation is protected.
Pricing
Starts at $39/month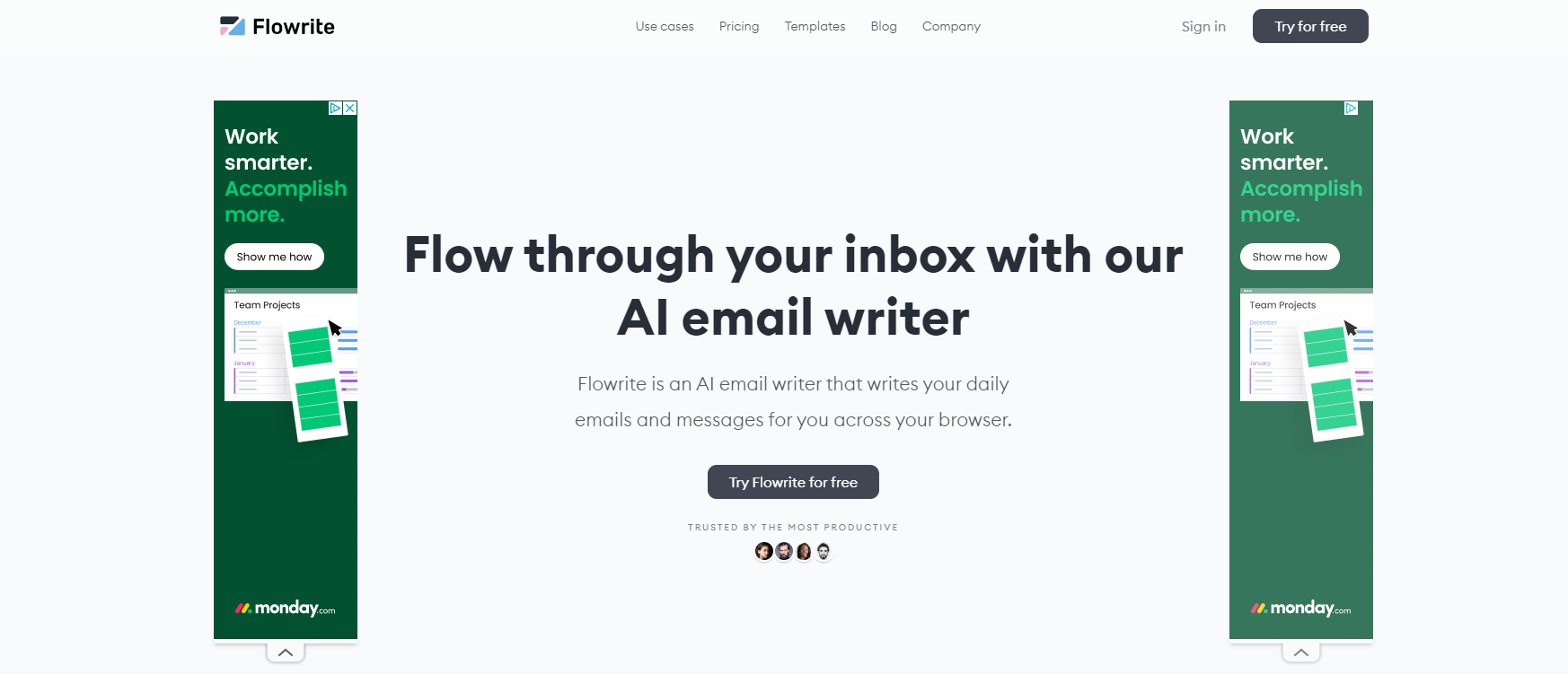 Flowrite aims to save busy marketing and sales teams hours wasted manually composing emails. Its machine learning capabilities continuously study your relationships and interactions to generate emails personalized for each recipient.
Just provide a few brief instructions expressing your intent, and Flowrite handles the rest. It delivers multiple draft options unmatched in personalization, allowing you to select the message that best resonates with the relationship.
And get this – the more you use Flowrite, the better it becomes at capturing your communication style. Pretty neat, huh?
Key Features
Generates complete emails from short prompts so you don't have to manually write anything.
Email copy personalized using relationship insights so it nurtures your connections.
Provides multiple drafts to choose from so you have flexibility.
Constantly improves output accuracy through machine learning so errors are reduced over time.
Pricing
Starts at $5/month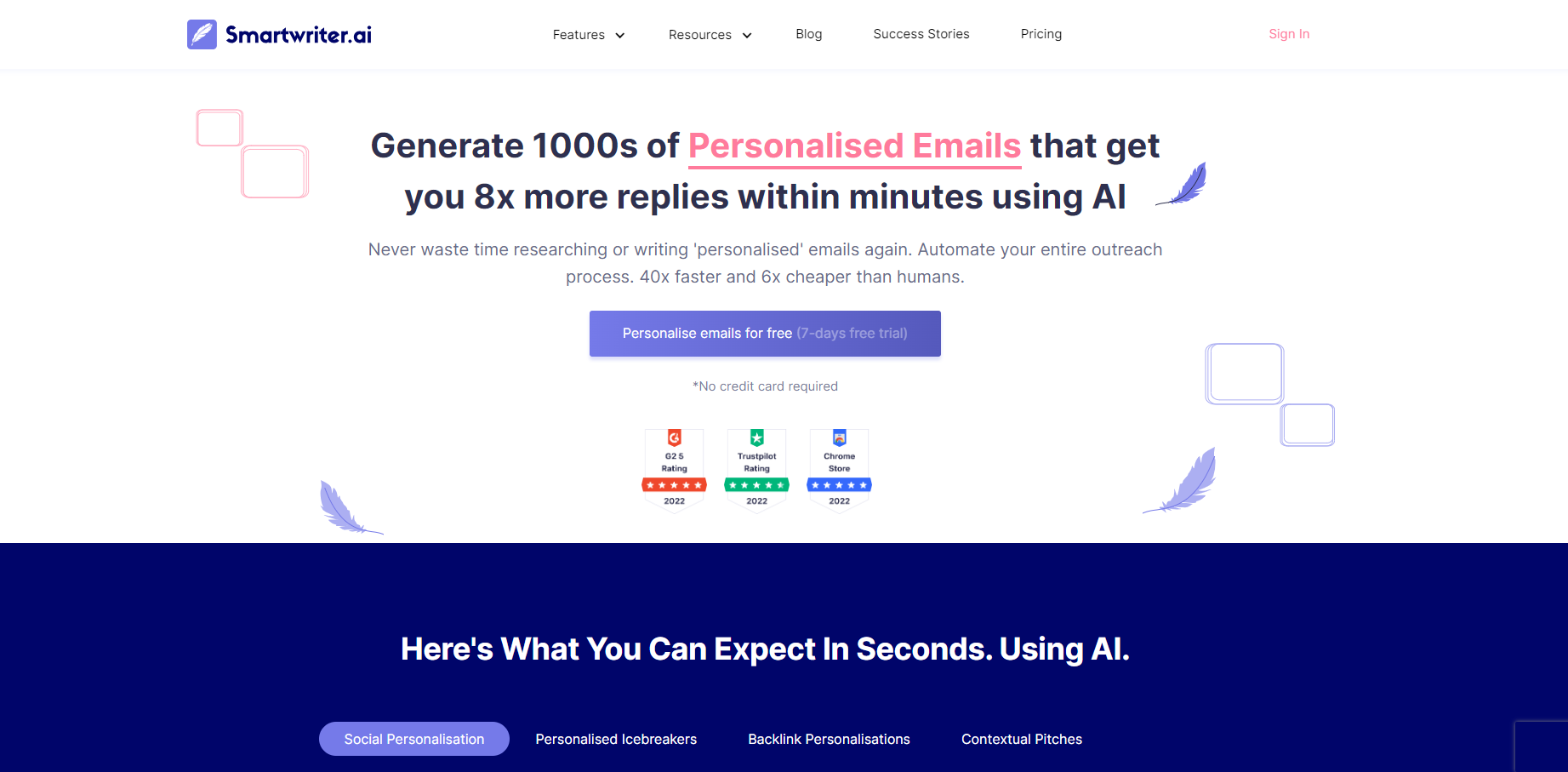 SmartWriter reduces the tedious research required for effective personalized cold emails. Its AI scours the web for publicly available prospect data, and then crafts emails directly tailored to them. This is a sales rep's dream!
Whether you need intro lines, entire cold emails, LinkedIn outreach messages, or backlink requests, SmartWriter can generate them at scale while sounding natural.
It also analyzes your emails to improve deliverability, ensuring your meticulously personalized messages reach inboxes.
Key Features
Creates personalized emails, intros, and LinkedIn messages so your outreach feels more tailored and engaging.
Research-based copy pulls real prospect details so your messaging seems authentic.
It checks emails to boost deliverability so your inbox placement and open rates improve.
Automates backlink outreach so you save time on manual requests.
Pricing
Starts at $59/month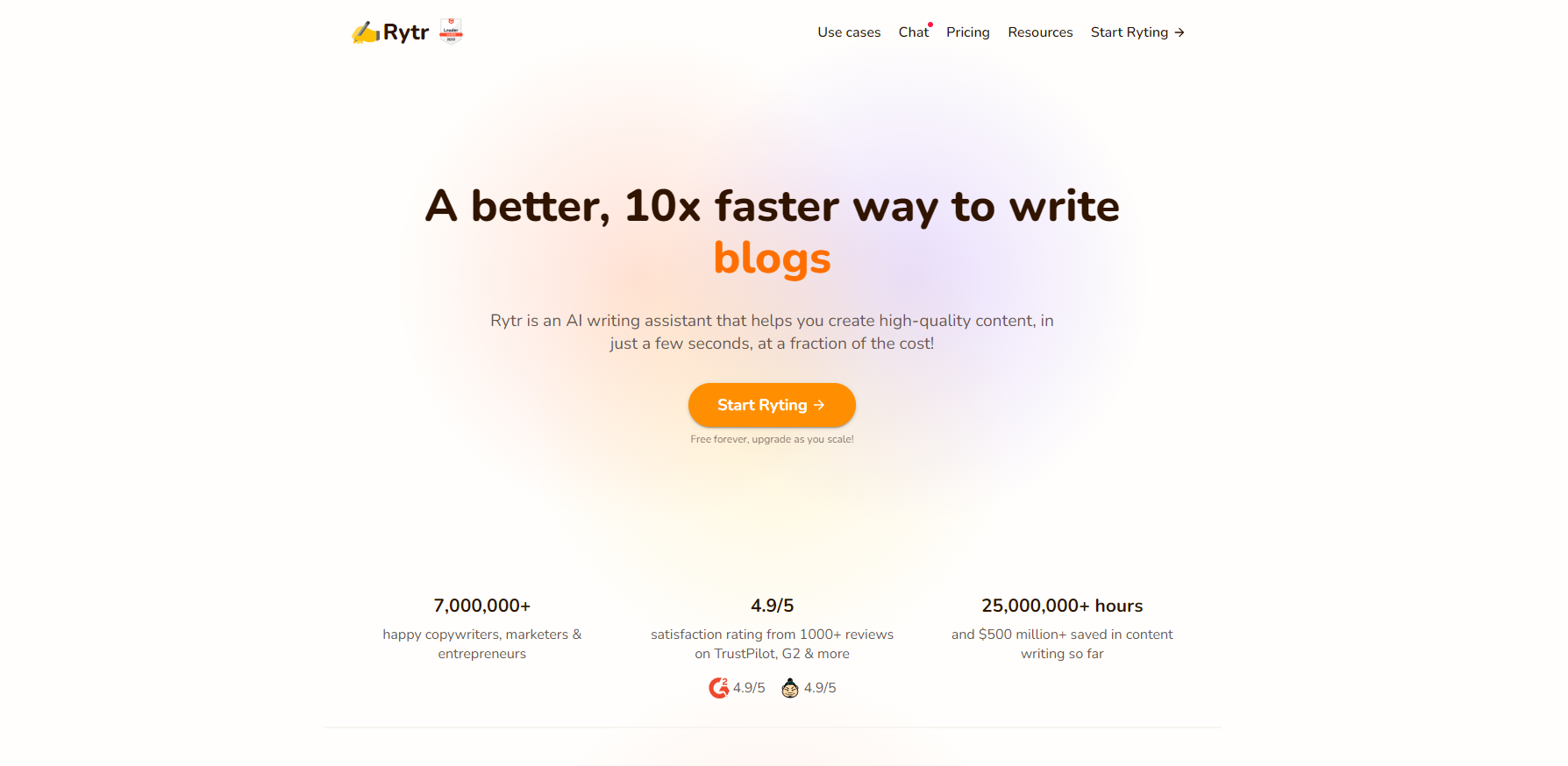 Rytr makes it easy for anyone to produce professional-quality emails in just seconds. Its intuitive interface allows you to instantly generate polished emails by simply entering your content goals and parameters.
Whether you need a friendly follow-up or persuasive sales pitch, Rytr can match your exact tone and style needs. It even lets you select from over 30 languages to tailor messaging for global audiences. Rytr's customizable output helps you save time without sacrificing quality or personalization.
Key Features
An intuitive, user-friendly interface so you can create emails rapidly.
30+ language options suit global audiences so you can localize messaging.
You can customize the tone as friendly, urgent, persuasive, etc. so it matches your communication goals.
Built-in plagiarism checker maintains originality so your brand is protected.
Pricing
Free plan for up to 10k characters per month or $9/month if you need more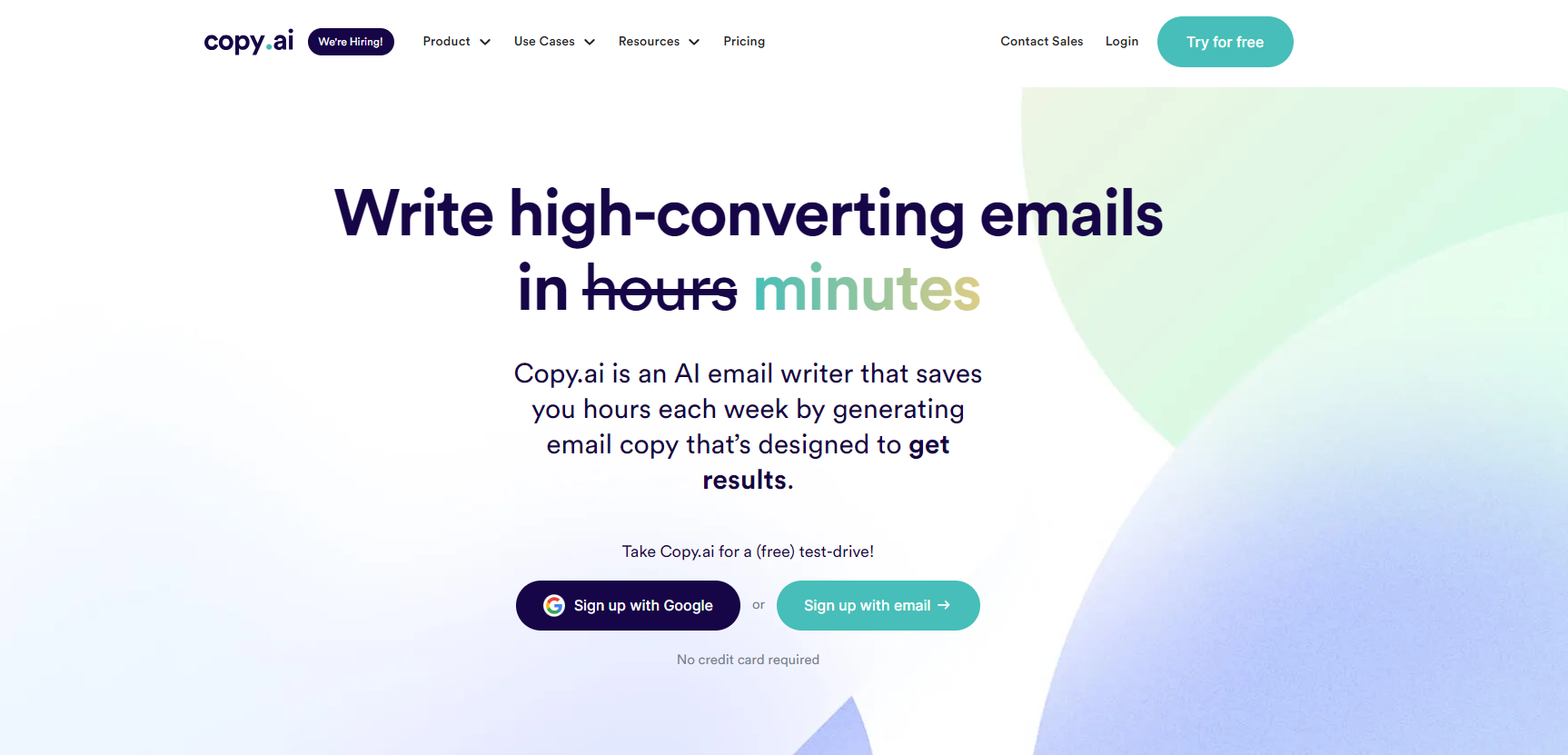 CopyAi is a strong AI email writer. It streamlines the more general email tasks through a suite of templates like promotions, subscriptions, and welcomes. It also excels at long-form content creation and would give Byword a run for its money.
Just input your desired recipient, subject line, and the purpose of your message. CopyAi then generates professional email copy customized to your audience's interests and preferences.
You can preview the email and then schedule it or send it immediately. You can still use it for off-the-cuff emails and it is quite simple to draft emails for any purpose that feels personalized and engaging.
Key Features
Email templates for various common purposes so you skip the blank page hurdle.
Incorporates recipient data for personalization so your emails feel more authentic.
Preview the email before sending it so you can error-check.
Schedule sending or send immediately so you have flexibility.
Pricing
$49/month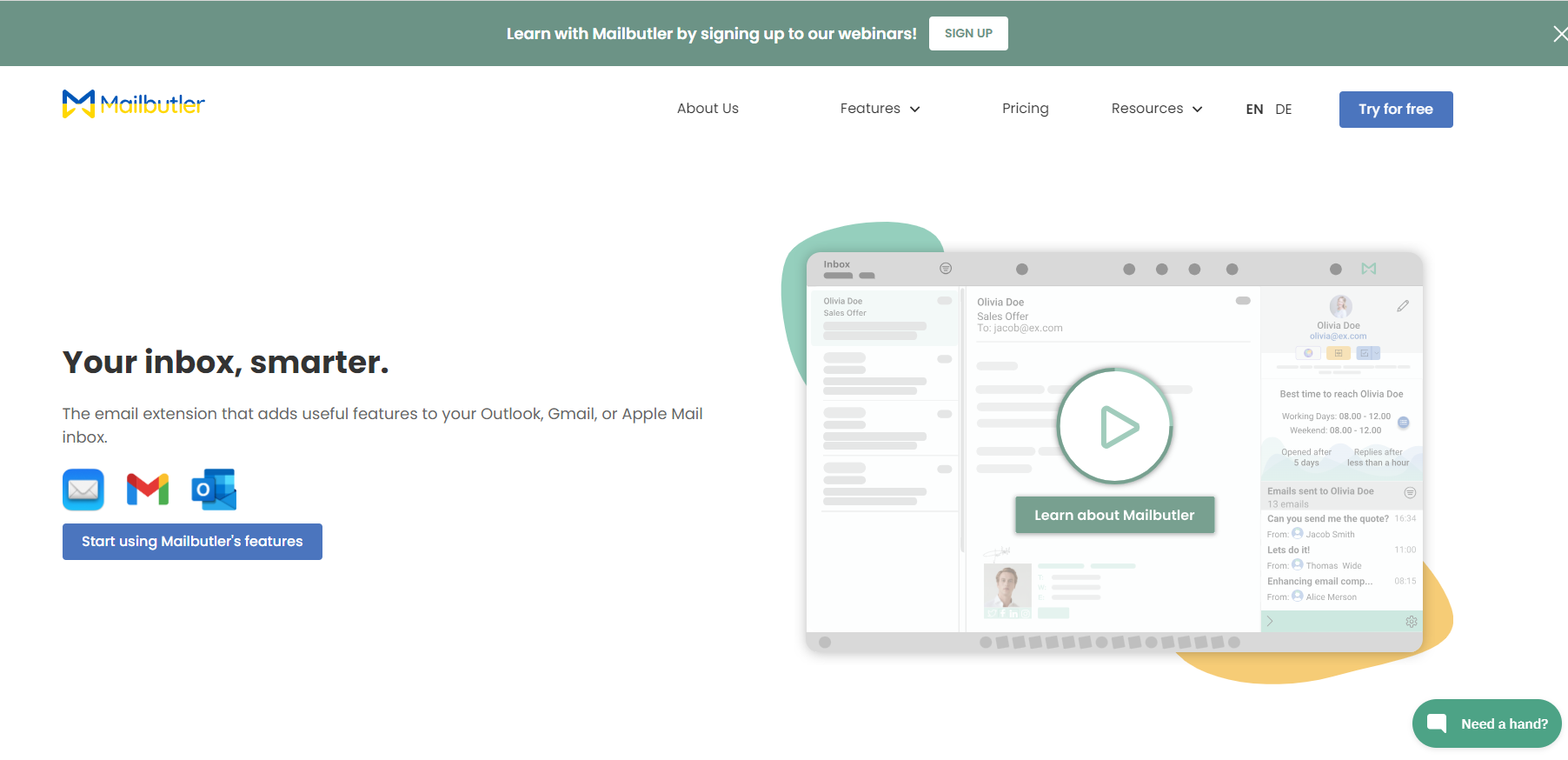 If writing professional emails feels tedious, MailButler's AI email assistant can instantly generate them for you. In just seconds, it composes clean, coherent messages after analyzing your input and desired intent.
MailButler can also summarize long emails into concise takeaways, extract key details like tasks and contacts, and improve your spelling and grammar. Its AI capabilities help you communicate clearly and effectively without the grunt work.
Key Features
AI-powered assistant writes emails for you so you don't have to manually compose anything.
Summarize long emails into brief takeaways so you save time reading.
Automatically extracts tasks and contacts from messages so follow-ups are simpler.
Check spelling and grammar so your writing is polished.
Pricing
Starts at $5/month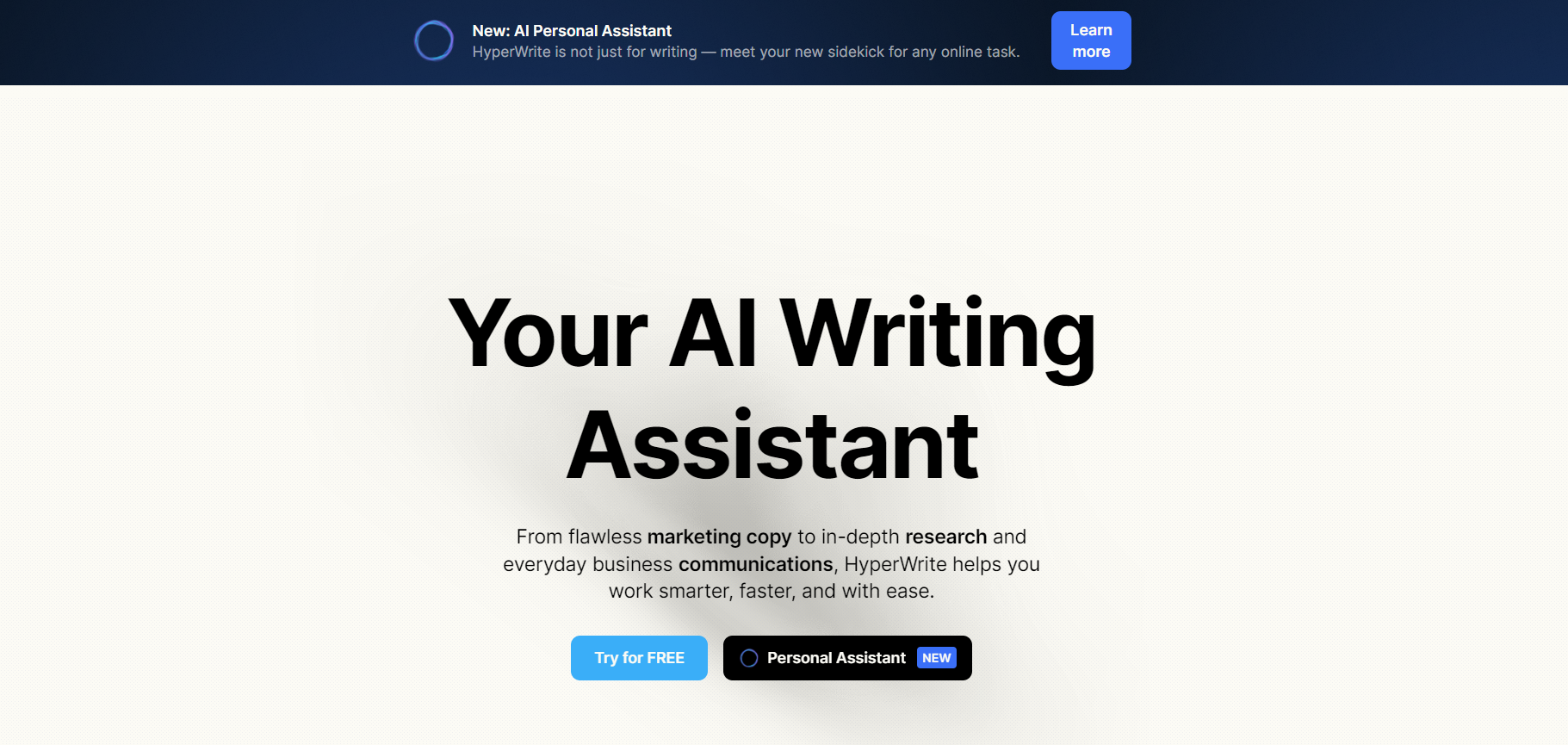 Replying to emails can devour hours without Hyperwrite's AI power. The tool analyzes incoming messages, assesses tone, style, and intent, and then generates thoughtful reply drafts for you.
Hyperwrite learns your unique communication patterns to ensure replies sound natural, not robotic. It even enhances clarity, fixes errors, and seamlessly translates across languages.
Hyperwrite reduces the burden of email correspondence so you can focus on big-picture priorities.
Key Features
Analyzes emails to automatically compose relevant replies so you don't have to respond manually.
Mimics your natural writing style so responses sound authentic to you.
Improves clarity and fixes errors so your writing quality increases.
Translates language seamlessly so you can communicate globally.
Pricing
Free for 15 generations per month or $19.99/month for more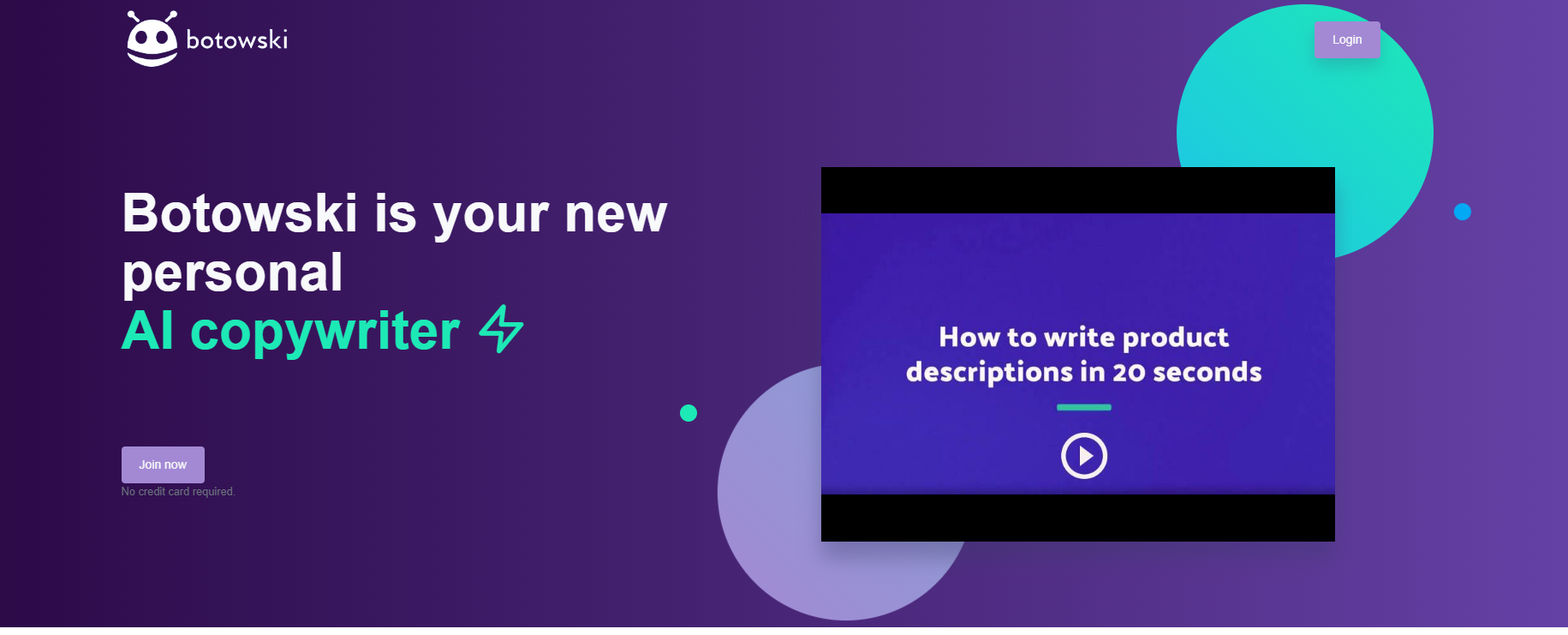 Botowski simplifies email drafting with its AI copy generators. Just describe the email you want to create and select your desired tone from options like friendly, urgent, persuasive, and more.
Botowski will instantly generate well-written email templates matching your exact needs. You can generate multiple variations until you find the perfect content. The tool makes composing emails easy by handling the writing for you.
Key Features
Email generation from short descriptions so you don't have to write them yourself.
Choose from 10+ tone options so they match your communication goals precisely.
Creates multiple drafts to select from so you have flexibility.
Tools to avoid plagiarism so your reputation stays protected.
Pricing
Free plan available but too basic for use. Starts at $19/month.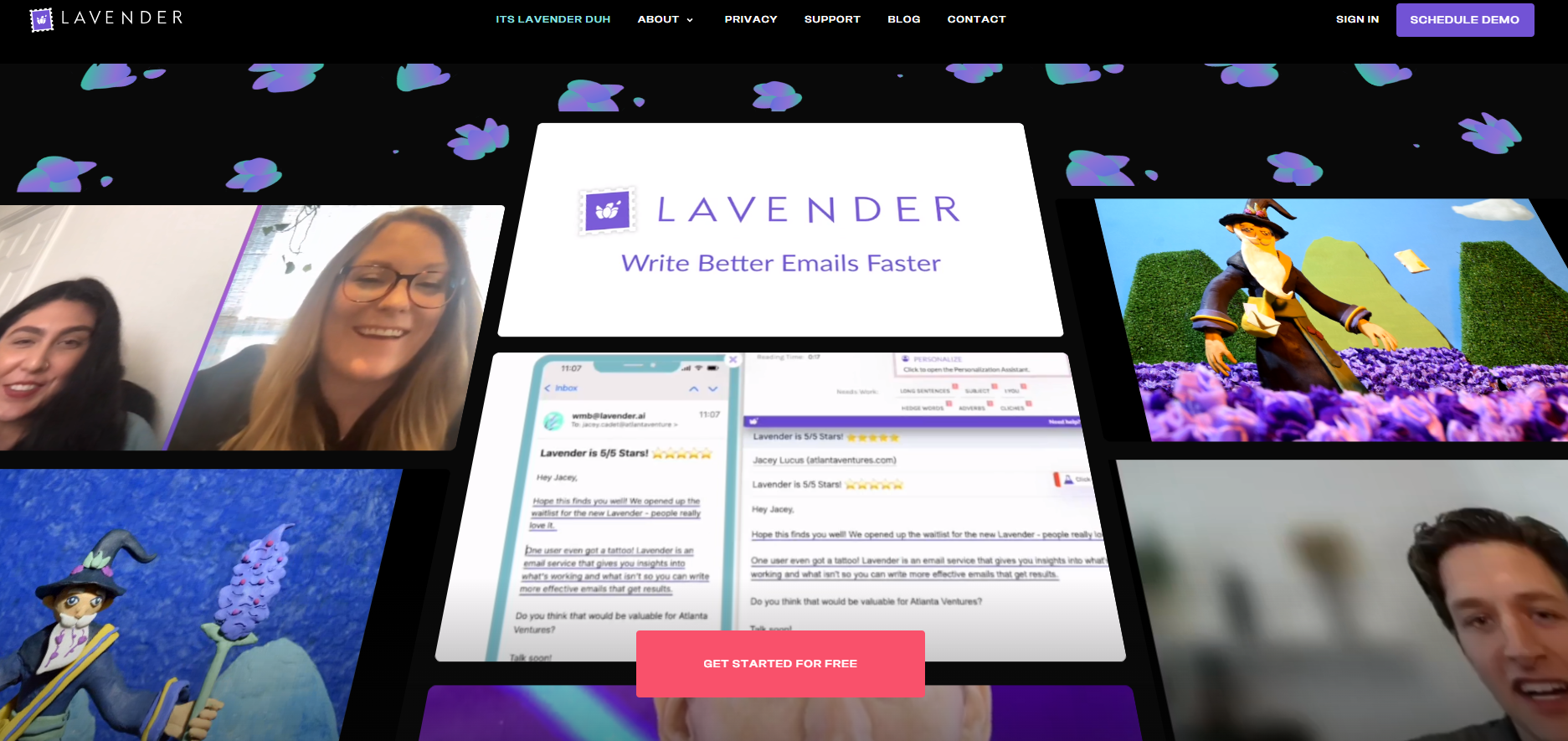 While Lavender doesn't completely automate email generation yet, its AI assistant nonetheless transforms email writing. As you craft messages, Lavender provides real-time feedback to improve your email's impact based on analysis of millions of emails.
It also builds detailed profiles using data like social posts and background to inject personalization. Lavender takes your emails from generic to targeted, helping you engage and convert more prospects.
Key Features:
AI writing assistant provides improvement suggestions so your email impact increases.
Gathers intel on prospects for personalization so you can customize messaging.
Plan to integrate GPT-3 for automated generation so you gain future capabilities.
Pricing
Starts at $29/month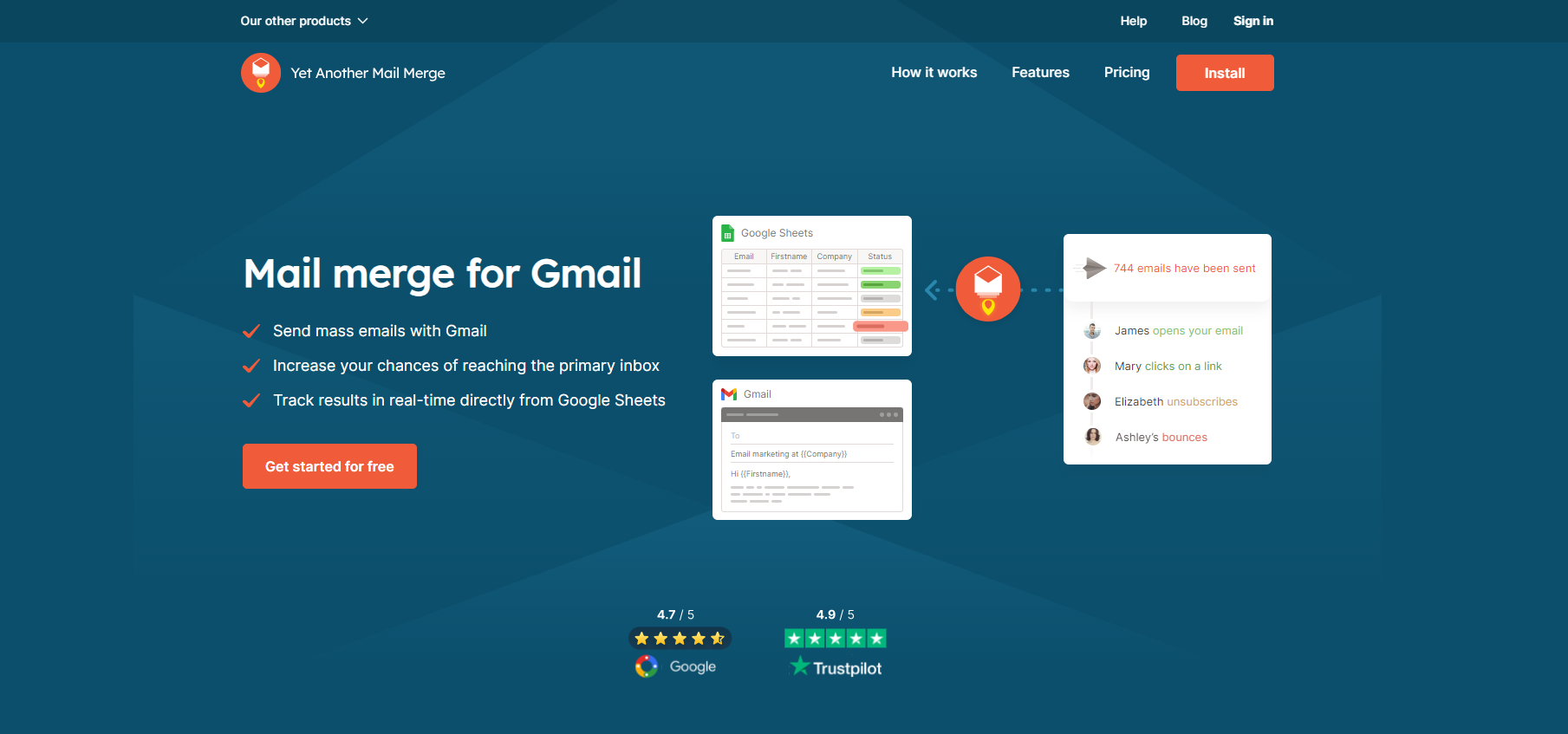 Yamm is an AI email writing assistant that integrates directly with Gmail and Google Sheets to streamline creation, scheduling, sending, and tracking performance. It simplifies personalizing and automating high-volume email campaigns. It
With Yamm, you can customize every message while still reaching thousands. Features like real-time analytics help optimize future campaigns for even better results. It's
Key Features
Gmail and Sheets integration so your workflow is seamless.
Personalize emails at scale so your outreach converts better.
Real-time campaign performance tracking so you can optimize efforts.
Automates sending for efficiency so you save time.
Pricing
Free plan available. Paid plans start at $25/month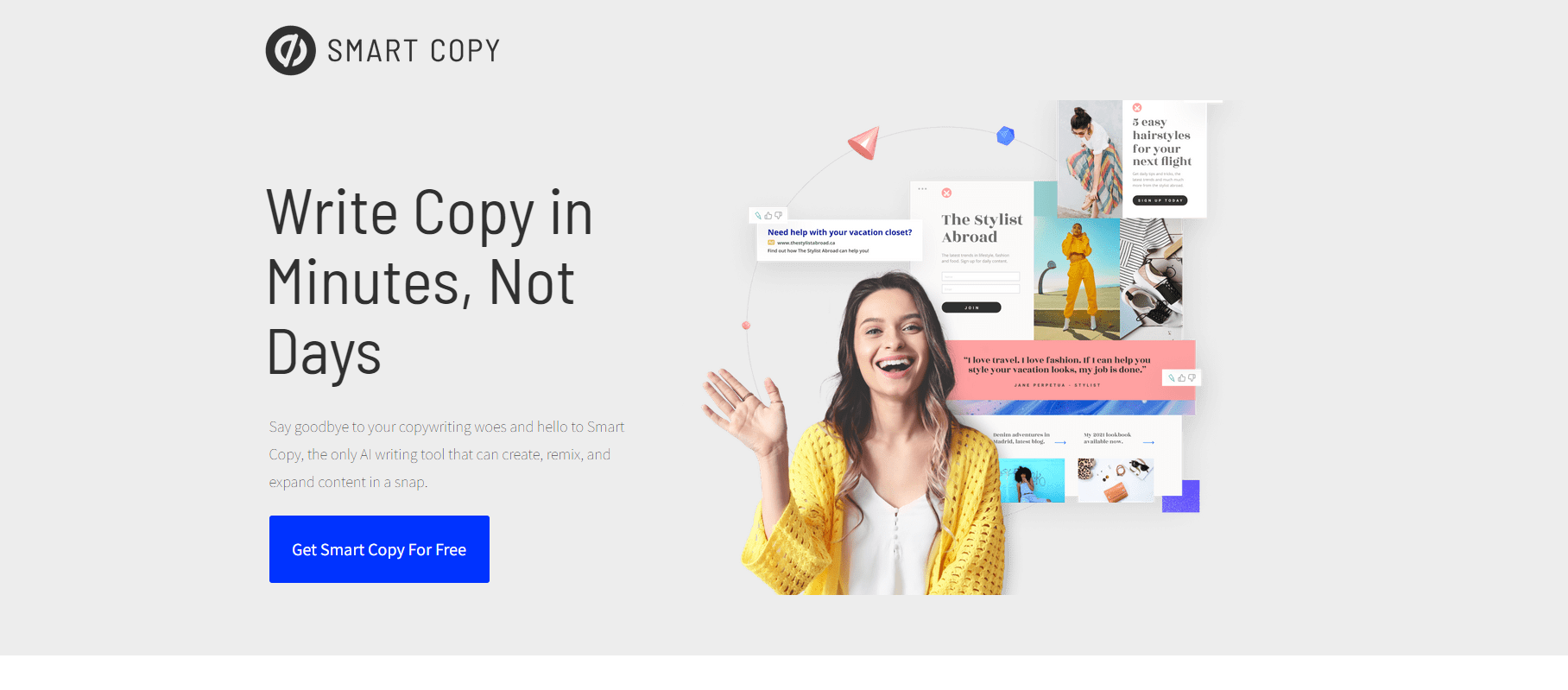 Smart Copy helps you create emails tailored to each audience segment's needs and interests. Provide details on your company, product, brand style, target groups, and more.
Its AI generates customized templates matching your specifics to help you engage readers. Save templates within the platform for quick access later when launching new campaigns or outreach.
Key Features
Email templates incorporate company and audience data so messaging is personalized.
Specific templates for sales outreach so you can drive more conversions.
Option to save templates for reuse so your workflow improves.
Pricing
Starts at $19/month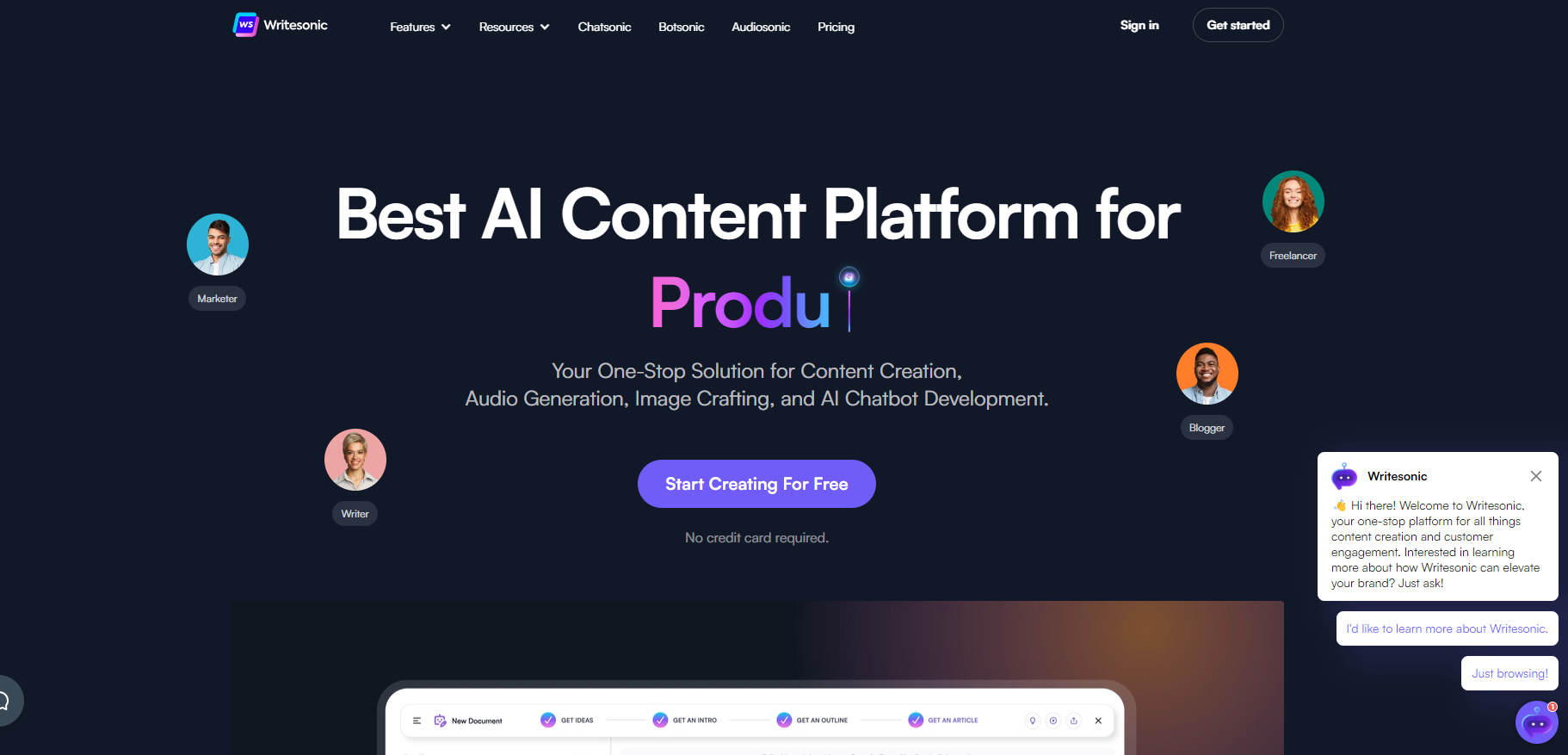 WriteSonic is an awesome AI tool that arms you with targeted AI generators for every need – from email subject lines to complete sequences. Its cold email generator creates initial outreach messages designed to get responses.
The follow-up and drip campaign tools help you engage customers post-sale with timely touchpoints. With multilingual support, you can reach any audience effectively.
Key Features
Subject line generator so open rates increase.
Cold email generator so conversations start faster.
Follow-up and drip campaign creation so you nurture customers.
25+ languages supported so you can reach global audiences.
Pricing
Starts at $20/month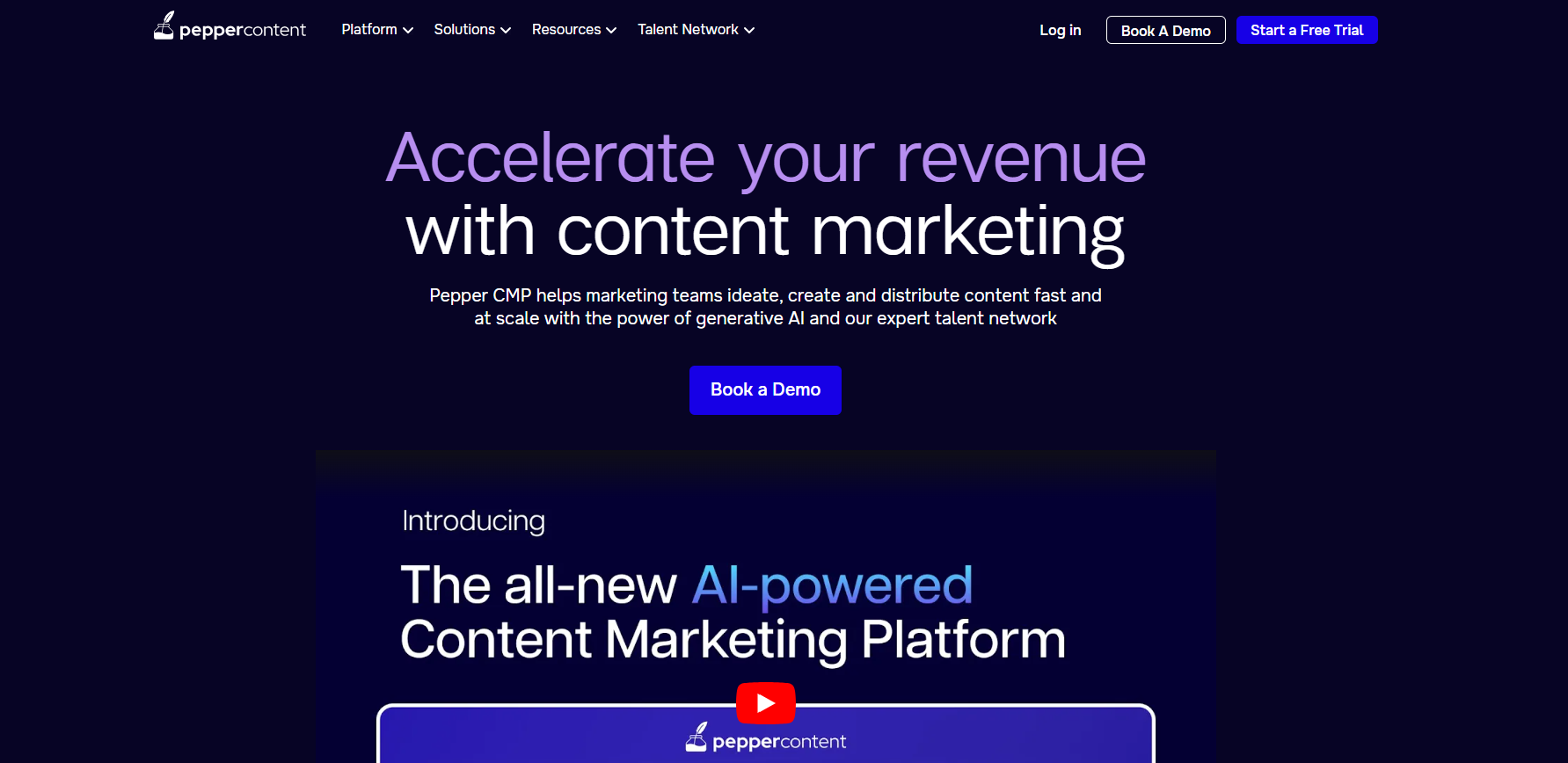 Peppertype simplifies generating any type of business content with its robust AI capabilities. It leverages GPT-3 and other technologies to create emails, social posts, product descriptions, and more with just a few prompts.
Whether you need a sales pitch, customer newsletter, or cold intro, Peppertype can craft it quickly in a tone and style that represents your brand.
Key Features
GPT-3 foundation drives quality output so writing seems human-created.
33+ content categories from emails to ads so you have content versatility.
Requires only brief prompts so drafting is fast.
Pricing
Starts at $35/month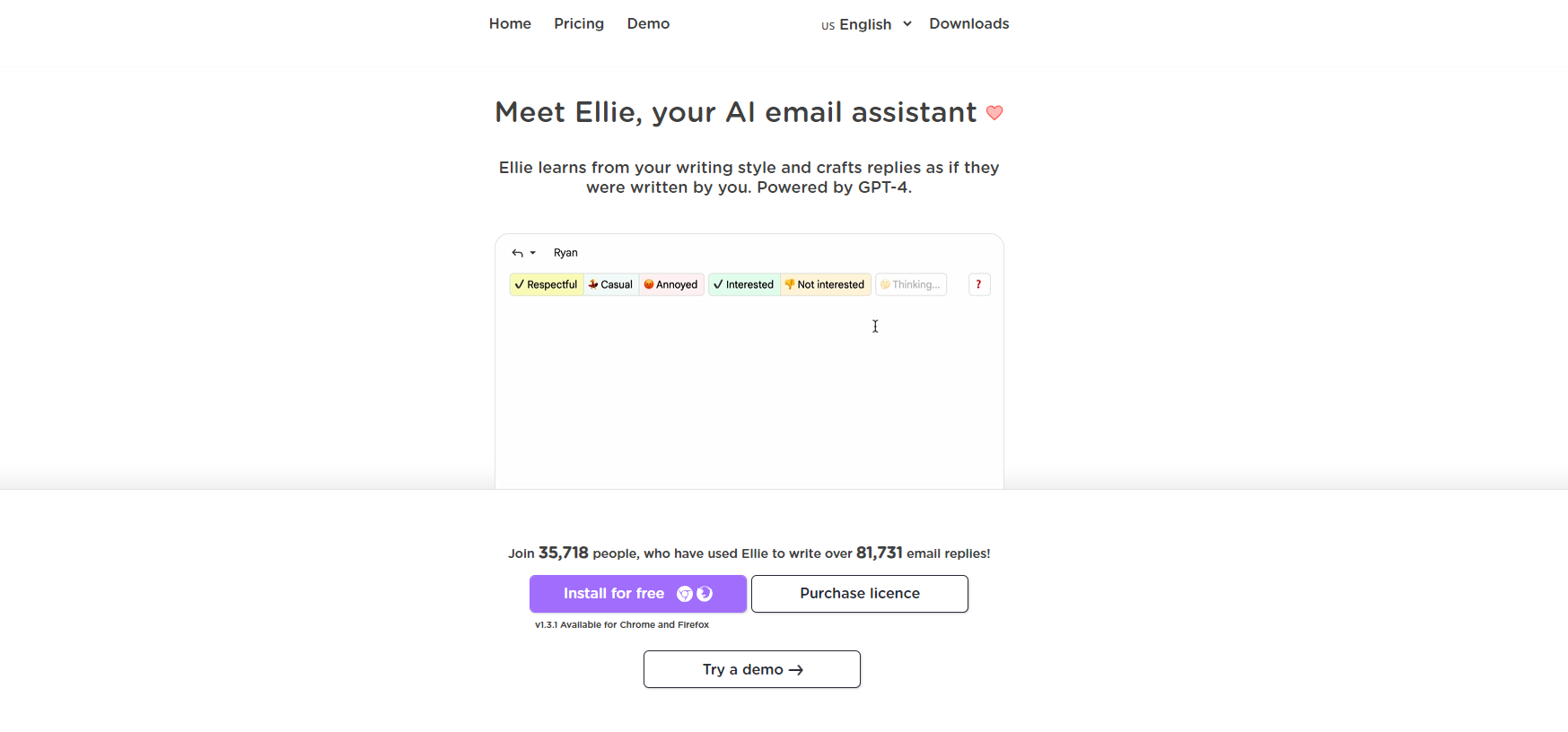 Ellie streamlines your email process by acting as your AI writing assistant. It studies your past email interactions to learn your preferred tone, style, and language patterns.
Ellie then mimics your natural voice to draft responses tailored specifically to you. This personalized approach saves time while retaining the human touch in your communications that builds connections.
Key Features
Learns your distinct writing voice and style so your responses always sound authentic.
Writes replies in your personalized tone so relationships strengthen.
Multilingual capabilities so you can reach audiences globally.
Browser extension integration so your email writing efficiency improves.
Pricing
Free plan available. Paid plans start at $15/month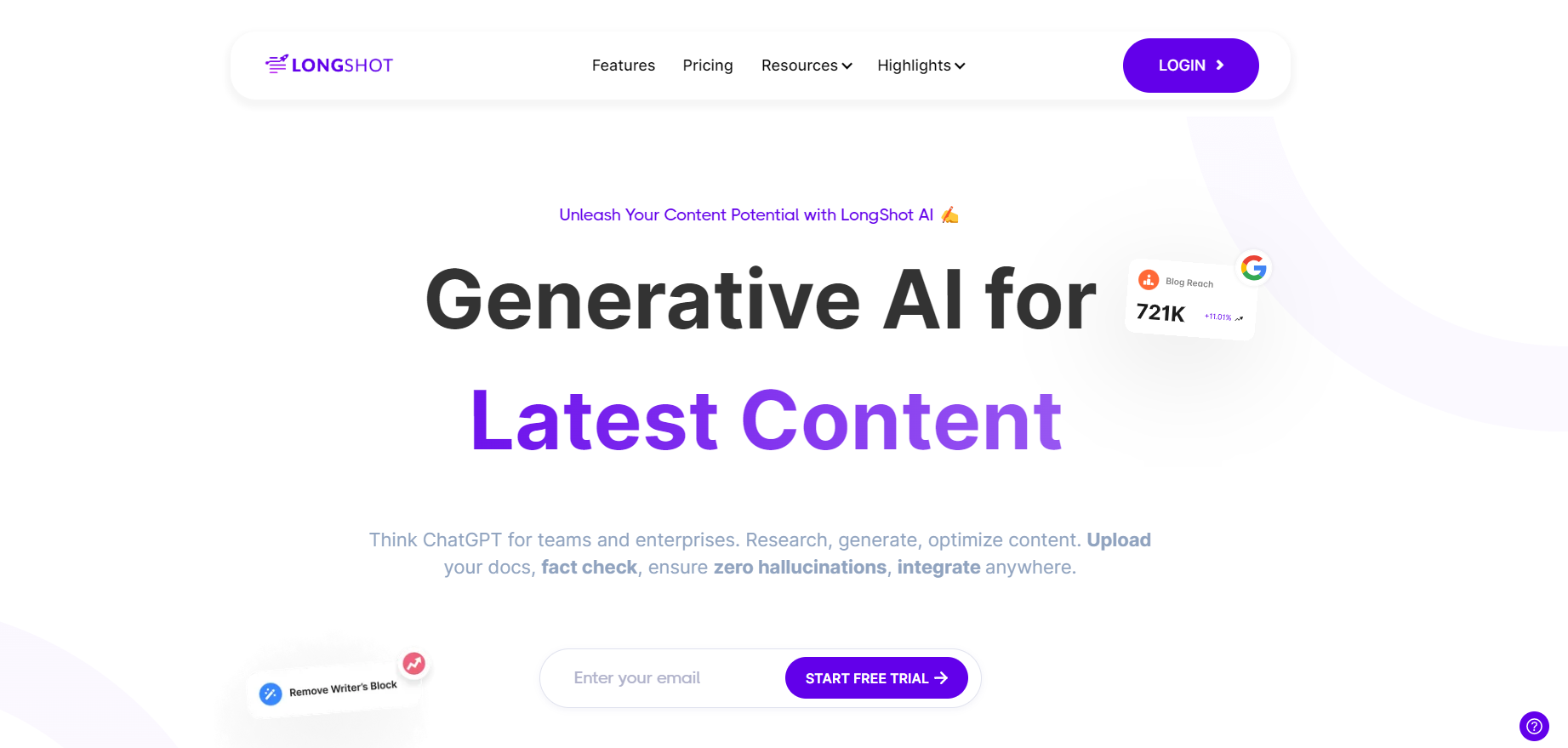 LongShot is an AI email writing tool that is designed specifically to help compose professional emails with its robust natural language generation capabilities.
After analyzing your prompts and desired goals, it creates complete, personalized emails optimized for clarity, impact, and effectiveness. LongShot even provides grammar and style suggestions so every message represents you in the best light.
Key Features
Natural language generation creates emails customized to you so your messages feel more personalized.
Enhances grammar, style, and impact so your emails seem highly professional.
7-day free trial so you can test the tool risk-free.
Pricing
Starts at $49/month
Buyers Guide: AI Email Generators, Writers & Assistants
Here's a round-up of the things you should be looking out for when purchasing AI email assistant tools.
Accuracy: Ensure copy is coherent, concise, and aligns with your brand voice
Personalization: Look for tools that tailor messaging using prospect details – even better if it helps to find personalization info
Integration: Opt for generators that integrate with your existing tools like CRM
Deliverability: Verify the tool won't trigger spam filters or hurt inbox placement
Support: Pick providers with good customer support
Cost: Factor in any hidden fees and confirm that ROI potential exceeds the price
Final Thoughts
I use my email writer daily and it frees up hours I previously spent manually writing every message.
With its ability to incorporate insights and details for personalization, I now achieve higher open and response rates compared to bashing every key myself!
So now is the time to adopt one of these tools to get ahead of the game.
No budget or not yet sold on AI? Check out my article on how ChatGPT can be used in sales, including in your email workflow.