7 Best AI Presentation Software in 2023 (Full Walkthroughs)
I have spent hours (actually days!) creating presentations. And guess what? They weren't even that good!
But not anymore.
With a few clicks (literally) I have a solid presentation I can use.
Want to know how I do it? By using the best AI Presentation Software.
Let's get into it.
What is the Best AI Presentation Software?
The best AI presentation software is Beautiful.ai. It has the best graphics and AI engine, it's quick and easy to use and you can customize the output with simple-to-use tools.
Here's a full roundup of all the tested presentation tools and what they are best suited for.
Best AI Presentation Software
If you purchase through links on our site, we may earn a referral from our partners, at no additional cost to you. For more information, visit my disclosure page.
Best all-rounder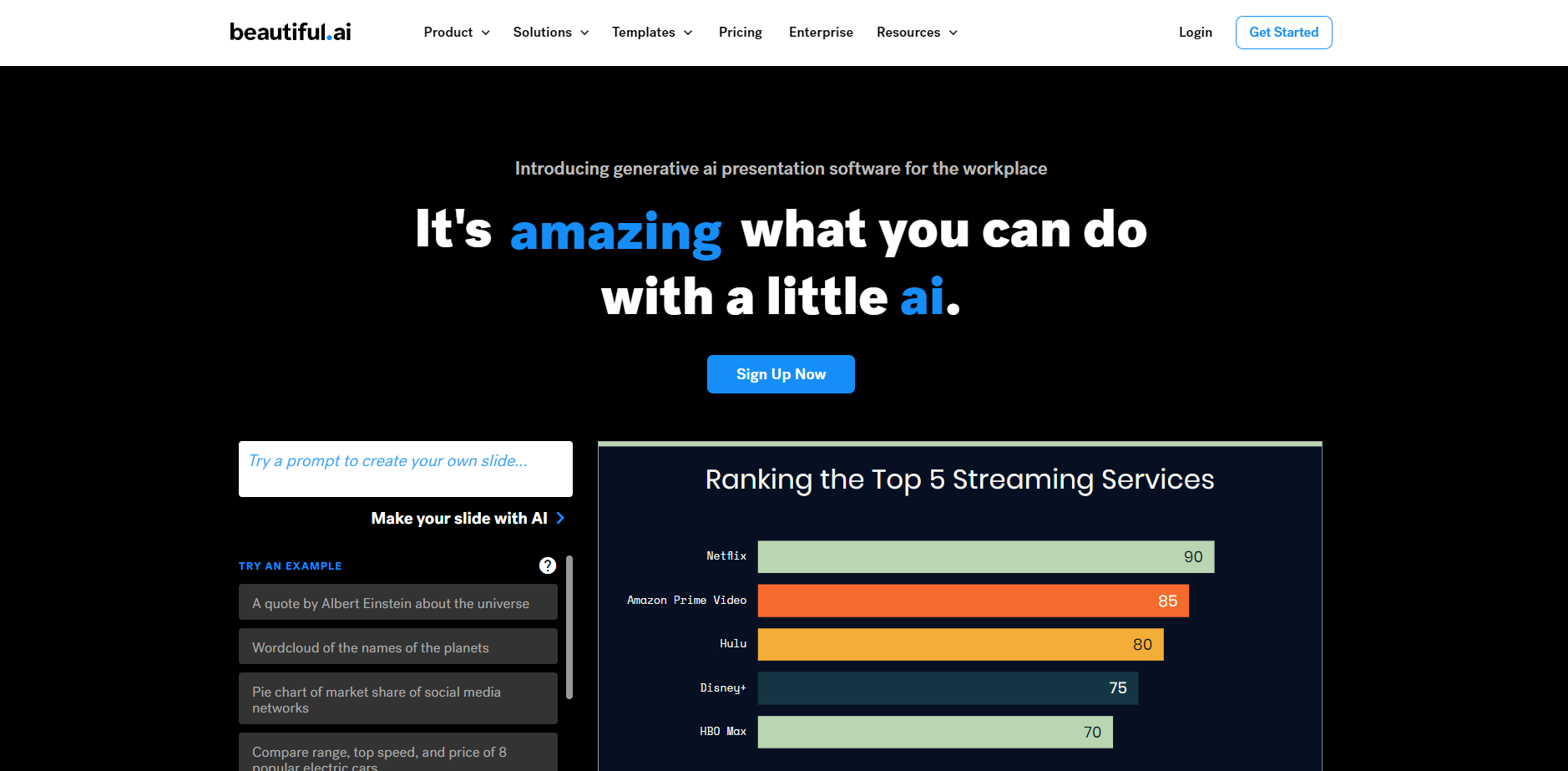 Beautiful.ai is one of the best AI presentation makers around (I think the best)! With its AI Designer Bot, it quickly generates professional slides, content, charts, and images in a matter of seconds – no joke!
By describing your idea, DesignerBot crafts a draft in seconds and offers smart editing tools for a tailor-fit presentation.
Features
AI-Generated Presentations: DesignerBot creates professional presentations in seconds, literally!
Smart Slide Templates: You can make quick edits with a wide variety of pre-made slides – this is a must-have when wanting to deliver professional and engaging presentations
Creative Writing Assistance: It can help overcome writer's block and generate content in various tones, languages, or lengths
Text to Image Conversion: Transforms ideas into AI-generated images, enhancing visual appeal and understanding in presentations
Teams: You can add your branding and control slide decks centrally so your team members can use the slides and content that you have improved company-wide
Tailored to Industries: Useful for marketing, sales, startups, and agencies, supporting a broad range of presentation needs – I can speak from experience that the sales content is spot on – I use it weekly!
How to Create Presentations With Beautiful.ai
Beautiful.ai is super simple to use. That's why I love it so much!
Once you log in you have some options on the left. You can either:
Choose to have the AI designer bot get to work and literally create a presentation in seconds based on a description
Start from templates
Import from PPT
As we are talking about AI presentations, we will choose the AI Designer Bot option. But it's worth pointing out that with Beautiful.ai you can manually create and amend to help get the exact presentation you want.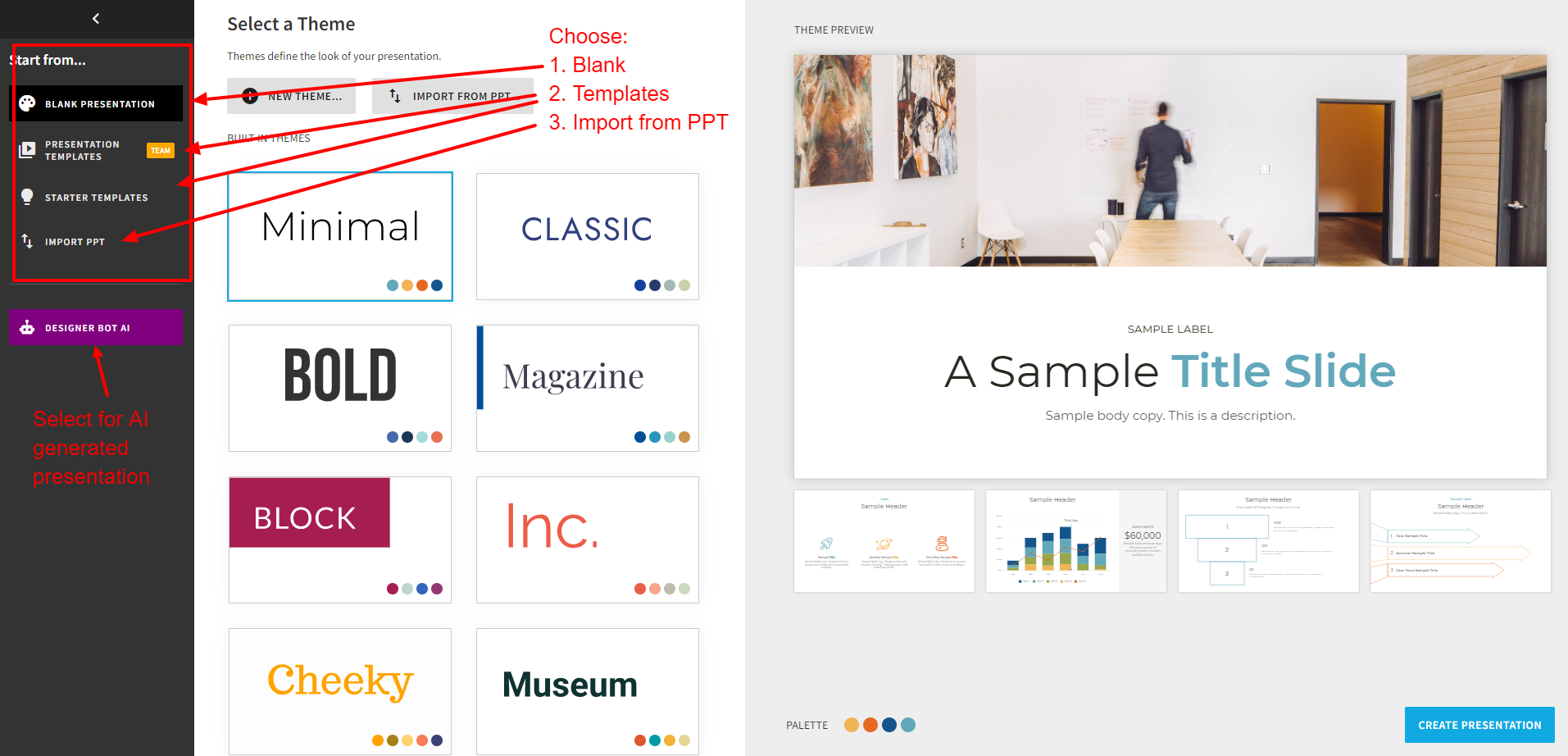 Once you select the AI Designer Bot, you then give it a description of the presentation. Here I am simply saying 'A pitch deck for selling AI Presentation Software to global companies'.

After that, you then select the theme you like the look of. I usually go with Minimal, Bold, or Dark. They are my favorites.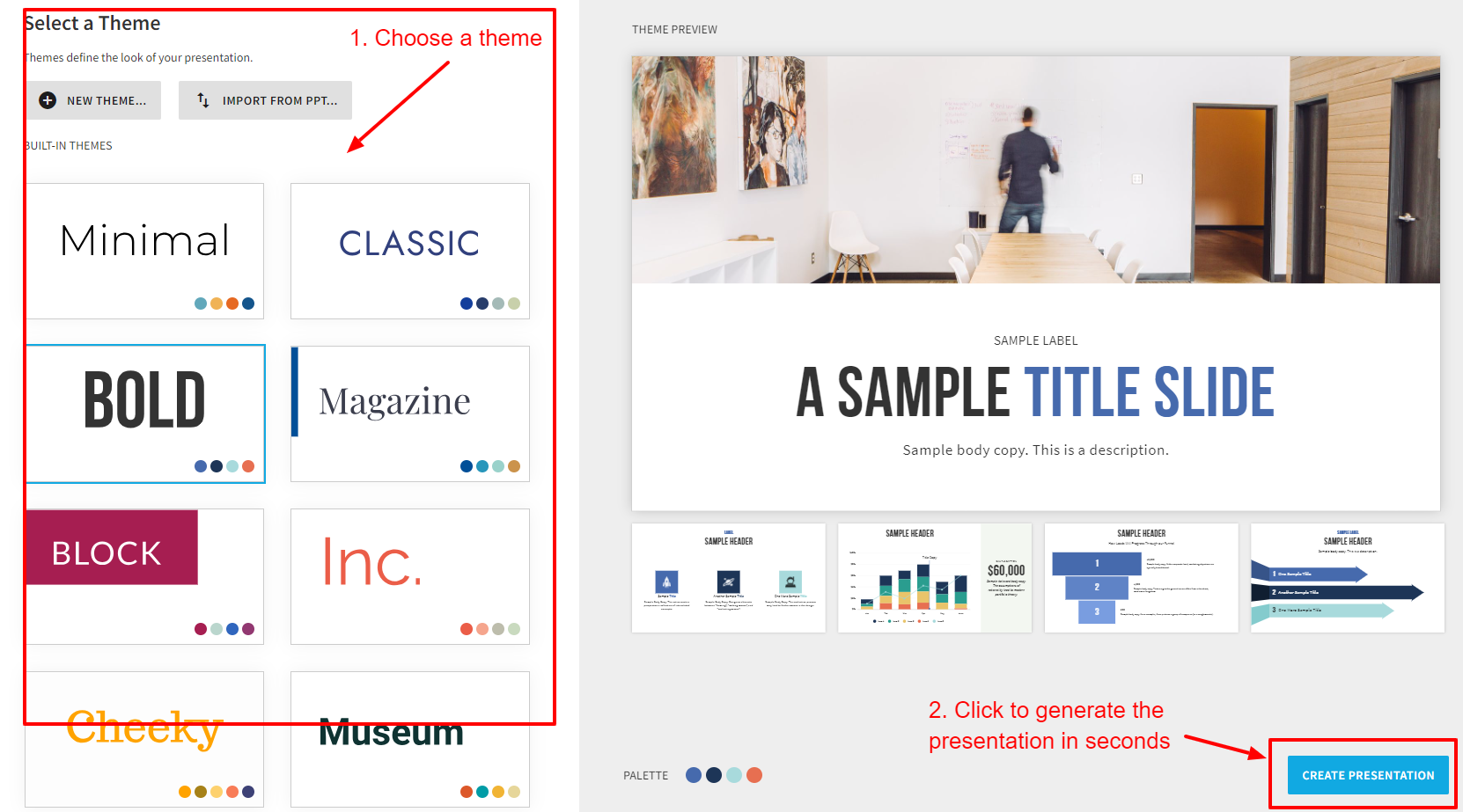 It then generates all your slides. You can then add, delete, edit, and finalize the presentation with the really simple editing toolkit.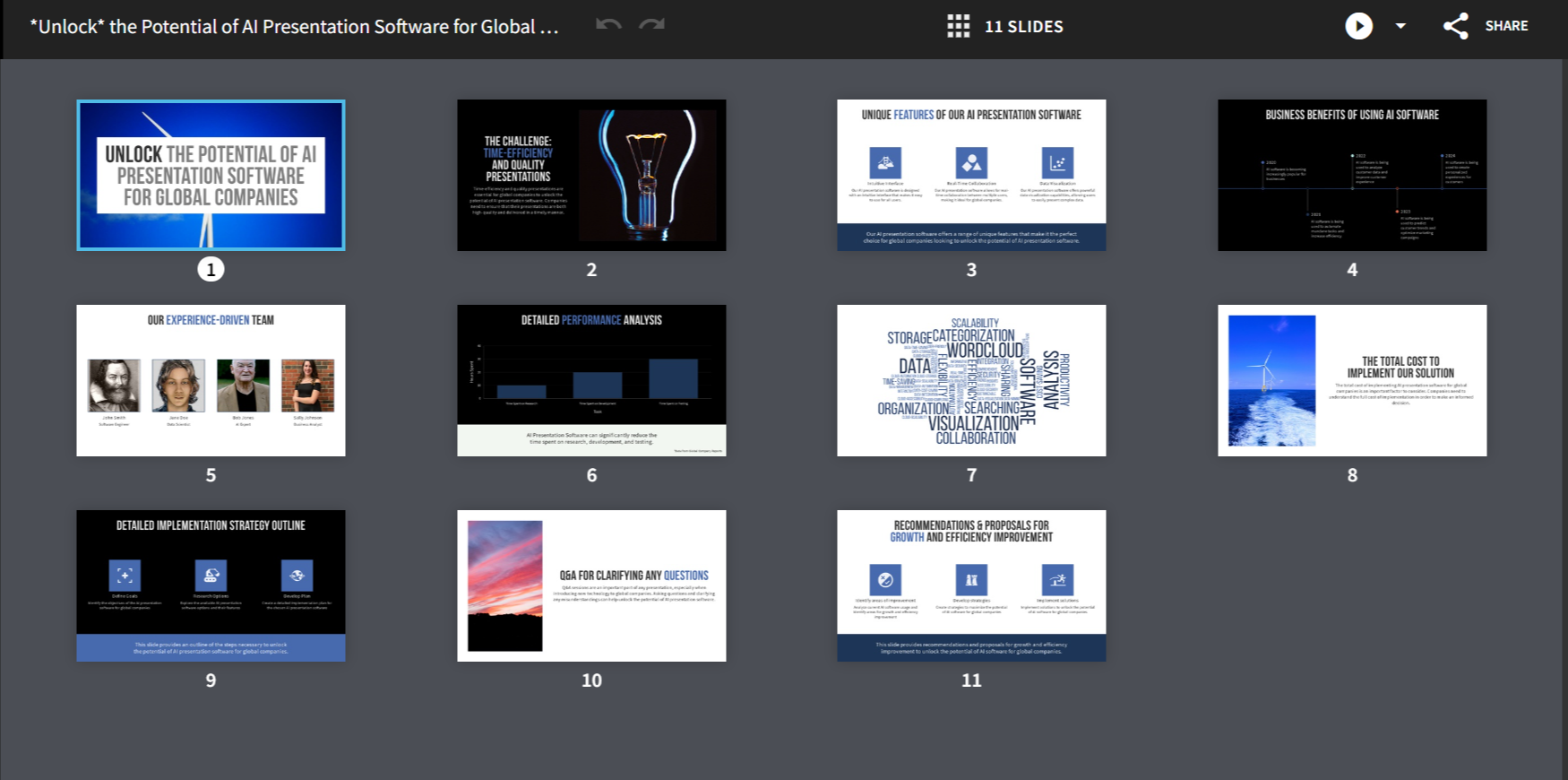 You can see from the 11 slides it gave me that there is a range of layouts and content ideas. You fill in the blanks and it's ready to go.
Pricing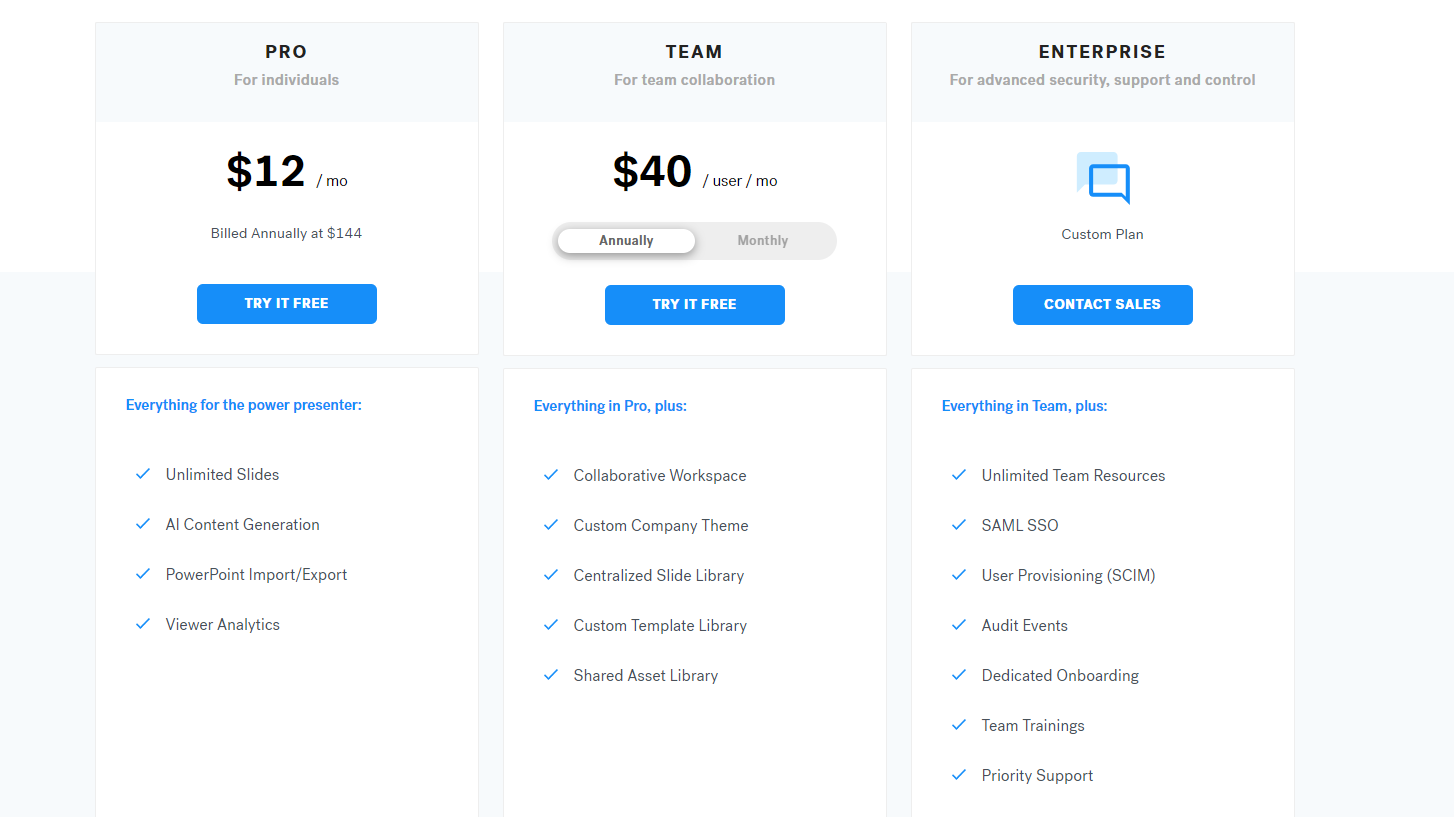 There are 2 plans to choose from and an Enterprise option that is customized based on your needs.
Pro – $12 per month
Team – $40 per month
If you only want it for yourself then Pro is for you. If you need collaboration tools and custom templates and libraries to hold your branding themes then you will need the Team option.
What Customers Are Saying
Here's a round-up of the most recent customer reviews.
What I Like/Dislike
What I Like
I love the amount of high-quality graphics and the ease to place and move them around when needed
The AI Designer Bot gives a really good output the first time around – with a few tweaks I am usually ready to go in front of my client.
It saves me a stack of time, I get compliments on pitch decks – people think I am a whizz graphic designer (that couldn't be further from the truth!)
What I Dislike
The cost might be prohibitive for businesses that want the Team features
Verdict
Beautiful.ai is my chosen presentation maker. I have used all of the ones in this round-up but for ease, speed, and quality, Beautiful.ai gets my vote. If you want more info, check out my full review of Beautiful.ai.
Best for Education

Sendsteps revolutionizes presentation creation through AI-assistance, saving valuable time for businesses, educators, and event planners. It has automated design, storytelling, and interactivity, so users can focus on the delivery which transforms presentations into engaging, unique experiences. No death by Powerpoint with this one!
Features
Fast Creation: Creates an impressive presentation in minutes. Just let it know your topic and it will work its magic
AI-Powered Design: From layout to visuals, Sendsteps uses AI to design presentations that pop
Education: Sendsteps has tailored its offering towards education so highly suited for students and teachers.
Interactive: You can set up quizzes, Q&A, word clouds, multiple choices, voting, and much more. People use their smartphones to interact – no app download is needed!
Automated Storytelling: Sendsteps isn't just about looks, it intelligently crafts your narrative for maximum impact
How To Create Presentations With Sendsteps.ai
Once you log in, you get a fresh-looking interface that is highly intuitive. To get the AI presentation maker going, you give it a description and click the yellow arrow. You can also start from a template or even upload a document.
I uploaded a sales proposal I was working on to see how good this feature was and it did a great job of pulling out the key points and giving me a solid baseline for my pitch.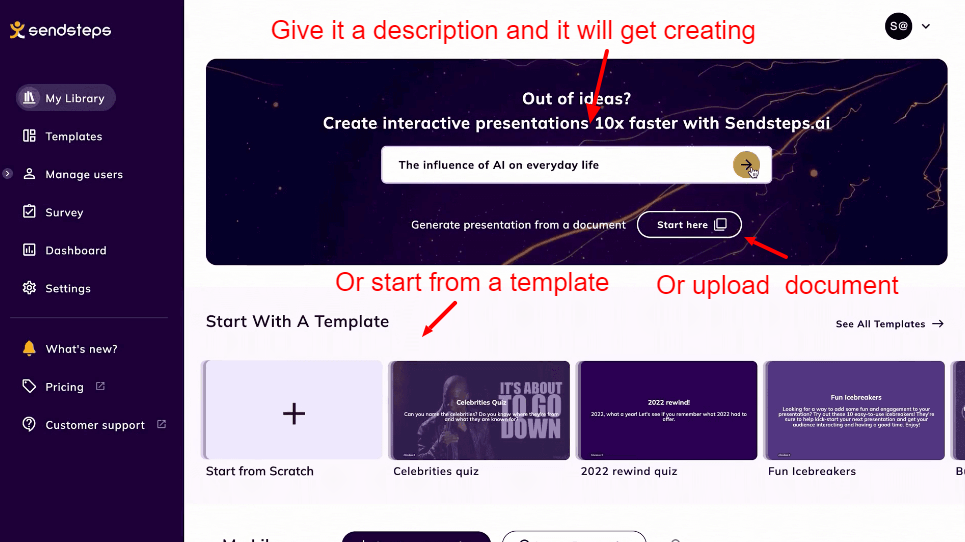 You then choose the language, who your audience is and then it generates a few titles for you to pick. You can choose one, regenerate more or write your own.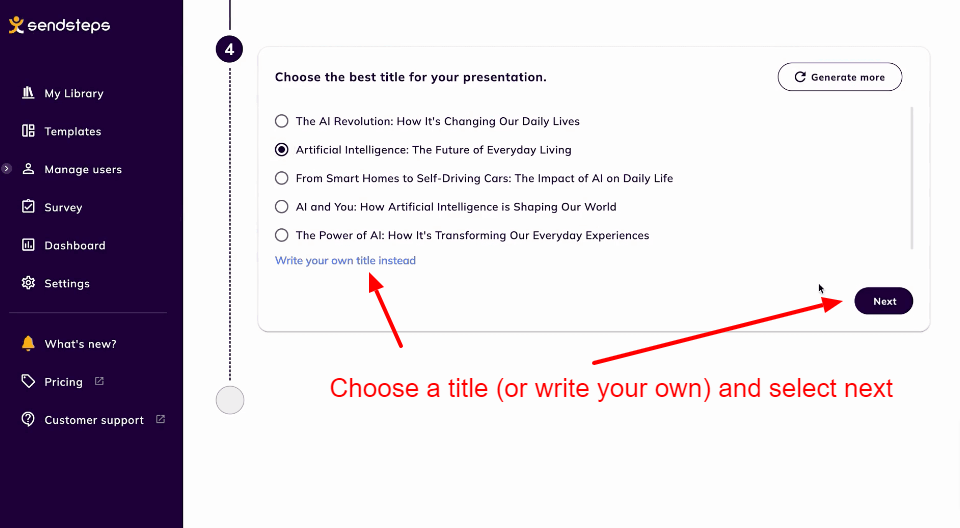 It will then let you choose how long you want your presentation to be and then generate the presentation.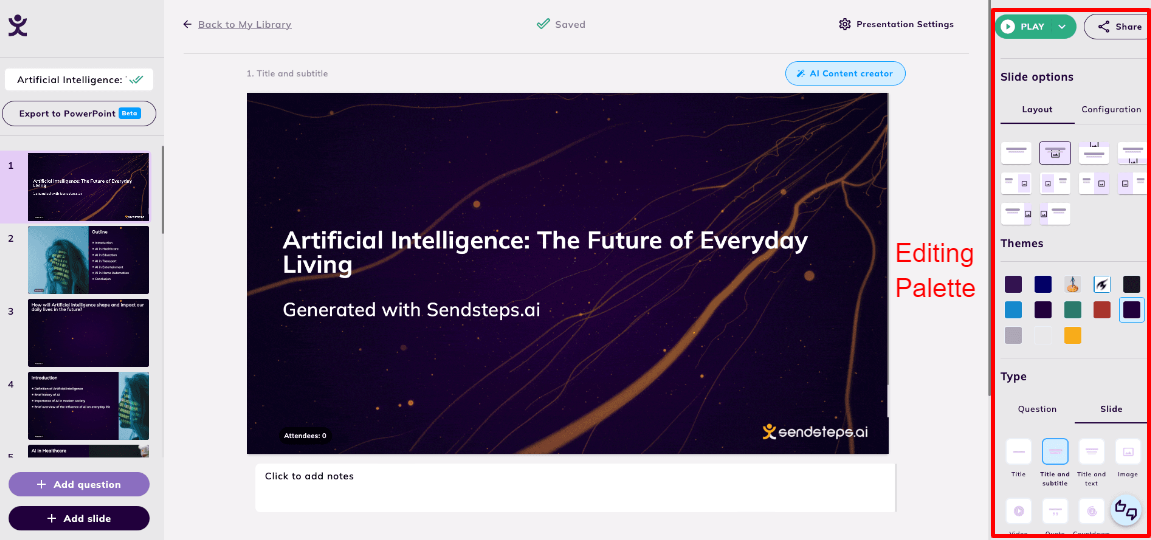 You can then use the editing palette to make any changes you need.
Pricing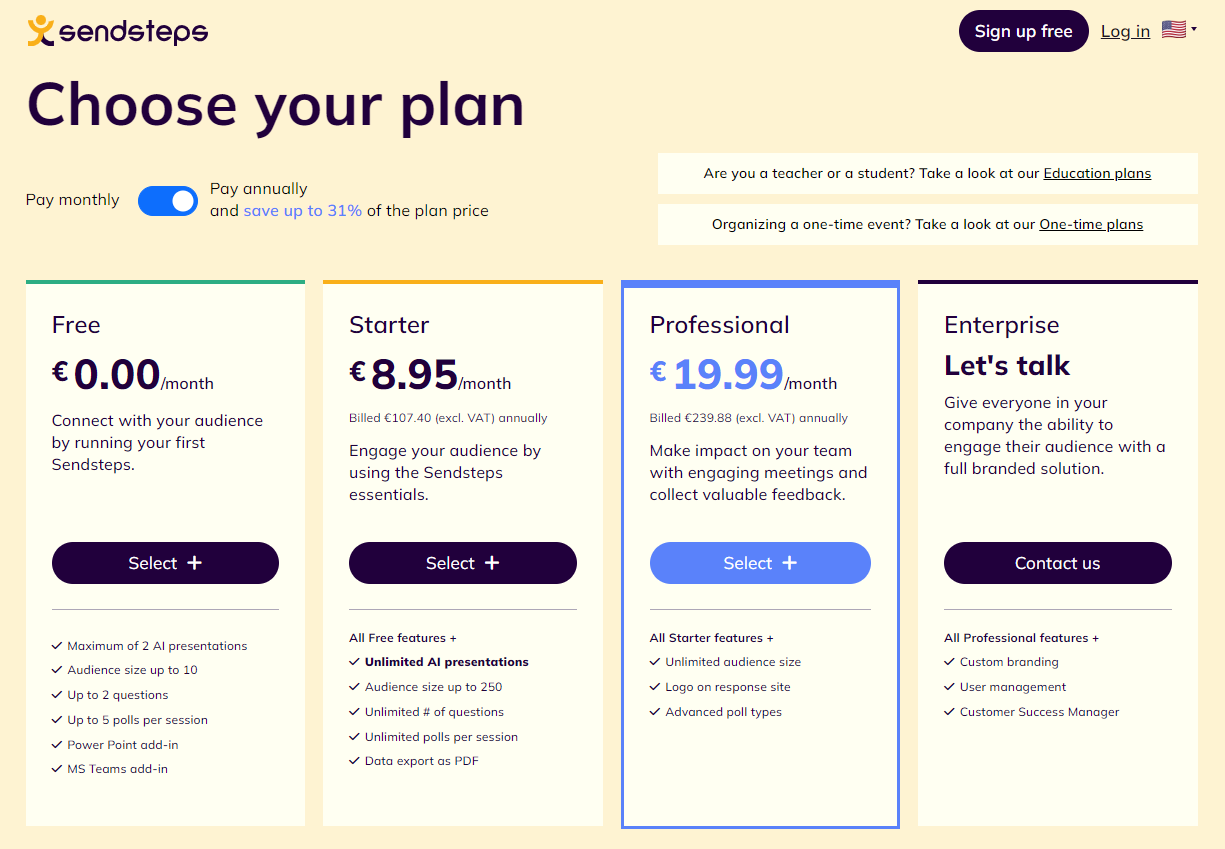 Sendsteps has 4 plans to choose from.
Free
Starter – $8.95 per month
Professional – $19.99 per month
Enterprise – POA
The free plan is great to try out but it has restrictions you will exceed if you are a regular presenter. The Starter plan will work well for most as it gives unlimited presentations but caps the audience size at 250 for the interactive features.
What Customers Are Saying
Here's a round-up of the most recent customer reviews.
What I Like/Dislike
What I Like
I like how it helps with crafting the narrative and doesn't just focus on visuals
The fact that it doesn't require an audience to download an app is a major plus!
You can use Sendsteps for one-off events and get a single price
What I Don't Like:
The design of the slides and templates could be nicer
Verdict
If you are wanting to get more interactive with your presentations rather than Powerpoint to death then this is for you. If you want awesome graphics and visuals, others do a much better job.
Best for easy editing
Presentations.ai is an AI presentation maker that streamlines the process of creating presentations that are consistently on brand. Its unique capability and why it made this list is its text-to-design capability, based on ChatGPT.
'I used notes from a sales discovery call that was taken with my AI note taker and it got the main points out onto a nice slide deck that I could then send back to my prospect. This was a neat little use of Presentations.ai'
Features
ChatGPT Functionality: Tell the AI what you need, and it designs or edits to those specifications, this makes editing super easy with no need for diving into the editing tools
Effortless Creation: The AI is really good at creating the design so you only really need to focus on the content
Personalized Design: You can customize to your heart's content, making sure your presentation mirrors your unique style and vision
Collaboration: You can share presentations easily and give real-time feedback and task assignment
Brand Consistency: Will maintain your brand's style across all presentations
Responsive Design: Makes sure your presentation looks great on all devices – not all do this so worth pointing out
How To Create Presentations With Presentations.ai
Once you log in choose 'Use an AI Template'

You then get to choose what role you want presentations for. They give a few options such as sales, leadership, HR, and Finance. The list of templates then reflects that selection. In the image below, the templates are based on my selection of 'Leadership'.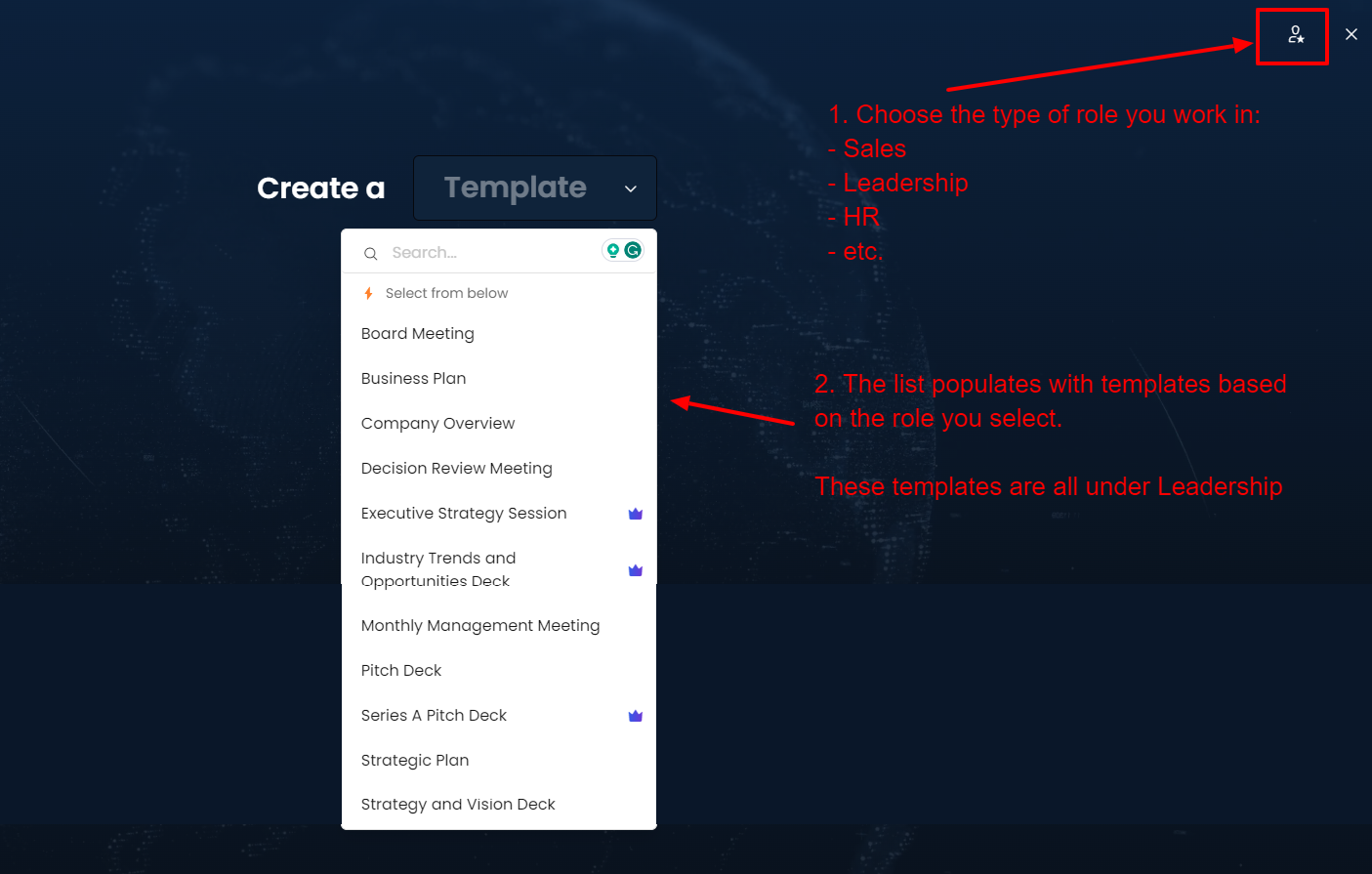 Once you have selected the template you can then input certain details such as the company you work for, what the presentation is about specifically, and so on.
You can also see a written summary of what slides will be included. Then you hit the generate button and the presentation is created.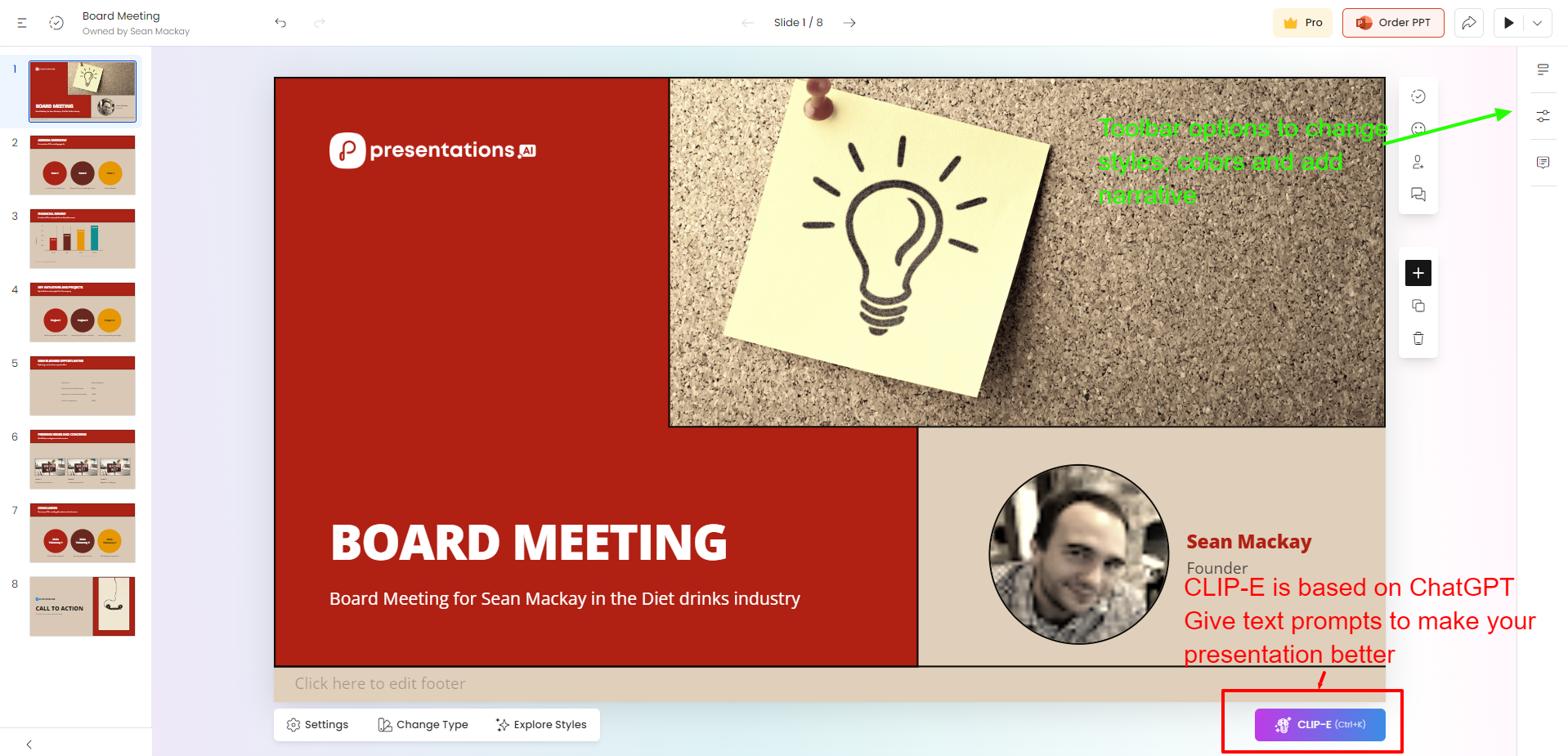 You can then use the tools to add, delete and edit any of the slides. It has a Powerpoint feel to it which is nice familiarity if you use Powerpoint now.
CLIP-E is their text prompter, based on ChatGPT, which you can use to ask it to do it things. You click the CLIP-E button and then on the right panel (see image below) you get a ChatGPT-style chat window. I asked it for an Agenda slide and this is what I got.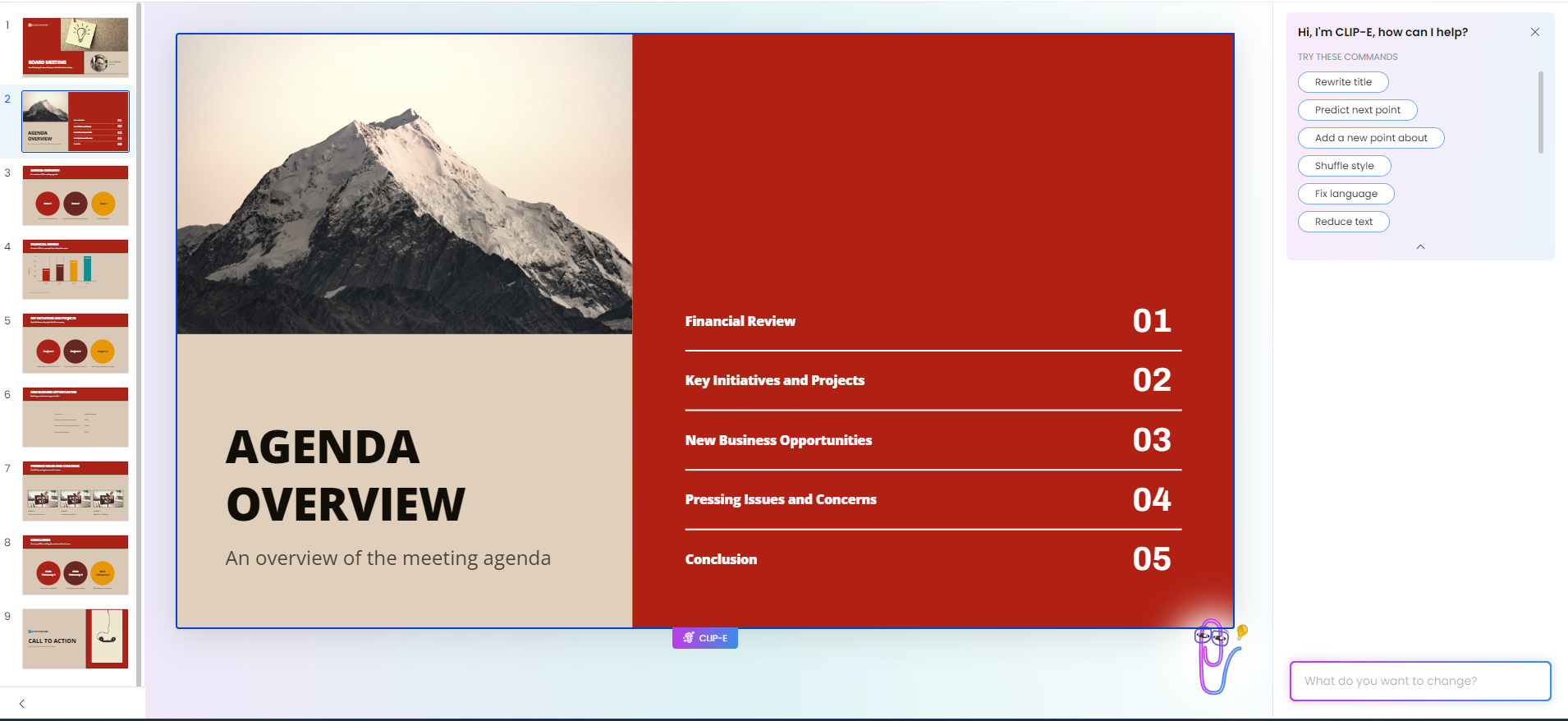 Pricing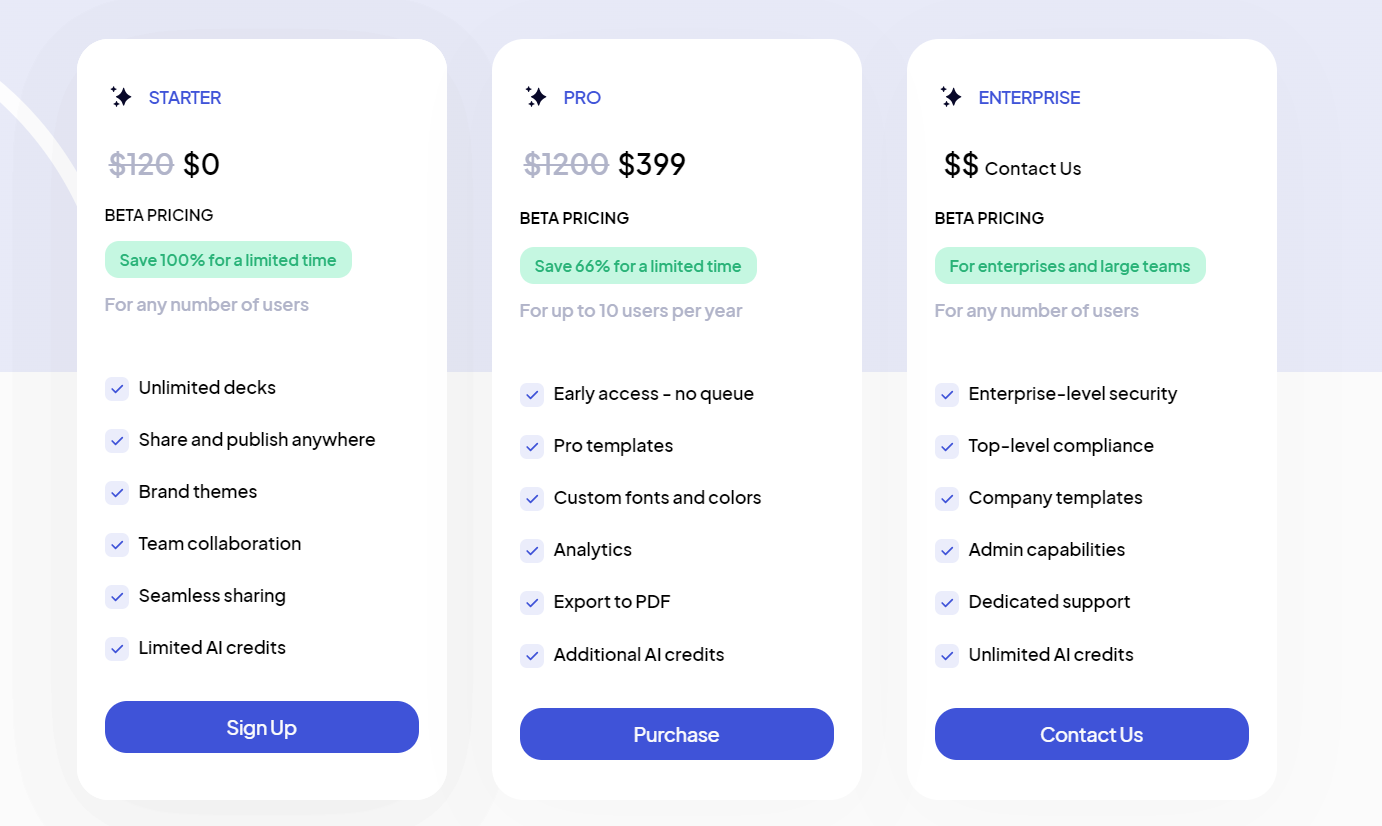 There are 3 plans on offer with Presentations.ai.
Starter – $0 (usually $120) per year
Pro – $399 (usually $1200) per year
Enterprise – POA
I have had a good look at this pricing but it's not as clear as it should be. All plans offer access to certain features but they also use AI credits. AI credits are a little hidden and will be hard to keep track of.
As an example, in generating the Agenda slide in my example above, I used 1 AI credit. So after creating 2 presentations and an agenda slide I used 11 credits out of my 50 which is what you get with the Starter plan. It's all a bit hidden away and not made clear which isn't great.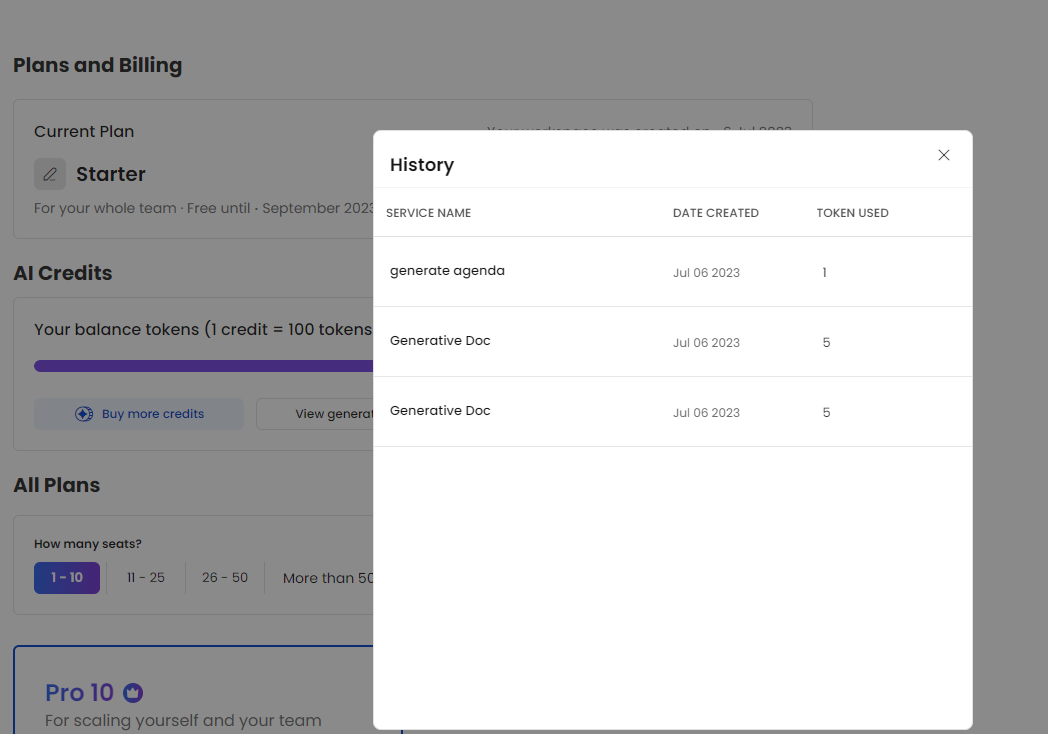 What Customers Are Saying
There are no customer reviews available as its a new product.
What I Like/Dislike
What I Like
I like the range of templates based on the role you select
The user experience and editing tools are simple to use
ChatGPT like text function is great – it works really well to get your slides how you want them without having to dive into editing tools
What I Dislike
The AI credit pricing structure is not good. It isn't clear how many credits you get and when you are using them
Verdict
Presentations.ai is a new product in its infancy. It has great promise based on the experience and ChatGPT text function. If you struggle with using editing tools to amend your presentations but can type words – this is definitely one you should check out.
Best for simple creation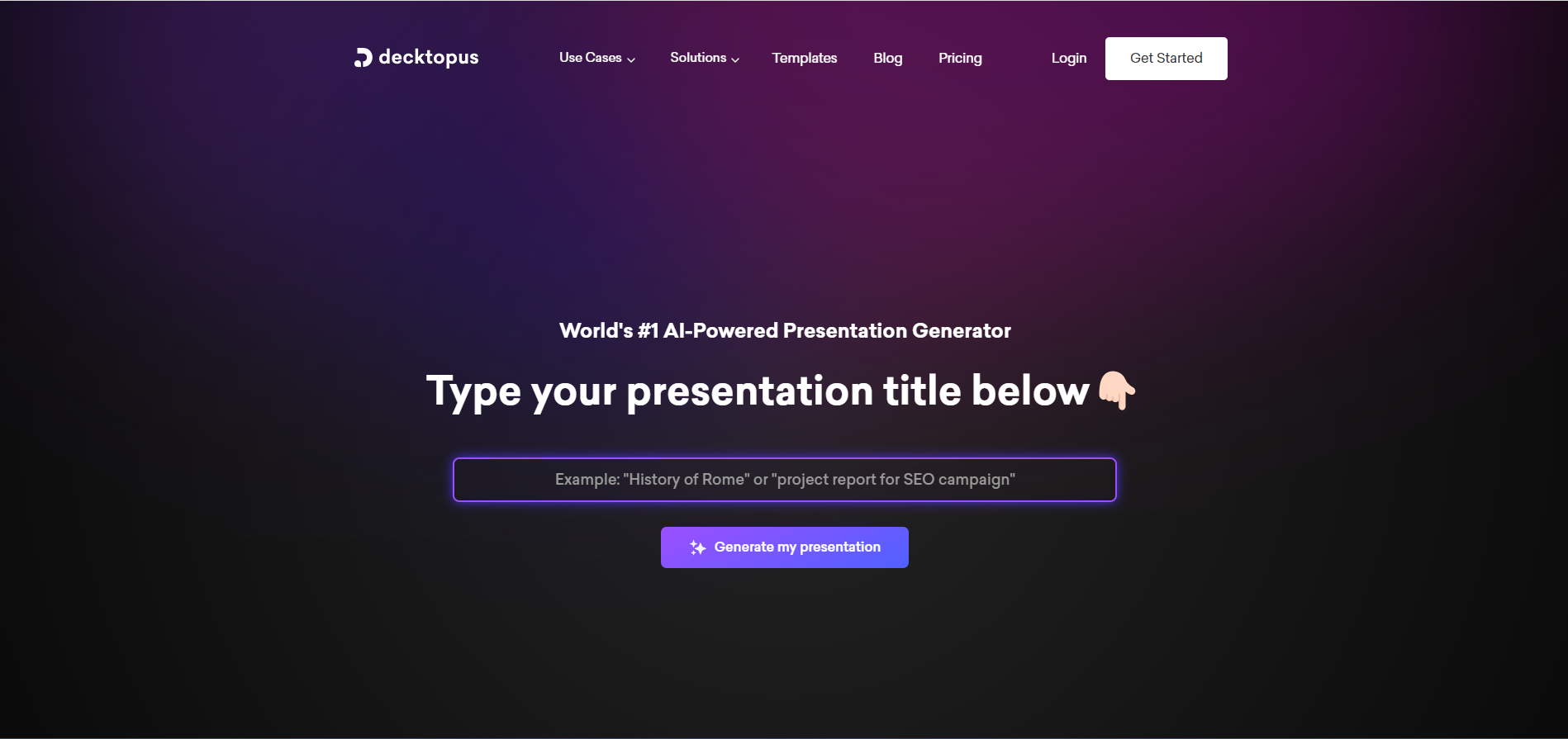 Decktopus, an AI-powered presentation wizard has won the hearts of 500k users worldwide. It makes crafting high-impact presentations a breeze. And it's got some good moves.
From slick auto-adjusting layouts to curated themes and personalized slide notes, it will deliver a top-notch presentation without the usual headaches.
Features
One-Click Design: Create detailed presentations with a buffet of themes, fonts, and colors.
Templates: Some of the best templates available in terms of useful content. Need something for a boardroom or quarterly business review, it has the right type of content ready to go.
Auto-Adjusted Layouts: Decktopus tackles the tedious task of resizing and rearranging elements – this does my head in on 'standard' presentation makers
Image & Icon Finder: You won't need to be on the hunt for stock images as Decktopus finds the perfect visuals that work in the context of the deck. This one surprised me when I tested it!
Slide Notes Maker: It creates tailored slide notes based on your topic and audience
Forms & Voice Recorder: Interact with your audience through real-time feedback forms and you can add a personal touch with voice narration if you want
How To Create Presentations With Decktopus
Once you log in you can press 'Create with AI'.

After that, it guides you through a wizard, gathering information on your presentation needs.
First, a description of the presentation.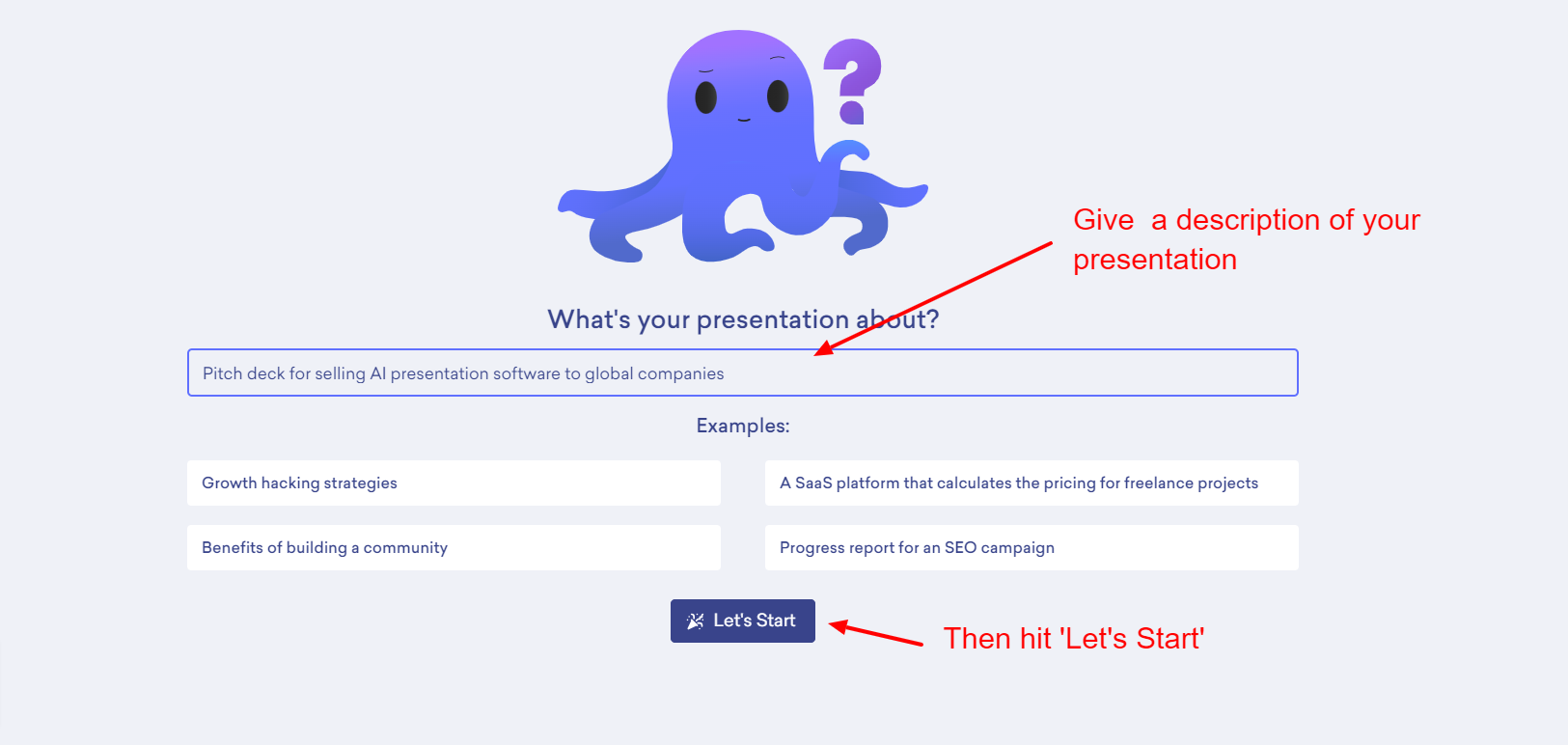 Then the intended audience.

Now the aim of the presentation.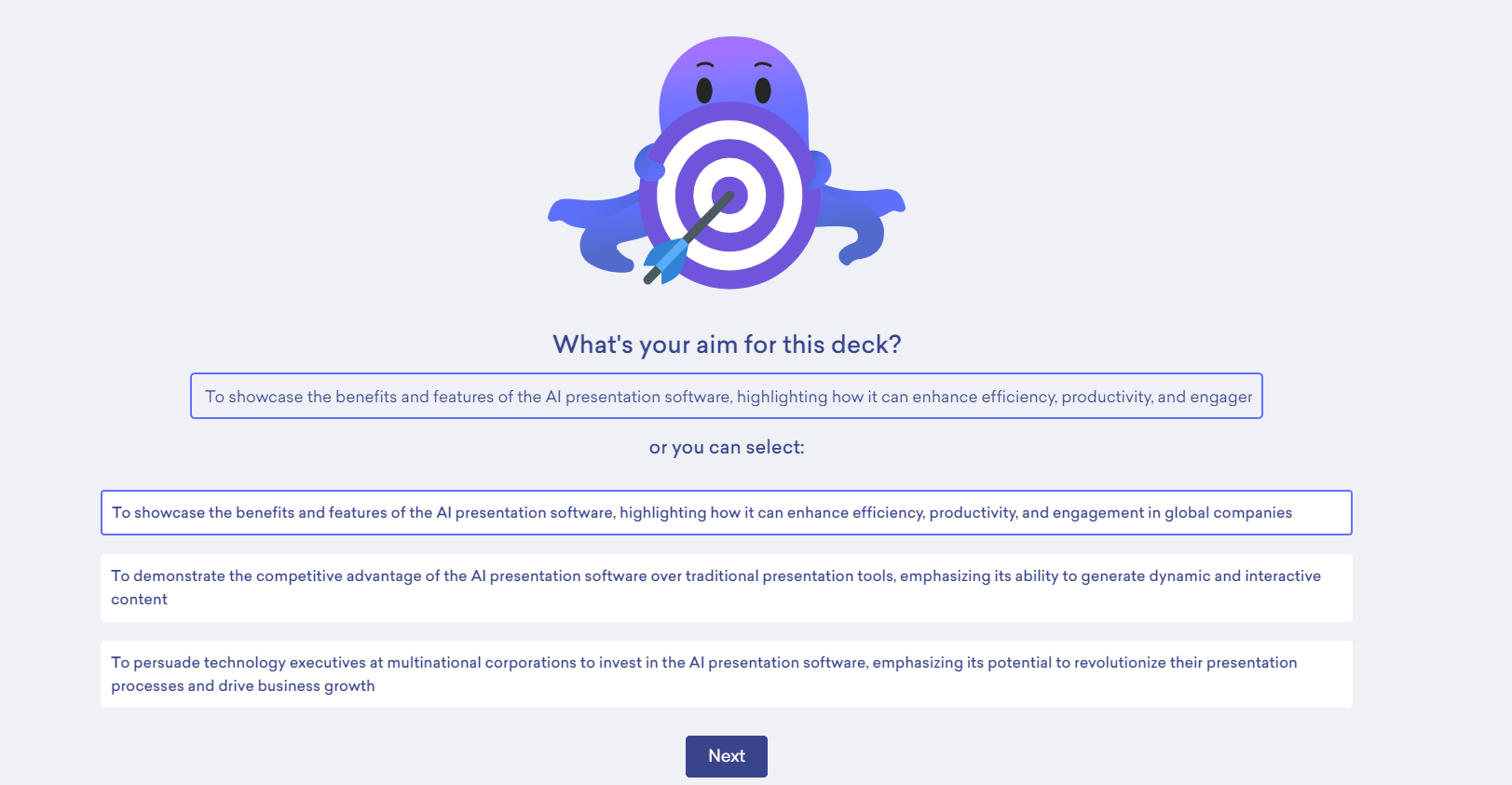 It then asks how long is your presentation and then you can choose a theme from the 4 options and then generate the presentation.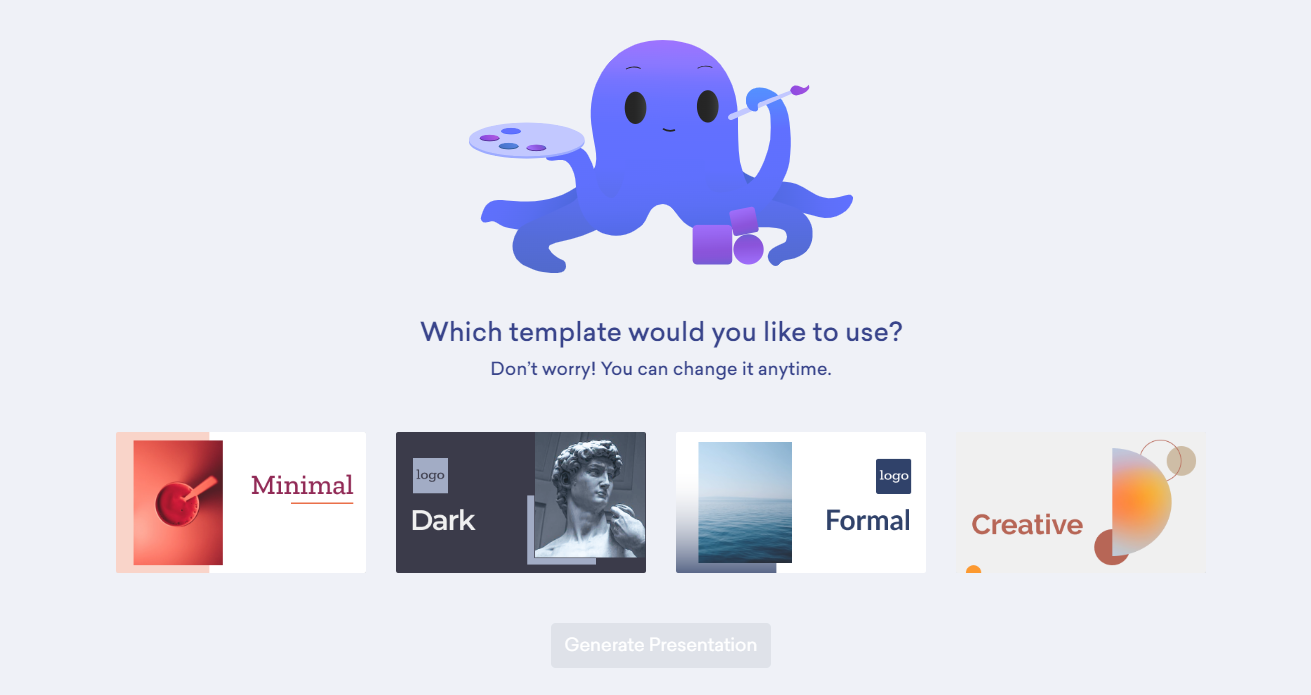 Once it's created you get to the main editing screen. The left-hand side has editing tools and there is a useful slide summary across the bottom.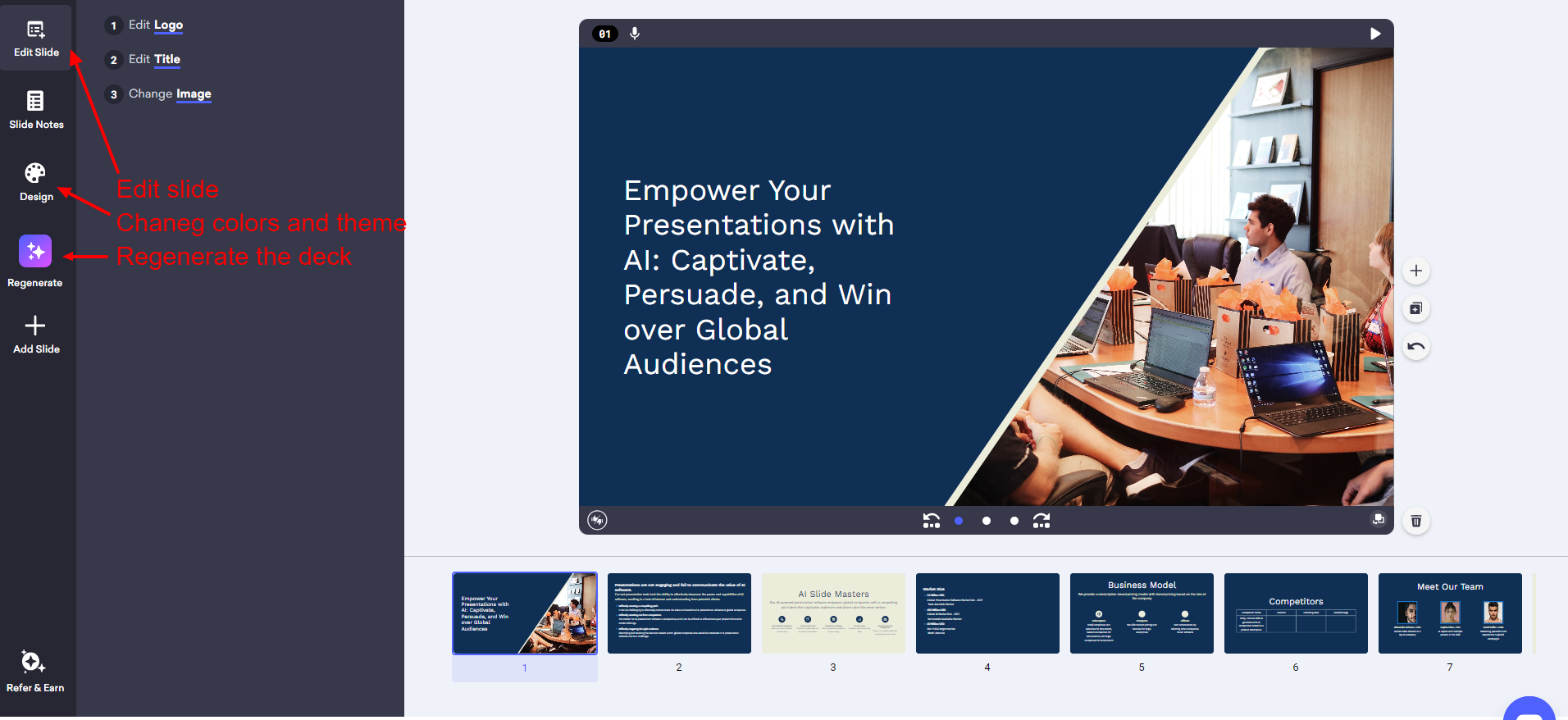 Pricing
There are 2 plans available.
Pro AI – $4.99 per month (billed annually)
Business AI – $29.99 per month (billed annually)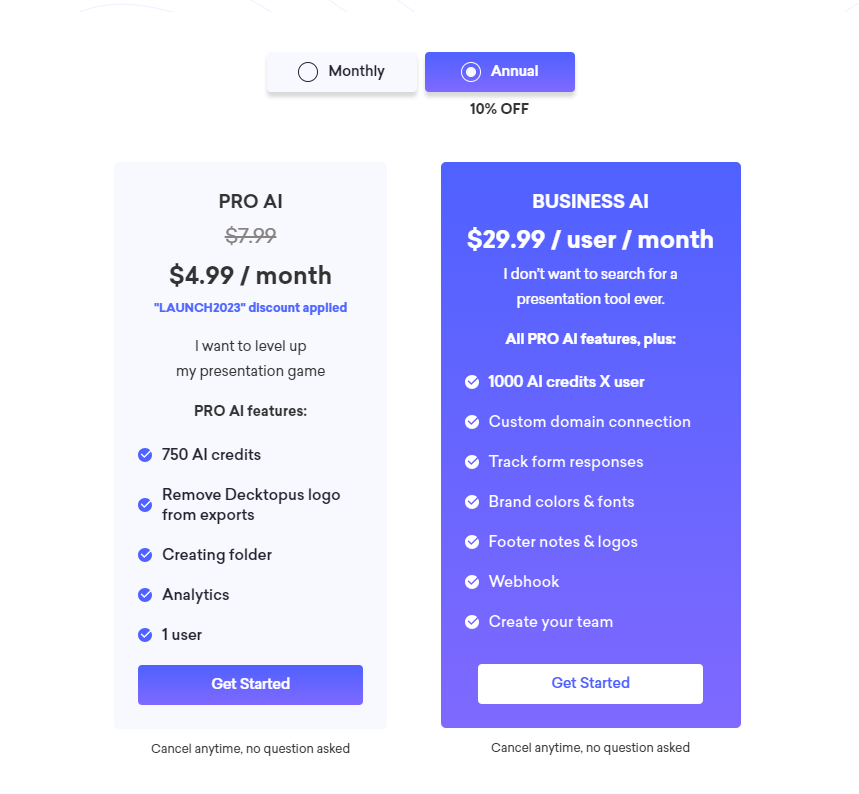 The Pro plan offers most of the features and if you need to go client-facing it's a must as it removes the Decktopus logo from exports. The Business upgrade gets you Team features, brand colors, and logos.
Decktopus also works on AI credits so it's worth tracking these. Currently, 1 AI presentation uses 30 credits and you get 750 credits on the Pro plan.
What Customers Are Saying
Here's a round-up of the most recent customer reviews.
What I Like/Dislike
What I Like
I like the setup of an AI presentation. It gives you the option to add more context about the aim, audience and so on which helps with getting it right the first time.
Selecting your role and getting templates that would be useful for you works really well
What I Dislike
I played around with this a lot but I found the styling and design of the themes and templates all a bit 'meh' vs some others which really are 'wow'
Editing can be a bit painful with limited advanced features
Verdict
If you are a bit of a technophobe and spend an age in Powerpoint trying to figure out how to move things and add a chart then this could be for you. You can select the template you want and it will give you a near-ready presentation that will be better than most Powerpoints. If you are looking for the wow factor though, this won't give it.
Best for Google Slides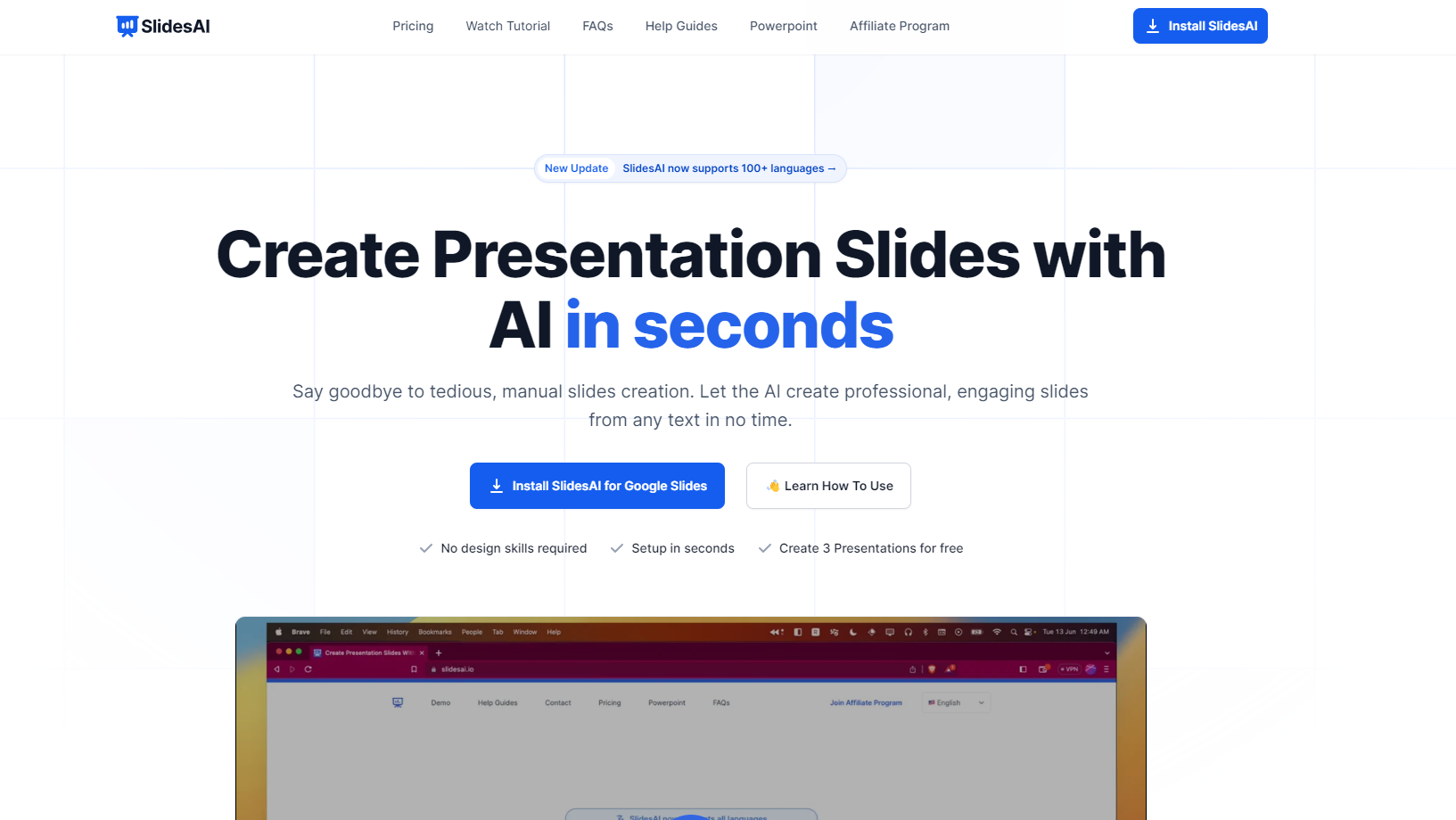 SlidesAI is an AI-powered tool that creates impressive presentations within Google Slides just from a bunch of text. Its seamless integration with Google Slides and text-to-presentation feature makes it a perfect tool for those looking to stay within the Google Workspace but still get a leg up with AI presentation tools!
Features
Quick Setup: Instantly integrate SlidesAI with Google Slides in just a few clicks
AI-Powered Slide Creation: Generate compelling slides automatically from any type of text
Customizable Design: Pick from pre-designed color and font presets, or customize your own
Magic Write: Can be used to provide additional written content and images that are suitable for your presentation.
Preview Feature: Review and fine-tune your presentation in real-time, ensuring all details are as per your needs before finalizing.
Multi-Language Support: With support for over 100 languages, SlidesAI can create presentations for a diverse range of audiences and is certainly the best for this!
Text-to-Presentation: Transform any written content into a visually appealing presentation
Topic-to-Presentation (Beta): This feature, currently in beta, automatically creates presentations based on a given topic, further simplifying the presentation creation process.
How To Create Presentations With Slides AI
Visit the Google Workspace Marketplace and install SlidesAI. Then go to Google Slides and either open an existing presentation or create a new one.
In the toolbar, click on "Extensions", then "SlidesAI.io", and finally "Generate Slides"

A dialog box will appear. Enter the text that you want the presentation to be based on.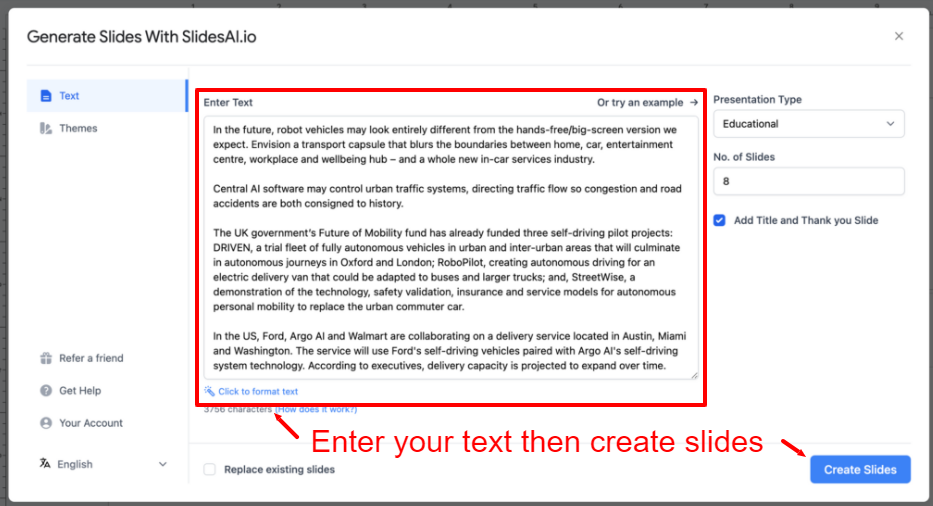 Select your desired theme and add your brand colors under the "Custom" tab.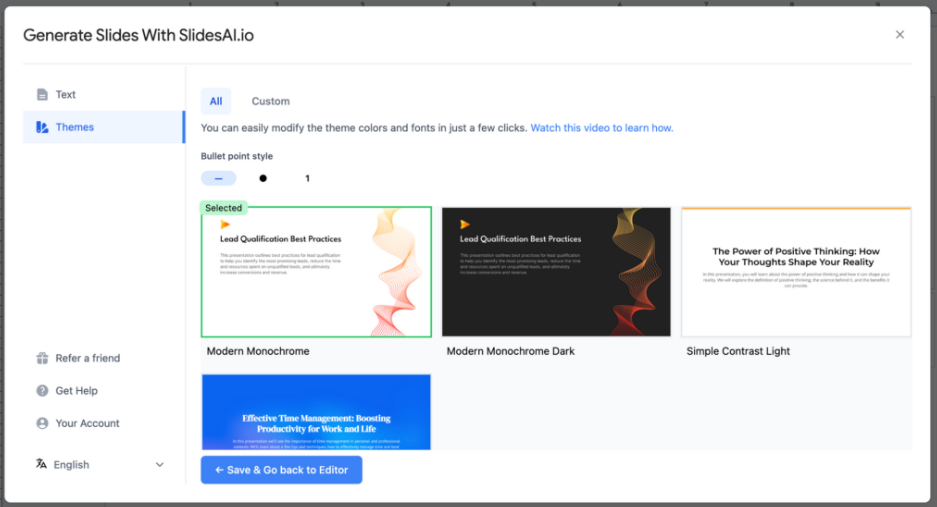 Then your presentation will be created in Google Slides like usual! You can then edit with Magic Write to paraphrase sentences and get more suitable images. Easy-peasy!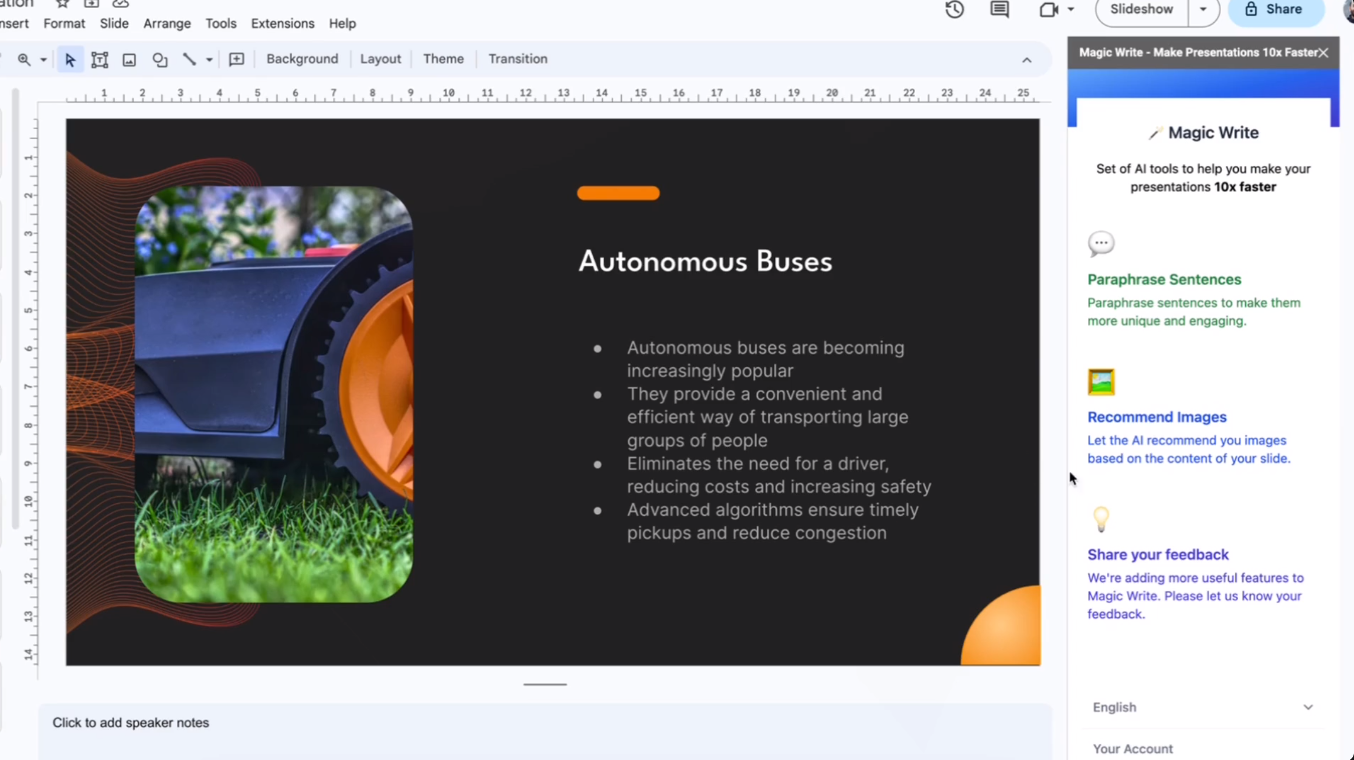 Pricing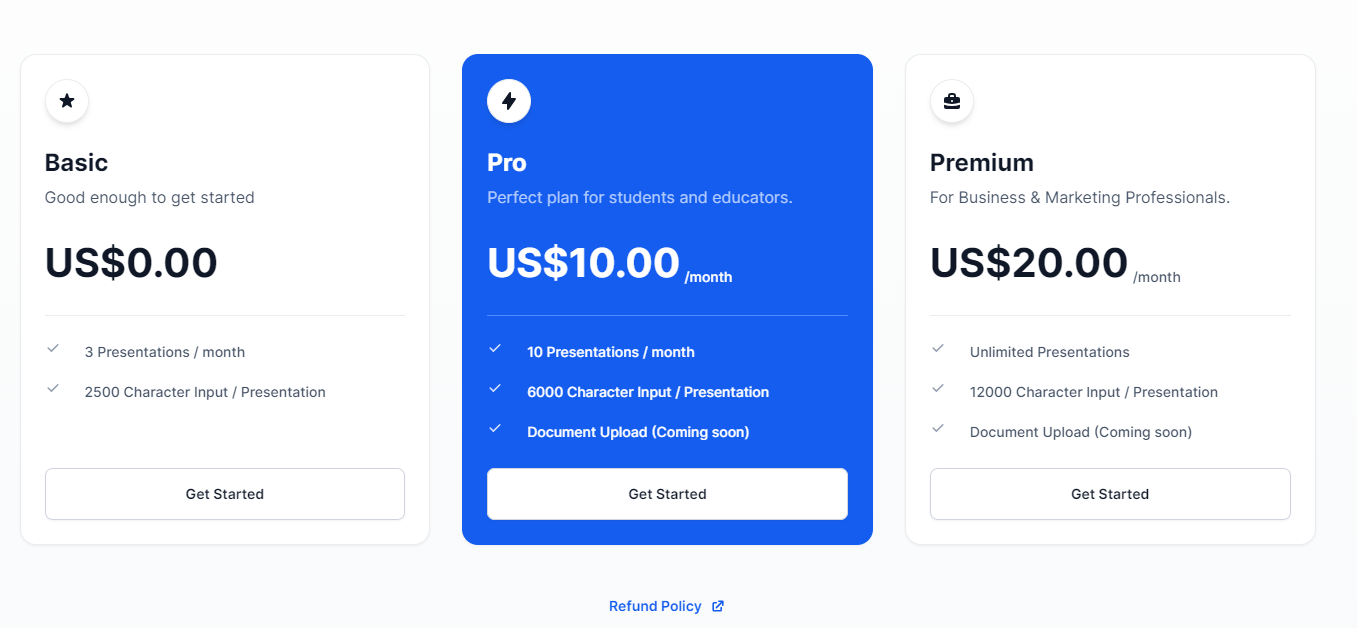 There are 3 plans you can sign up for.
Basic: Free
Pro: $10 per month
Premium: $20 per month
The differences here are the number of presentations you can create per month and the character limit you can input. Basic gives you 3 presentations and a 2500-character limit. Pro ups this to 10 presentations and 6000 characters and Premium tops it with unlimited presentations and 12000 characters.
What Customers Are Saying
Here's a round-up of the most recent customer reviews.
What I Like/Dislike
What I Like
For a Google AddOn it works really well and covers that use case perfectly
The text-to-presentation is a good way to get a presentation from snippets of a long document
What I Dislike
Lack of themes and colors – it isn't the wow factor I am looking for!
Verdict
If you want to (or need to) stay inside Google Workspace then this will definitely give you some AI juice inside Google Slides. If you can get outside Google though, then I would be checking out others on this list!
Best for video presentations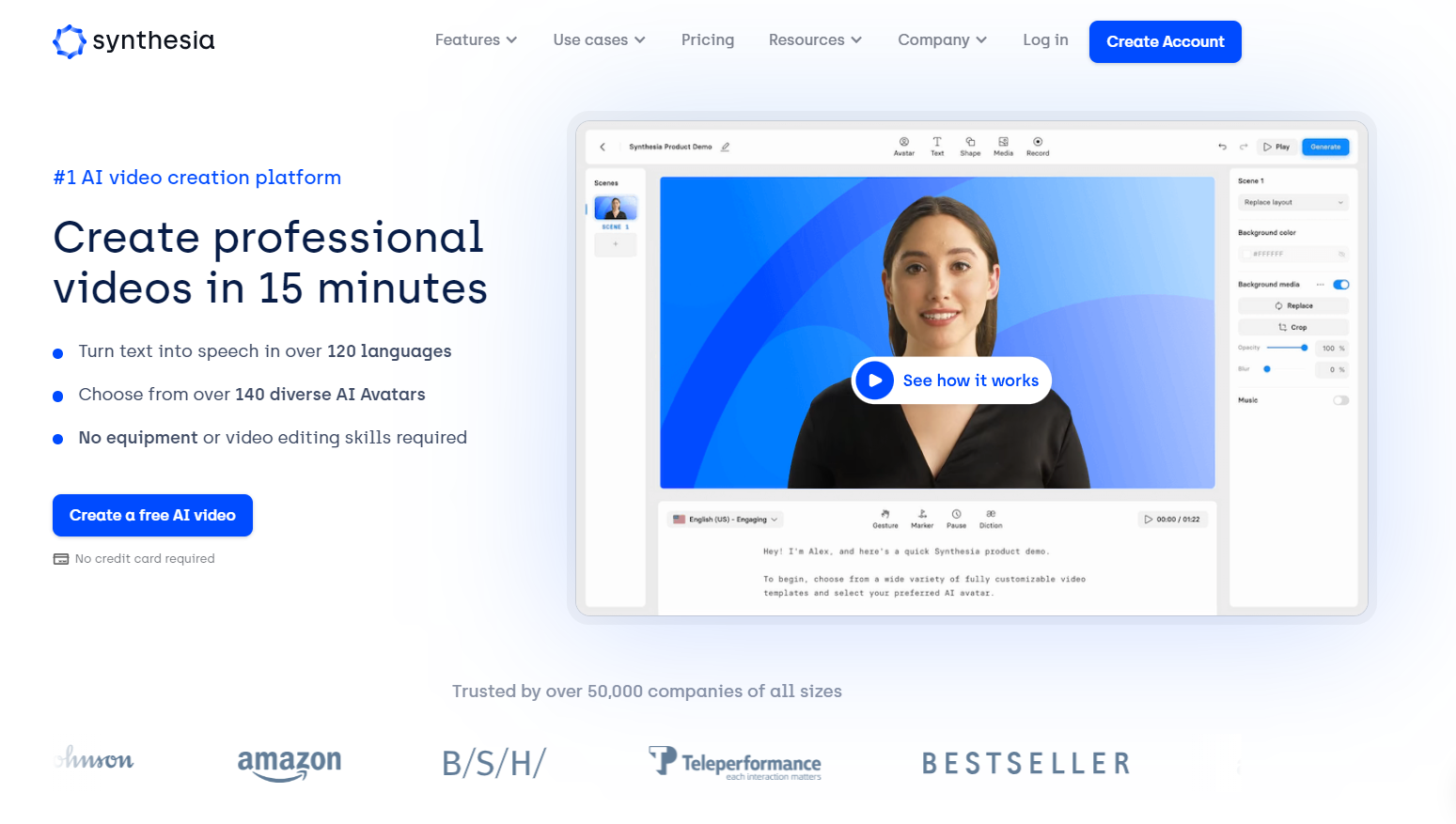 Synthesia is an AI video creation platform. You can transform text into speech in over 120 languages and select from over 140 AI avatars to deliver your presentation. It's great for training videos and isn't like the usual AI voiceovers – these actually sound good!
Features
Turn Text to Speech: Transform written content into high-quality voiceovers across 120+ languages
Over 140 AI Avatars: Select from a diverse range of AI avatars to match your brand and message. This is great for inclusivity and diversity
Easy Updates: Edit scripts and have changes reflected in your videos with a single click – no re-recordings!
Collaboration: Prototype videos, share them with your team, get feedback, and align stakeholders quickly
High-Quality Voiceovers: Consistent, professional voiceovers to convey your message clearly – this is a stand out for Synthesia vs other AI voiceover software
Quick Video Production Time: Average video creation time of less than 15 minutes – which is crazy vs traditional creation!
How To Create Presentations With Synthesia
As this is an AI video platform with spot-on voiceovers – let's take a look at how it works, and sounds!
Here's a 2-minute demo of Synthesia delivered by Alex – one of the AI avatars. It's pretty cool!
Looks awesome right?
Pricing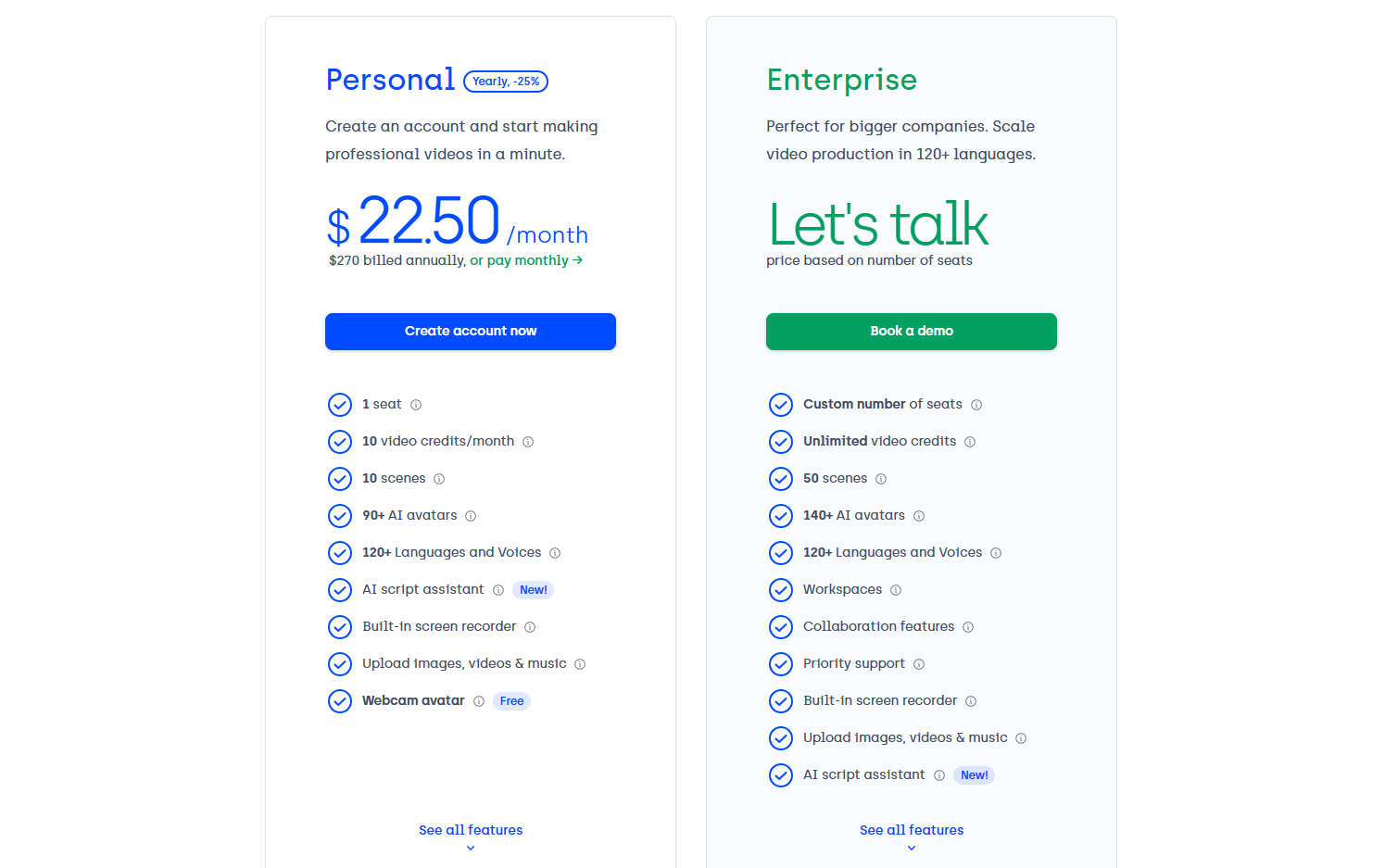 Synthesia offers 2 plans. Personal and Enterprise. Again, watch out for AI credits! The personal plan gets you 10 credits which is only 10 minutes of final video output. For $22.50 per month, I would want more than 10 minutes of videos.
But if you only need short videos or are looking for company-wide training videos and have a bigger budget, it's worth checking out.
What Customers Are Saying
Here's a round-up of the most recent customer reviews.
What I Like/Dislike
What I Like
It's awesome at what it does – AI Avatars delivering presentations that don't sound like robots!
Good amount of editing tools
What I Dislike
Number of credits on the personal plan
Verdict
If you need some training videos and have the budget, this will be more cost-effective ad easier to create than the traditional route.
Best for flexibility
Gamma is an AI-powered software for crafting engaging presentations effortlessly. It gives a lot of flexibility in the content you can create. You can give it a simple description or get deeper into telling it what you want. The themes aren't the best but the AI text content it generates is right up there.
Features
AI Generator: Creates initial drafts of presentations, documents, or webpages instantly, reducing design work and enhancing productivity.
One-Click Restyling: Allows users to refresh the entire design of their presentation quickly
Nested Cards: Enables detailed and layered information presentation, supporting clear communication while maintaining audience interest.
Embedding Options: Lets users incorporate varied elements like GIFs, videos, charts, and websites, adding richness and dynamism to the content.
Built-in Analytics: Offers insights into user engagement, empowering creators to optimize their presentations based on feedback and reactions.
How To Create Presentations With Gamma
Once you sign up for free you get taken to the main Gamma home page. Here you can create new presentations or edit existing ones.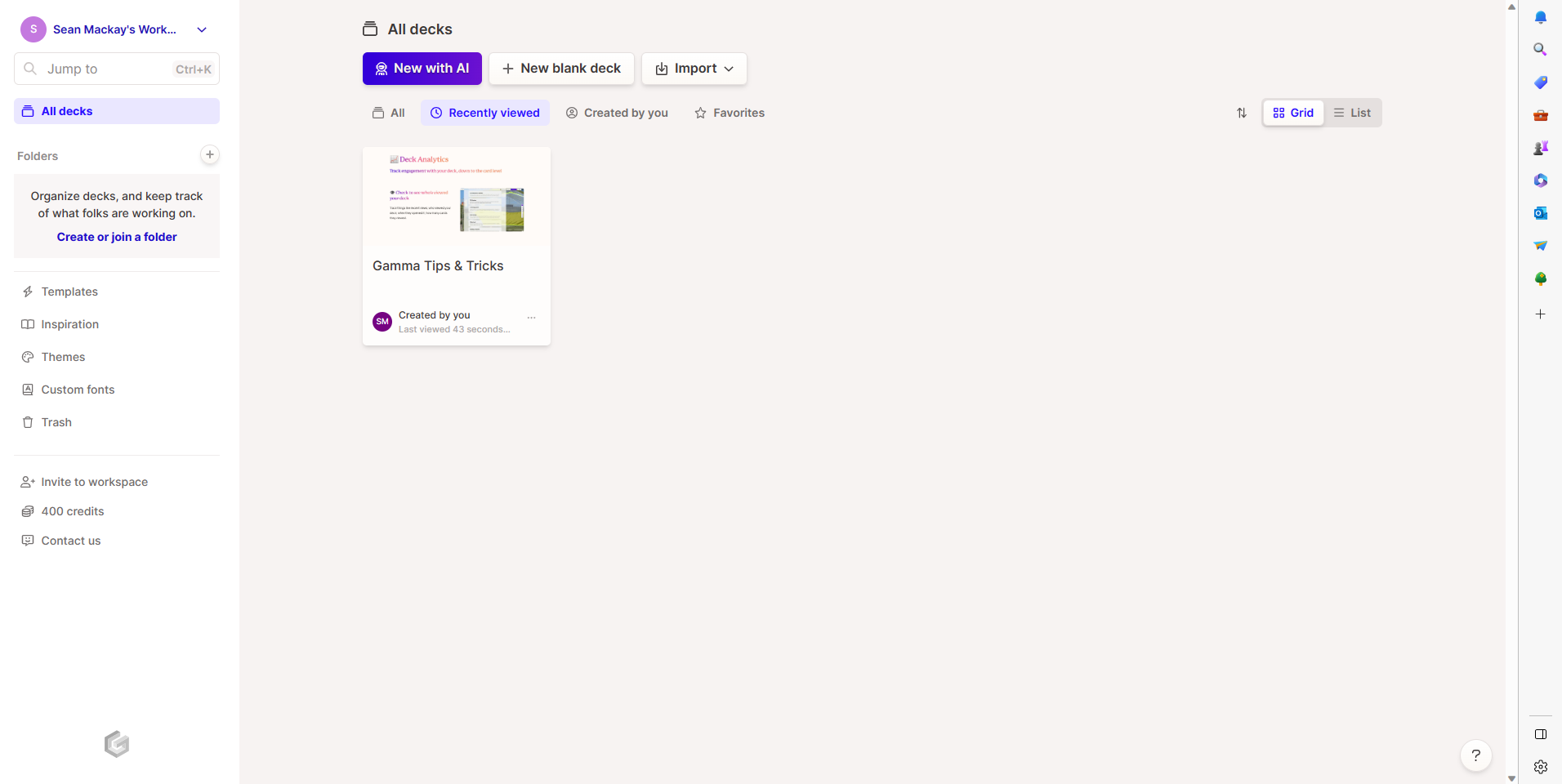 Select 'New With AI' and then you get some options. First, either a guided or text-to-deck presentation. This is a great option as others on this list only provide one or another.
I tried out the text-to-deck by importing an article I created with Byword, a long-form AI content generator. You can check out my Byword review to see what it's all about but Gamma did a great job of translating that article to a deck!
I am going to select 'Guided'. Then I get asked if I am creating a presentation, document or webpage. Again, some great AI creation options here. I will choose Presentation and you can then enter the description of the presentation.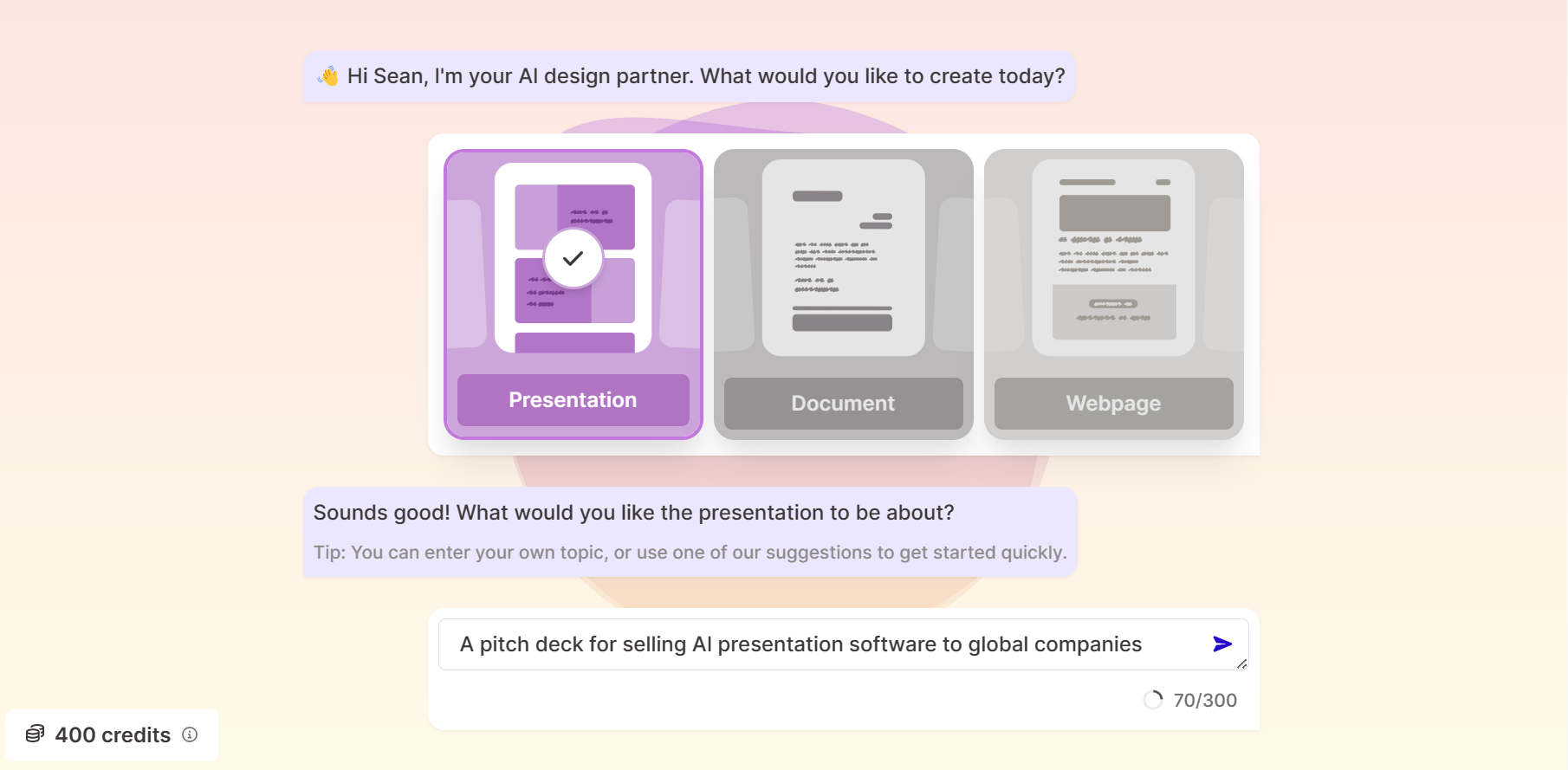 What's then really cool is that it gives you an outline that you can edit – all via a ChatGPT-type conversation. It also tells you how many AI credits it will take. I added an Agenda slide into my content to see if it would add to the AI credits and it didn't.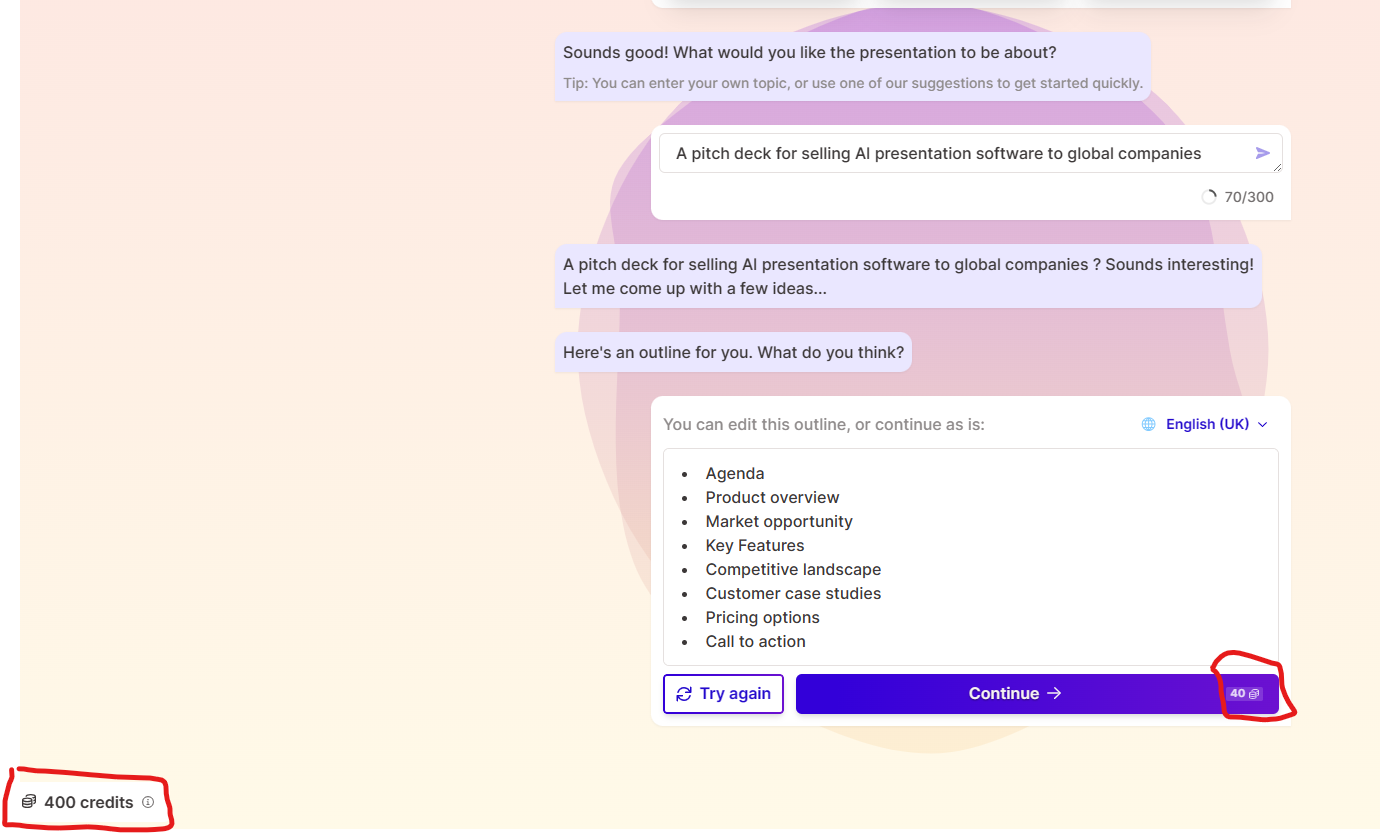 Once you are happy with the content outline, click generate. You then choose a theme. I went with the default in this example.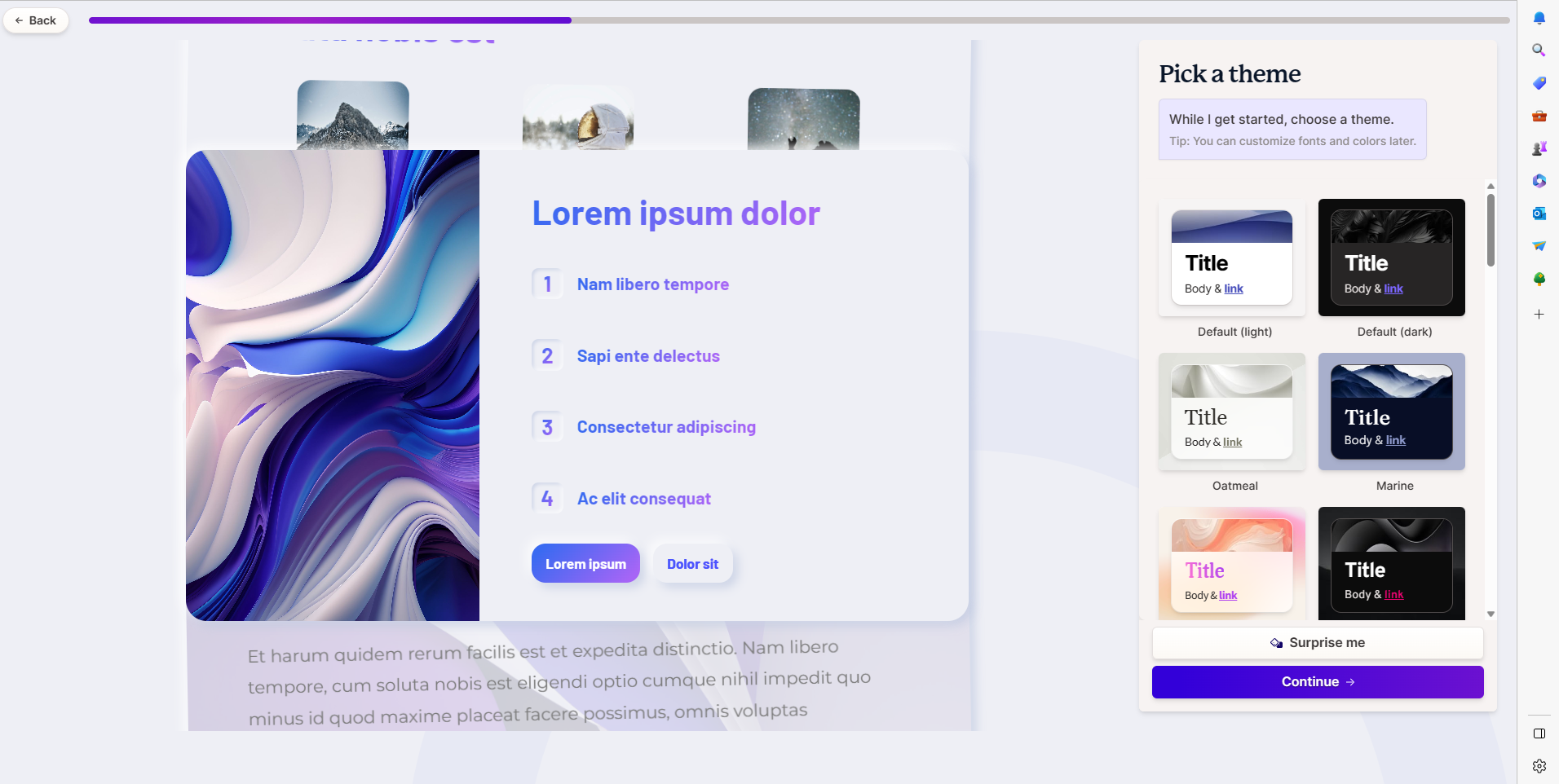 You then get the presentation created in front of your eyes. What was awesome with this generator is the thought that went into the content. Rather than just focussing on design and letting you worry about the content, it took a (good) stab at populating useful content.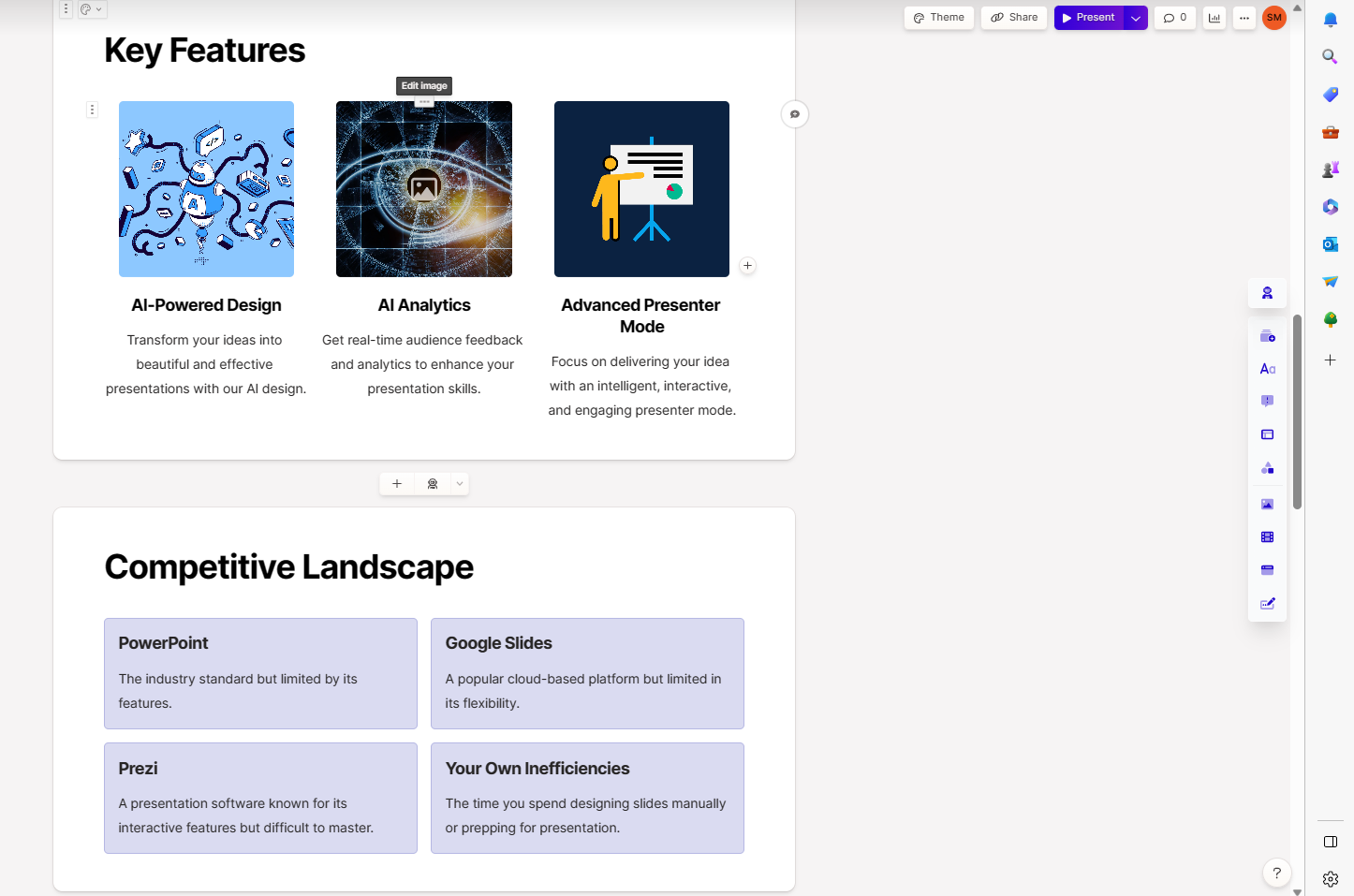 I only gave the description as 'A pitch deck for selling AI presentation software to global companies'. Not much to go on but it has managed to get out key features in a nice visual slide as well as pull out some good points on the competitive landscape.
The rest of the presentation was pretty neat too. You can edit the text, images, layout, and change the theme – all with simple editing tools on the right-hand side
Pricing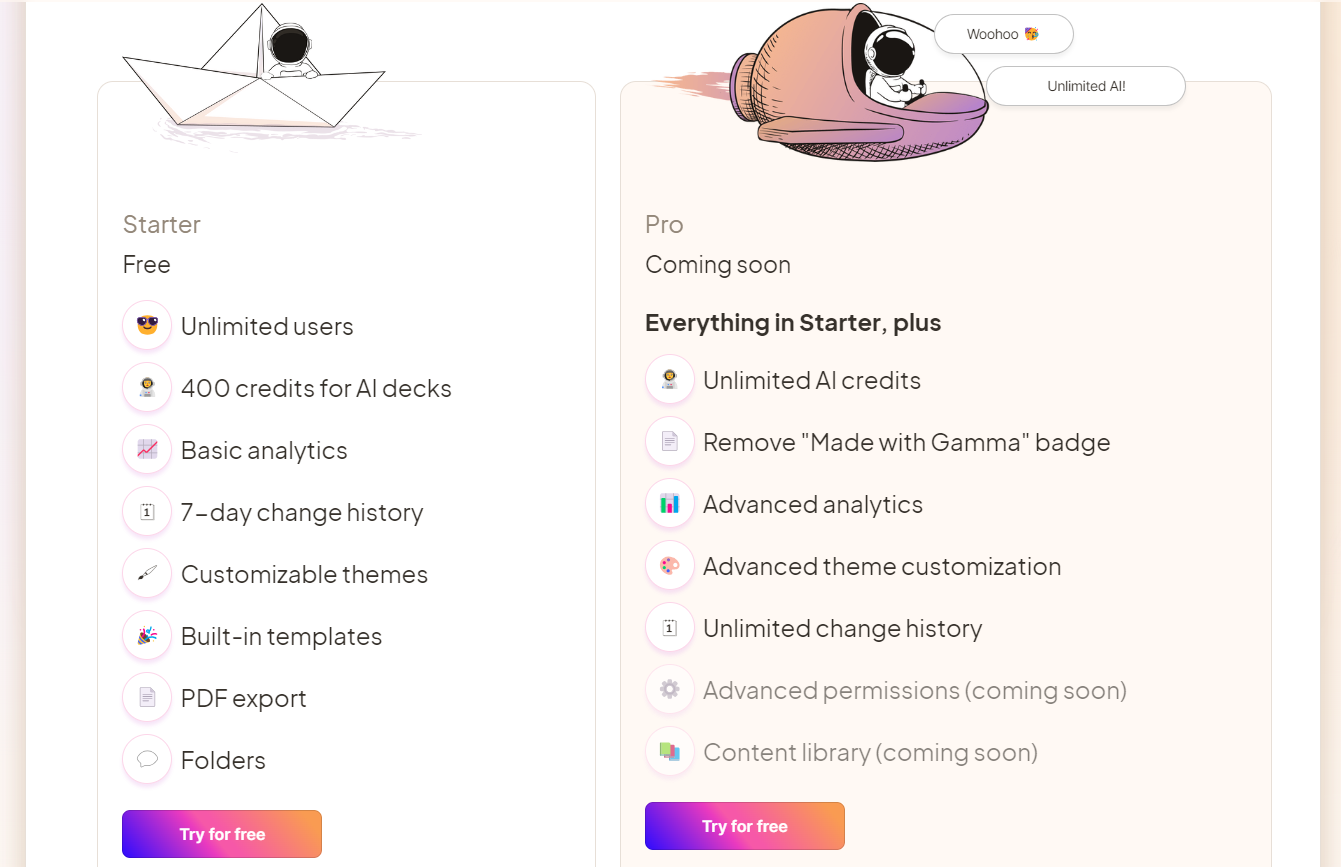 It's free to sign up. You get 400 AI credits to start with. It takes 40 credits per presentation so 10 presentations for free. There is also a cost of 10 credits for AI editing – which could get out of hand fast. To get unlimited credits though, it's only $8 per month. That's a steal for what you get with Gamma!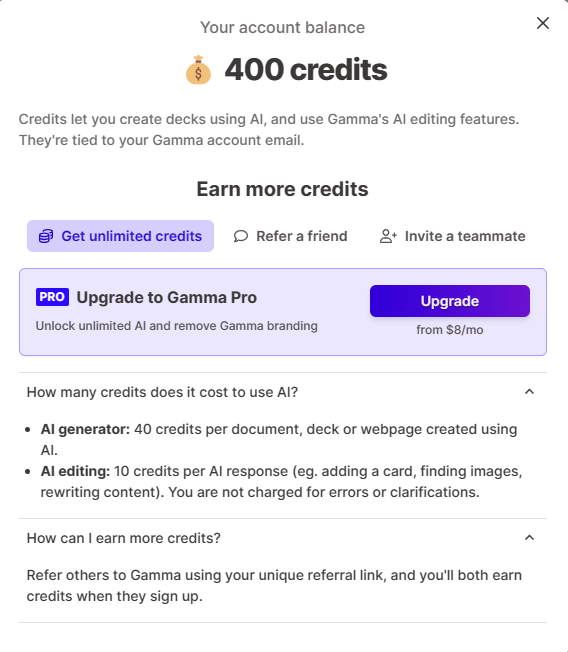 What Customers Are Saying
Here's a round-up of the most recent customer reviews.
What I Like/Dislike
What I Like
I like how you get lots of flexibility in what you want to create and can add/edit the outline before the creation
The text content is really accurate and if you aren't too sure exactly what to present but have a strong idea, this can help guide you
What I Dislike
The themes aren't as bright and eye-catching as they could be
Verdict
For flexibility on a budget, Gamma will create professional presentations that only need a little tweaking to get them presentation ready.
What is AI Presentation Software
AI presentation software uses artificial intelligence to quickly create interactive and visually stunning presentations. It's gaining favor for its ability to turn complex data into engaging slideshows at a click of a button.
What are the Benefits of AI Presentation Software
There are tons of benefits to AI presentation software but here are my top 6.
Time Efficiency: AI presentation software automates design elements, speeding up the process of creating visually impressive slides. This used to take me ages to get right for my sales decks but now it's minutes, not hours.
Simplified Design: These tools give you professional designs and templates, eliminating the need for deep design skills or hiring a designer.
Dynamic Content: AI helps in integrating various multimedia formats as well as live polls, quizzes, word boards, etc., making your presentation interactive and engaging.
Customization: AI software offers unique personalization options based on your audience's interests and preferences. This will no doubt enhance your presentation's effectiveness.
Analytical Insights: With AI, you can gather real-time audience feedback and engagement metrics to refine your future presentations. I didn't know about this when I started using AI presentation makers but this really is so useful!
Accessibility: AI software can convert text into speech or provide real-time translations, making your content accessible to a wider audience.
Buyers Guide: How We Conducted Our Research
Although AI presentation makers are relatively new to the masses, there are still many options out there. I looked at over 20 different options and have brought you the best ones that are worth looking at. Each offers something slightly different but they are the best at what they do offer.
Here's how I narrowed it down
Testing: I personally tested every AI presentation tool on this list and many others – that gave me a very good gauge as to what was good and what wasn't
Features: Looked over all the AI presentation features from creation to editing to production
Benefits: Reviewed all the benefits the vendor said it would give and compared this to user stories and reviews across multiple review sites
Development: Made sure no platform was standing still and investment is happening
Pricing: Compared pricing across all the tools to make sure it was value for money
Reviews: Looked over 10s of reviews for each product from multiple review sites and forums
Support: Assessed what level of support is provided and if it costs extra
I also used my experience using AI presentation tools to create and deliver presentations in my SaaS sales role. This massively helped as I know what to look for when needing a presentation that will inform, engage and sell my products.
My Final Thoughts
To save time and get better results, you won't go wrong with any of the software on this list! Each one is unique and will be best for different people based on exactly what you want to get out of an AI presentation tool.
After trying loads of these tools in real-world environments, I have stuck with Beautiful.ai. But all the other AI presentation makers on this list do a fantastic job as well. Its become one of my favorite AI sales tools in my selling toolkit!
FAQ
What is the best AI tool to make presentations?
The best AI tool to make presentations is Beautiful.ai. Beautiful.ai balances the need to create presentations quickly whilst still offering a whole range of editing and customization options. The themes are some of the most visually appealing with a wide range of quality icons and imagery.
Is there any AI tool for presentation?
There are many AI tools for presentations. When choosing which is best you must consider if you want the AI to fully create the presentation, if you want to generate based on a document or other text, and how much customization and editing capability you need.
What is the best AI for slides?
The best AI for slides are:
Beautiful.ai
Sendsteps
Decktopus
Presentations.ai
SlidesAI
Synthesia
Gamma
What is the best free AI presentation maker?
Wepik is the best free AI presentation software. Wepik is a revolutionary tool powered by AI, designed for crafting distinct and tailor-made presentations. This 100% free platform lets you input text, pick a style, and utilize the AI magic to produce polished presentations in a snap.