Byword Review – Tried and Tested (With Surprising Results!)
I have used so many AI writing tools I can't even remember them all, that's how bad some of them are.
I have spent hours re-writing AI content and sometimes just give up and write it myself.
But out of them all, Byword is firmly on my list. OK, it's not the most versatile tool around. But if you're on a budget and want to create truly SEO-optimized long-form content in minutes, this is for you.
In this Byword review, I will cover:
Who Byword is suited for (and who it isn't)
Key features and how they work
Pricing
What I like and dislike
Whether you should use it
Ok, let's get to it.
Byword Review
My Personal Review
After using Byword to create content for over 4 months, it's now one of those tools I can't be without.
The batch generation feature is really useful if you have a few keywords you want to target or even a whole content plan you want to execute.
There's a great case study that's well worth a read on Byword executing a content strategy for a new startup. In just a year, the site now ranks over 2000 pages in the Google #1 spot and gets over 750k visits per month – not too shabby!
You also get a high-quality AI-generated image with every article. You can use this as your featured image or throughout the content which is a nice addition.
I typically want to edit the content as I want to add my personal experiences to it. So I take the content out and put it into SurferSEO, my SEO optimization tool of choice. The content score is nearly always right up there which isn't the case with many other AI writers. This takes a chunk of work away between article creation and publishing
I have used Copy.ai, Jasper, Content at Scale, WriteSonic, Frase, and ChatGPT. But the one I keep coming back to is Byword. Quality vs Price vs Effort is simply not beatable by any other AI writing tool.
What Is Byword?
Byword.ai is an AI-powered long-form content creation tool. Unlike traditional AI tools, it offers a complete solution for generating high-quality, SEO-ready articles in minutes with little effort.
You input a keyword or title, click a button and you'll have a polished article along with an AI-generated image ready for publication and search engine indexing. It really is that simple.
It's powered by ChatGPT-4 along with proprietary advanced AI algorithms. For the techies, these include semantic analysis algorithms and natural language processing combined with a few other things!
It isn't a short-form editor or writing assistant. And that's the point. It focuses on one use case and that is long-form, SEO-ready content that you can publish without editing.
Being able to pay per article ($5) or signing up for larger monthly content packages makes Byword an excellent choice for anyone wanting to take the hassle out of their content creation.
Who is Byword for?
So who is best suited to this long-form, SEO-ready content?
Companies
Byword is especially suited to companies that are looking to get more visibility through organic search.
With the right keyword strategy, organizations can use the batch generator and pump out regular content, get it published automatically, and start to rank. This is super helpful for startups as you don't need to hire an agency or content team to start becoming a thought leader with the content you put out.
This helps build the Google knowledge graph which in turn gets you higher up the SERPs for your money keywords.
Content Creators
No matter where you are publishing long-form content, Byword can help content creators. Often there's a budget to consider and this is where Byword plays nice.
You can generate blog posts on a per-article basis and then edit them as you need. You can then create socials in one click and share them across your social platforms. I like to share my articles with my email list so I always use the copying features to get my article ready for my AI email assistant to get it sent out as soon as I hit publish.
It's a surefire way to rapidly accelerate your content production workflow with quality articles.
Agencies
Linking slightly to the first point, agencies can use Byword as their latest AI sales tool as it will help them boost their client's content output and get articles ranking faster. We all know clients want tangible results from SEO investment and Byword can deliver just that.
With the custom prompts, template and custom tones, and programmatic builder, agencies will be able to deliver a massive volume of content in the required style and tone for each individual client.
Couple that with it being SEO optimized right out of the gate, you won't go far wrong!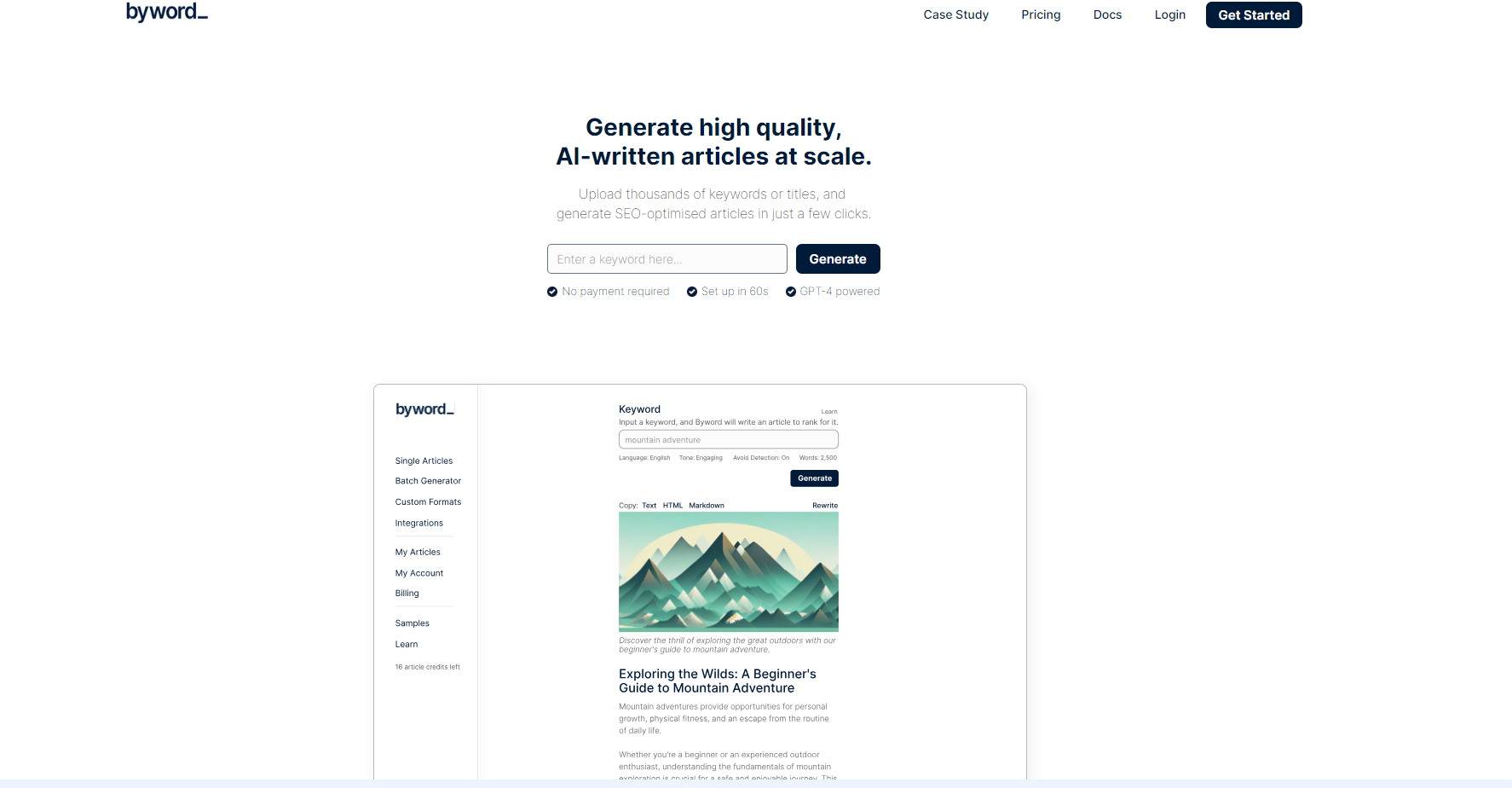 Top Features
Let's take a deeper dive into what Byword offers content creators. If you're more visual then check out my video review.
SEO Optimized Articles
The main draw to Byword for me is the SEO Optimized content it generates. This isn't just an SEO-optimized title with the target keyword thrown in a couple of times like some of the tools out there. This is the bells and whistles.
Once you have generated an article you will be able to open it up and have a read-through. Here's an output it generated based on a Title and 10 H2s I gave it.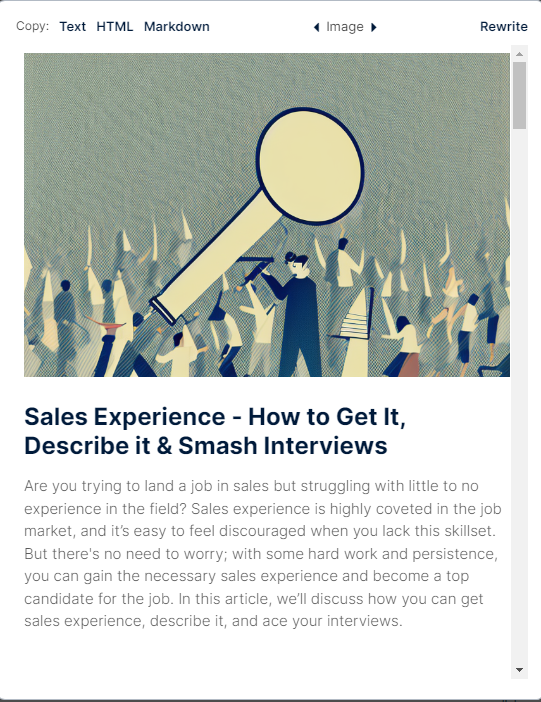 You can tell almost instantly that it has the right context, will relate to the target audience, and has all the semantic keywords in place. It hits the search intent perfectly.
H1s and H2s are always well-positioned. H3s don't get generated too often which isn't ideal but not a show-stopper. In terms of SEO content ready to go, it's one of the best. And I can prove it!
For anyone who doesn't know SurferSEO, it is one of the leading SEO content optimization tools. I took the post above about 'Sales Experience' and put this into Surfer. With no edits AT ALL, this was the result.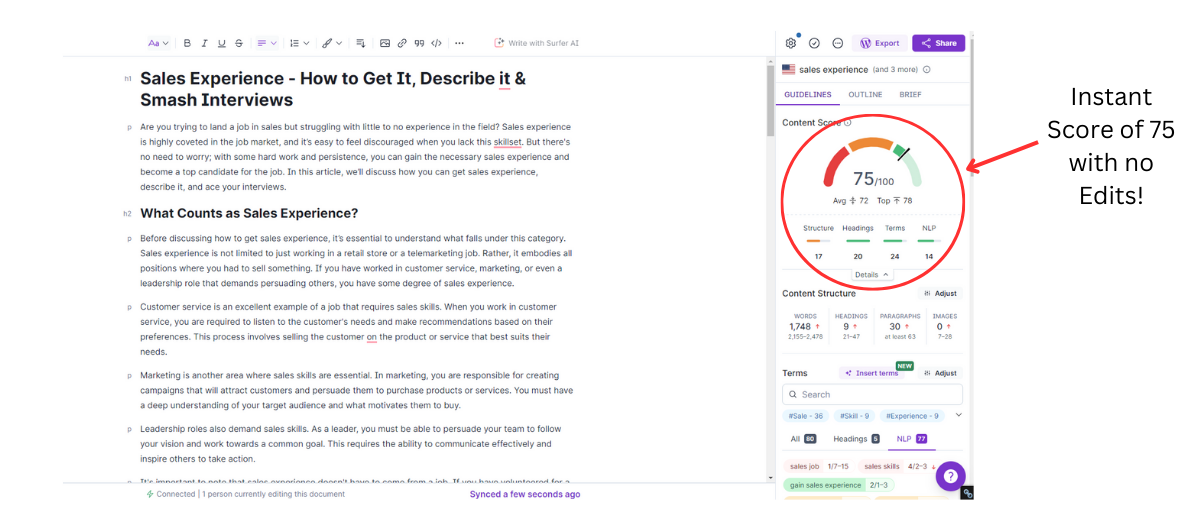 For content generated based on a title and headings only, that's impressive!
Single and Batch Generation
Another feature that needs credit is its single or batch-generation engine. This is how Byword can be used for so many uses. A typical blogger or content writer will most likely use the single article generation process. You give it a keyword, or title, or title + headings and set it off to the races.
But the batch generator works differently. If you are a startup in say the financial software niche, you can use the batch generator to literally create 1000s of articles in a day, maybe 2! The idea behind this feature is to publish first, rank second.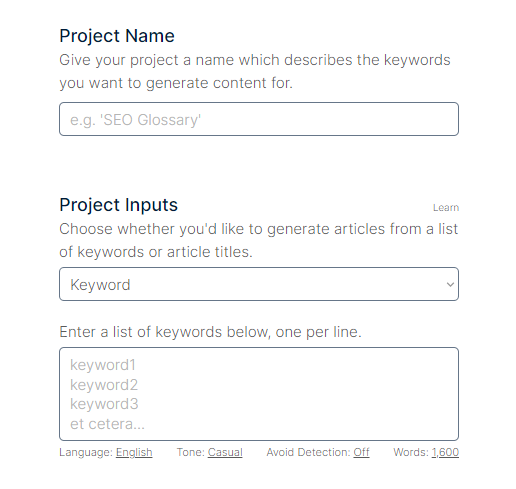 And that makes sense with startups and the amount of content now available online. You can use tools like Ahrefs or Semrush to find the keywords you want to target, add them to the batch generator, and auto-publish to your site.
Once you start to see the signs of ranking, you can then manually edit it to boost it to the top of the SERPs.
Article Creation Modes
Byword offers 3 article creation modes. I have used all 3 many times and although they all work great, I have found they are best suited to certain situations.
Keyword: This is perfect for large-batch SEO campaigns. Once you have your keywords, you don't need to think of titles or headings. Byword will take care of it and will do a good job.
Title: I found this really useful for when I wanted an 'X step to do Y' type article. Byword will then generate the entire blog post with that amount of steps!
Title + Headings: This is when you want more control. Mostly suited to the individual blogger or content writer. You can analyze the SERPs yourself, add your own thoughts and experience to the structure, and then get Byword to output.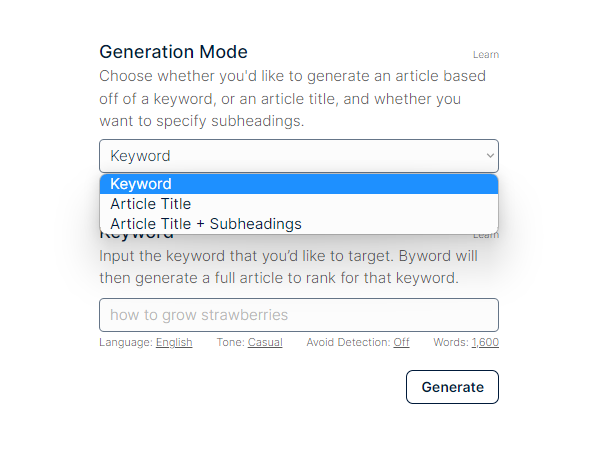 I personally like the Title + Headings. It gives me a bit more control over the output. But they all work well when used in the right context.
Programmatic Builder
Byword's Programmatic Builder feature takes keyword research and article creation to a new level. In literally just a few clicks, you can generate a large number of pages, all centered around a chosen topic.
You can either give Byword your URL and it will work out content suited to your site or you can supply a topic along with your desired keyword structure. It will then produce a ton of keywords with optional variables you can choose from.
Here's a breakdown of the screen and how it works.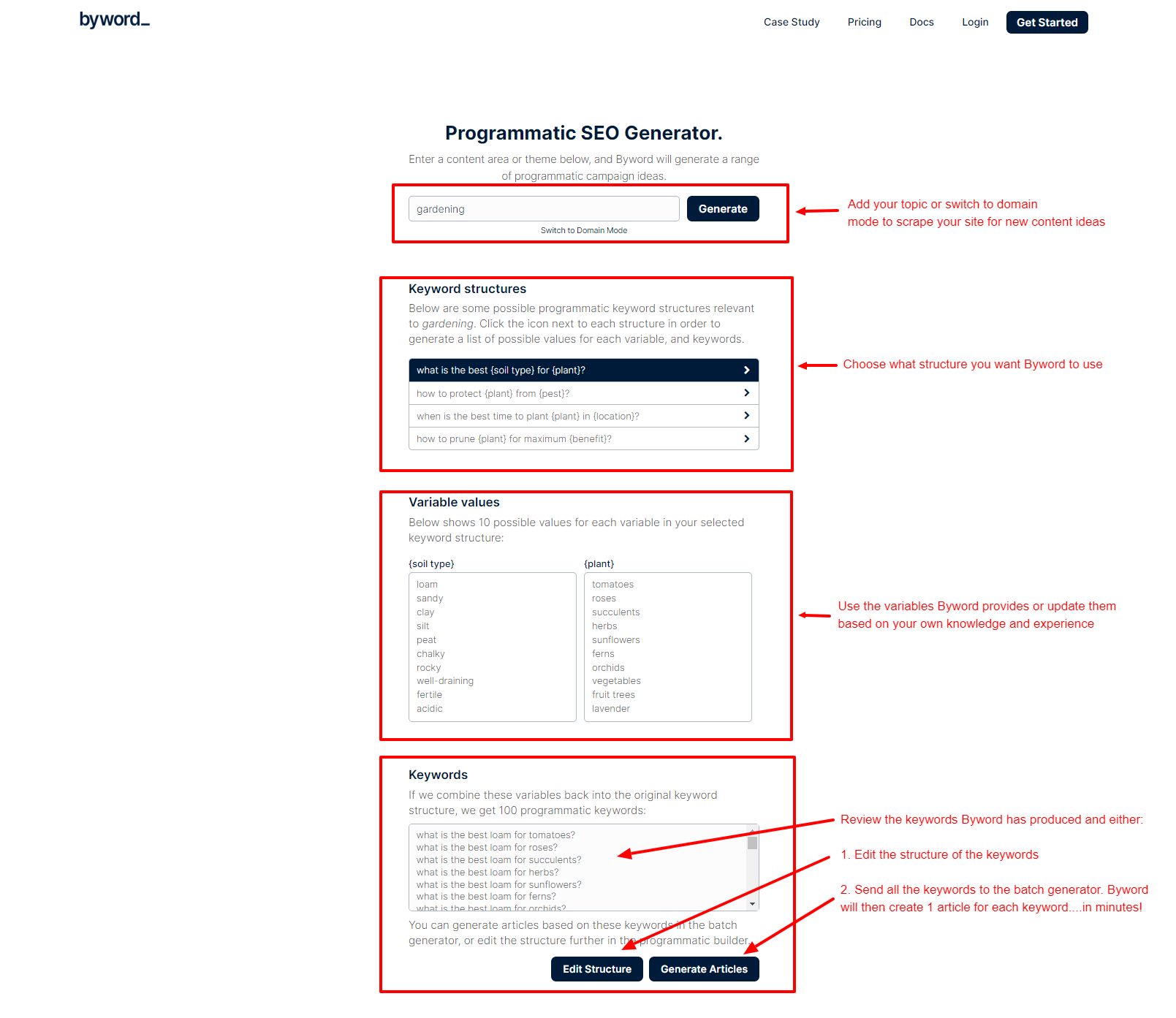 If you like the structure and keywords Byword has generated, you can send them all to the batch generator, and within minutes you will have a set of articles that will drastically boost your topical authority.
Write from URL
Like most long-form AI writing tools, Byword has a write-from-URL feature. It works much the same as other write-from URLs that I have tried. It takes the structure and content from the URL you give it and tries to generate a better article.

I like how you can give it multiple URLs. You can take the top 3 or 4 ranking blog posts from the SERPs and let Byword try and beat them. Byword will then generate a competitive article for each URL you provide.
You can then review the structure it provides, delete headings, edit headings and update the title. Once you like the structure and headings, you can hit 'generate' then grab your competitive article, all in minutes.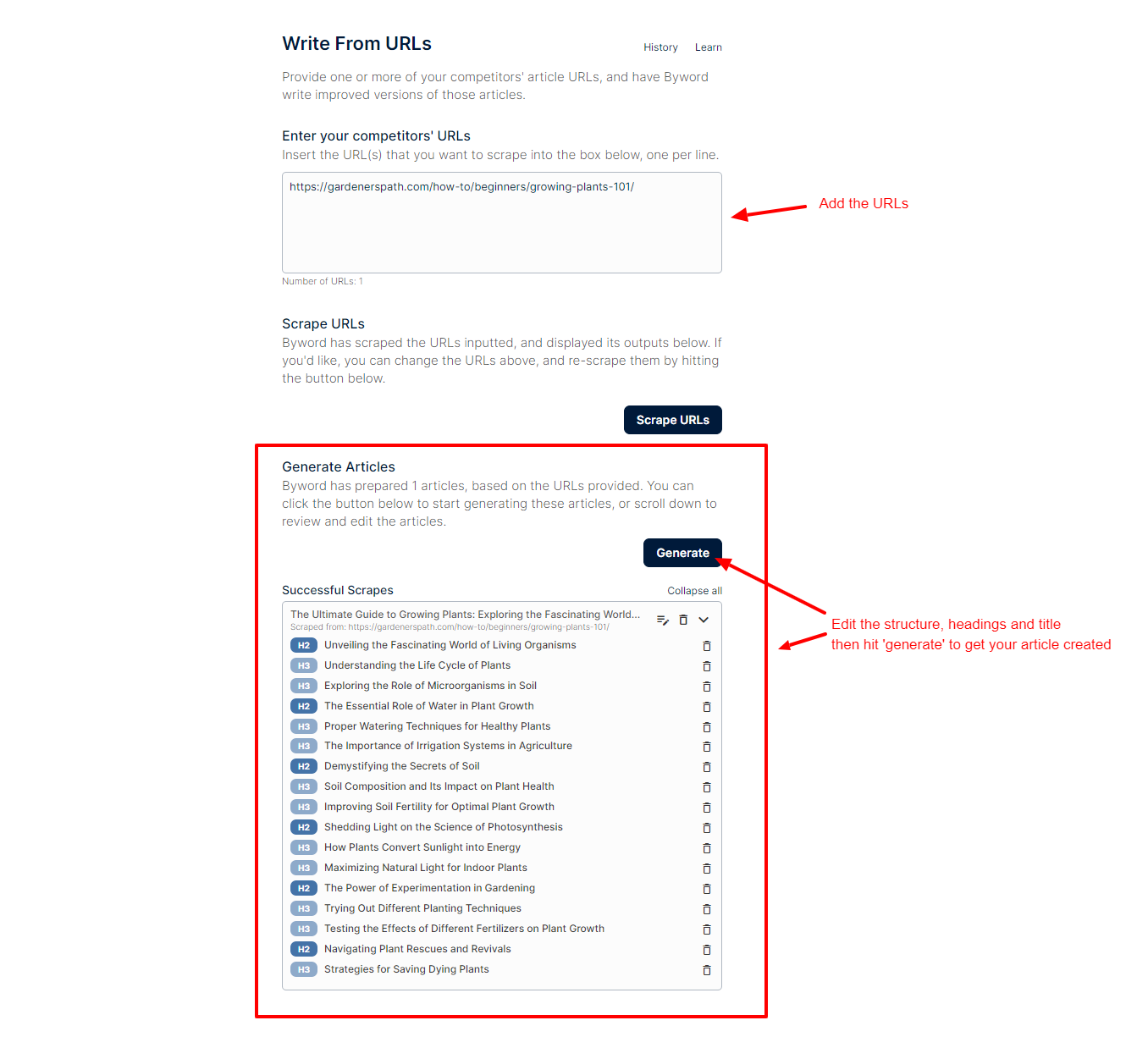 Glossary Builder
This is an awesome feature for new sites looking to build topical authority.
It allows you to choose from 3 modes when building a glossary:
Domain: Enter your domain and Byword will suggest the most suited glossary items to write
Topic: Give it a topic like 'Gardening' and it will give a list of glossary terms
Terms: Manually add a list of terms you have already generated
Here's what it looks like with a rundown of the features on the screen.
Byword aims to generate ~1,500-word articles per glossary term and it does use 1 credit per article.
This is a great way to quickly start building your topical authority if you want detailed content, fast.
AI Images
A nice touch that Byword offers is a high-quality, royalty-free AI-generated image with every article. Usually, that would cost you extra but not with Byword.
They have recently updated their image generation capability and the images are much better than before. It's a nice bonus considering the per-article price!
Click to Socials
We all love to share our work, especially companies with a social following and Byword makes that easy to do. With a couple of clicks, you can create social posts for Facebook, Instagram, LinkedIn and Twitter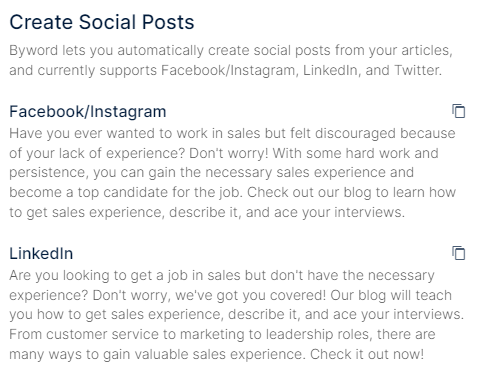 Custom Prompts
Another new feature that Byword has added is the ability to give it up to 3 custom prompts that you can use for blog post creation. This means you can add things like:
Do not give any financial or health advice
Prioritize statistics and examples
Exclude specific dates
Avoid generating paragraphs with more than 3 sentences
This really helps to get content even more aligned with your style and way of writing.
AI Content Detection
Ah, the old-age question with all AI writing software. So does Byword's content pass AI detection tools? The answer is yes if you turn it on!
Byword lets you enable their AI content detection and I absolutely recommend doing this.
A comparative test was done using the same keyword, where Byword generated articles both with and without AI evasion turned on. These articles were then put through various AI detection tools for evaluation.
Here are the results.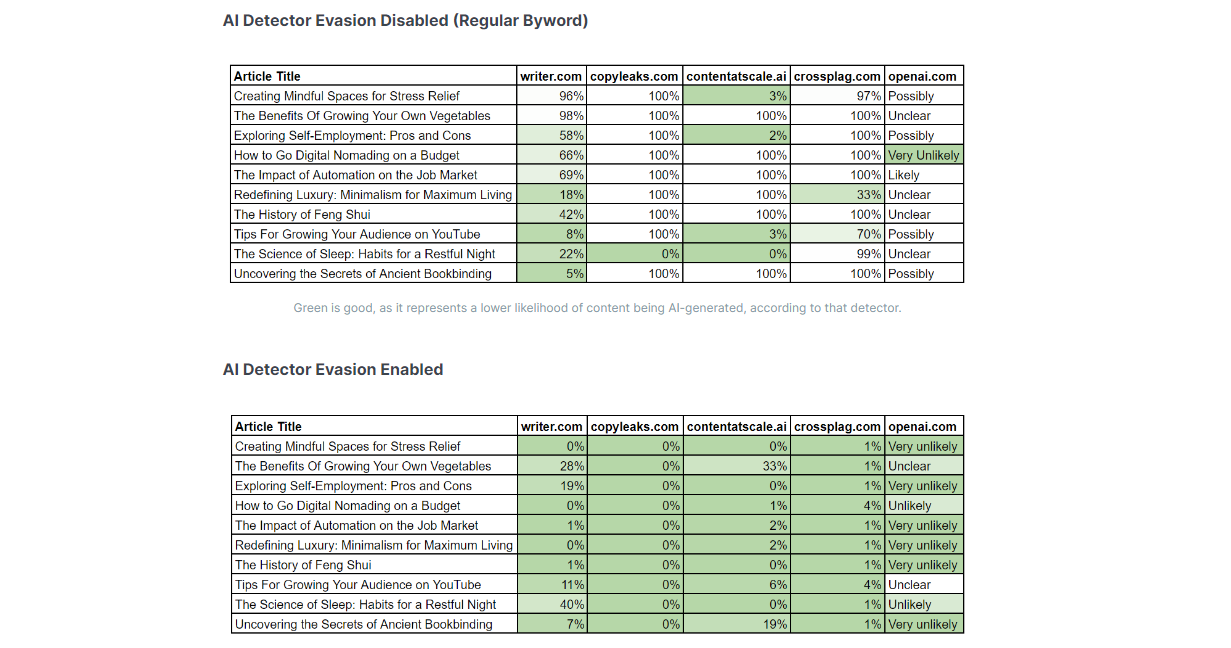 So the answer is yes, but you best turn it on!
Integrations
Automating SEO campaigns that require 100s, if not 1000s of articles needs some solid integrations unless you fancy publishing each and every one!
Luckily Byword has a few that can handle everything after it's generated the blog posts.
WordPress
Webflow
Zapier
API
Many more being developed
You can simply connect your CMS to Byword and then choose if you want it to create drafts or publish live articles once it's generated. I've only used the WordPress integration and it works without fail.
Other Useful Features
Sitemap Generation: Generate content from a competitors sitemap
CSV Exports: Export all your articles into CSV
Byword Learn: Excellent knowledge base and instruction guides
Tone of Voice: Change the tone of voice with presets and custom options
Article Rewriter: Don't like what Byword created? It will rewrite it without using another credit
Built by SEO content marketers: Byword has a team of people with SEO and Content Marketing backgrounds. This shows, big time!
What Could Be Better?
An honest review isn't the same without going over what could be better, and here it is!
Structure: Byword doesn't give many bullet lists or whitespace around paragraphs. I know they are working on this but currently, it is mainly blocks of text as the output
Editing: There is no editor available to edit posts inside Byword. This isn't a problem for mass SEO campaigns when you want the article written and live without any input. But if you want to add personnel experience, facts, stats etc. you need to do this elsewhere
Experience: The user experience is lacking a bit. They are going for the best SEO AI writing tool rather than the fanciest bit of software, but it's a bit black and white for my liking
Pricing
So how much does this thing cost? You will be surprised!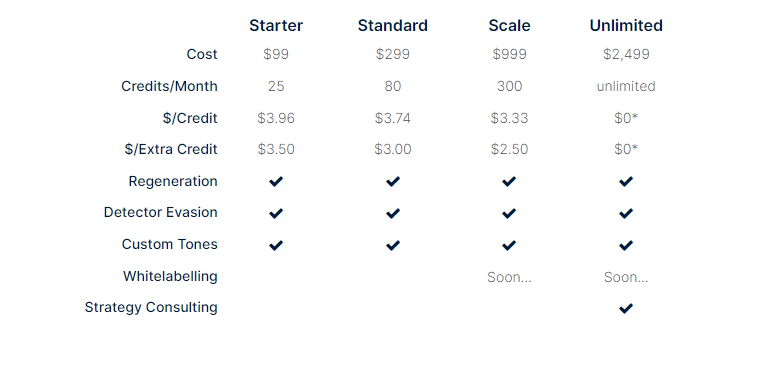 Byword offers monthly packages or you can pay-as-you-go. Both options work by buying credits you can then use to create articles.
Pay-as-you-go
Monthly plans:
Starter: $99 for 25 articles ($3.96 per article)
Standard: $299 for 80 articles ($3.74 per article)
Scale: $999 for 300 articles ($3.33 per article)
Unlimited: $2,499 for unlimited article creation
They also offer a free trial. Just sign up and they will give you 5 credits at no cost. That means you can create 5 articles absolutely free to try out all the modes and cool features they offer.
Compare this to the top competitors such as Content at Scale, and it's an absolute bargain for what you get!
What Types Of Blog Posts Work Best Using Byword?
Byword is most suited to informational content. It doesn't yet handle transactional content at MOFU or BOFU very well. You will get an output if you asked for 10 Best [X] in [year] but it would need a lot of work to get it ready for publishing.
And that's not what Byword is for. Its sole use case is to create SEO content campaigns at scale. And that is done with a ton of TOFU informational content that builds topical authority in your niche. Once you have this, you can publish your transactional content and money pages which will rank much, MUCH, faster.
Future Features
Byword isn't standing still. They have a ton of new features coming. All are geared towards creating better SEO-optimized articles.
Write From Sitemap: Give a competitor site map and Byword will write to outrank them
Database Integration: Upload a CSV database and Byword will write articles that reference each row
Round-Up Posts: A long-awaited addition – you will be able to write Top 10 [X] and Best of Posts
Direct Answers: Short-form content to answer specific questions
Silo Builder: Build cluster content with interlinking all handled automatically
Byword Alternatives
So how does Byword compare to other AI writing tools? Let's take a look.
Jasper AI
Jasper is an impressive AI writing tool. It has a user-friendly interface that I love and advanced AI capabilities.
With Jasper, you can streamline your workflow and create high-quality content pretty effortlessly. It has a ton of templates you can choose from which is a nice touch to get you going. You can create blog outlines, titles, meta descriptions, notes, and much more as well as full articles.
You will need to run it through an SEO optimization tool once you have the final blog post as Jasper isn't so good on this. It does have a SurferSEO integration though. So if you use Surfer, you can do it all within Jasper which is pretty neat.
Content at Scale
Probably the most advanced content-at-scale AI writing software available. It has a ton of features:
Multiple Content Sources: Create content from keywords, existing URLs, podcasts, YouTube videos, and documents.
Create long-form content: Generate optimized blog posts of 2,600+ words with ease
AI Detection Evasion: Content bypasses AI content detection algorithms
Plagiarism Scans: Integrated Copyscape integration for plagiarism detection
WordPress and Shopify Integration: Direct sync and publish content from the platforms
Automated Internal Linking: Automate internal linking with semantic keyword analysis
Efficient AI Writing: Strikes a balance between AI-generated content and human-level quality
It has a quality editor inside as well so if you want to make edits to the long-form content you can do it there then. Its semantic keyword analyzer is also pretty neat so you can check what keywords it includes and what ones you might want to add. It's Byword on steroids.
But it comes at a significantly higher cost!
WriteSonic
WriteSonic is a super-intelligent AI-powered writing tool that aims to boost productivity whilst delivering top-quality content.
The AI Writer, Sonic Editor, and AI-driven editing tools are game-changers for some people. It's essentially much like Jasper but comes in at a lower price point. If you are just starting out in AI writing tools or content writing in general, then WriteSonic should definitely be a contender for you.
Final Thoughts on Byword – Should You Get It?
If you want to create an SEO campaign and publish 100s of long-form blog posts rapidly to start building topical authority and ranking content, there is no better tool for it. For the price, the amount of SEO-optimized content you can get on your site within days is truly remarkable.
I want to add my own personal touch and unique experience to my articles, which is super important for personal brands. So I'm not looking to Byword for huge content campaigns. But what it does do, exceptionally well is give me a strong first draft.
With just a few minutes of my personal touch, formatting adjustments, and image additions, I can create a final piece that meets my standards. There isn't another tool out there that can do that for $5 per article!
If that sounds like something you want, then jump into Byword and see what it can do.
FAQs
Does Byword Have a Free Trial?
Yes! You can sign up and get 5 articles for free!
Should Freelance Writers Be Concerned?
Freelance writers do not need to be concerned if they embrace AI writing tools. As AI tools become more widely used, the internet will fill with poor-quality content, put out by poor-quality AI enthusiasts.
Google serves content that people want to read and that will need a human touch, personal experience, and captivating stories. AI isn't there yet. Embrace the technology and use it to become more efficient in your process.